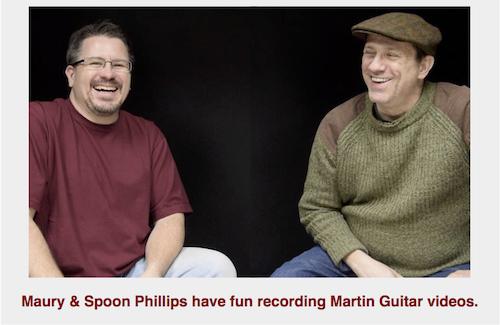 Spoon Phillips is a walking Martin Guitar encyclopedia, a snazzy dresser and the talent behind our in-depth YouTube Martin guitar reviews. Maury and Spoon met 15 years ago at the very first Unofficial Martin Guitar Forum Festival in Nazareth, PA. The two became fast friends. Little did they know that years later, Maury & Lori would open a music store! Spoon, would you be interested in playing all of our guitars and talking about them? :D Spoon's an excellent writer, a talented picker, and has a really great ear. His video demos can be found on Maury's Music's YouTube channel, Martin guitar products on our website as well as on his own website, OneManz.com, where you'll also find a wealth of great written reviews as well. Thanks for watching!
Have a comment? Post below, we'd love to hear from you!
Great interview with Todd! Aren't we lucky to have him as a friend! The interview with Toby Walker was full of names I'd never heard before. Interesting stuff. First time I ever saw you in pants! Must've been a formal night out?!
Posted by
Darrell Keighley
on
04/07/2016 - 11:06 AM
Hello Maury, I have to say I am one of the people that Spoon Phillips has swept away. I really enjoyed your interview with him, and his description on how he got there. I have to say I did buy from you a D-18 1939 Authentic because Spoon and a Buddy mentioned you. So Spoon is a refersnce for you. Thanks for putting your face out there as well. Regards Max Vander Linden
Posted by
Max Vander Linden
on
04/07/2016 - 11:26 AM
Good interview - Ha! Maury was so intently listening to Spoon's answer at 11:48 of interview there seems to be some metamorphosis going on here....Haaaha
Posted by
Paul P.
on
04/09/2016 - 05:14 PM
What is the lasting that Spoon is playing in your most recent Martin videos?
Posted by
john smelley
on
03/09/2018 - 01:10 PM
I want to buy a new Martin guitar, I've always wanted a D41, but with the new D28 Modern Deluxe model, Im really considering buying the Martin D28 Modern Deluxe. Since you have played both, can you give any advice on which you would buy if you could only buy one of them. I love all your videos , thank you and have a blessed day
Posted by
Michael blevins
on
02/12/2019 - 10:02 AM