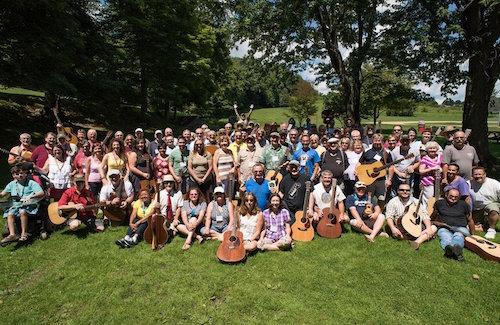 Maury has been a proud member of the Unofficial Martin Guitar Forum since 2002 & he's attended every MartinFest. If you can't be here with us, Follow us on Facebook for LIVE updates, and check back here for instant-replay! What IS Martinfest? It's the annual gathering of UMGF members & guests in Nazareth, PA. Scheduled activities:
Friday, August 5th - Nazareth Boro Park at the large pavilion
Saturday, August 6th - Martin On Main, in downtown Nazareth Square (Noon till dusk, there's LIVE music, food vendors & local crafts)
Sunday, August 7th - Nazareth Boro Park at the large pavilion
Event sponsors include the Nazareth Chamber of Commerce, Martin Guitar, Blues Creek Guitars and Maury's Music. ALL live music from 12-6 is provided by members & moderators of the UMGF! This year's special guest performer is Laurence Juber at 3:00pm! If you're a fan of live music, Martin Guitars or both - you should be here! All entertainment is free.
DIRECTIONS TO NAZARETH BORO PARK (and pool):


WEDNESDAY: THE EARLY BIRDS
​

THURSDAY: MARTINFEST EVE
FRIDAY: THE PARK
FRIDAY: MARTIN MUSEUM TOUR
FRIDAY NIGHT: HOTEL JAM
SATURDAY: MARTIN ON MAIN
SATURDAY NIGHT: HOTEL JAM
SUNDAY: THE PARK
SUNDAY NIGHT: HOTEL JAM
Maury, Wow! Thank you for posting all of these wonderful videos. I feel like I didn't miss very much from MartinFest. But of course we both know I did. Friendship, fun and music are just a portion of all that goes on. I'll be back next year with a smile and an old guitar. Thanks again for all that you and your company do for us. All the best for the next year. Mike Bond
Posted by
Mike Bond (Deaconmikebond)
on
08/08/2016 - 09:11 AM
Thx for posting the Vids Maury. I'm on the left coast & never can make it to Nazfest. All the vids are appreciated. Looks like a real big crowd this year...?
Posted by
Rich
on
08/08/2016 - 08:43 PM
Maury thank you for all the great video from Martin Fest. Could you post me Steve Moritz and Dan Kurtz playing at the park on Friday. I seen a glimpse of it but that was it. If you didn't get is that's cool. Thank you.
Posted by
David White (Whiteowl)
on
08/16/2016 - 08:47 PM
Thanks for the kind words, everyone. David I'm sorry - I didn't capture any footage of you guys onstage but Todd Stuart Phillips did, and your performance can be found in his MartinFest 15 video sampler. Here's the link: https://www.youtube.com/watch?v=TfzF-KwB9cM Thanks!
Posted by
Maury
on
08/17/2016 - 11:14 AM