Wednesday, November 30 2016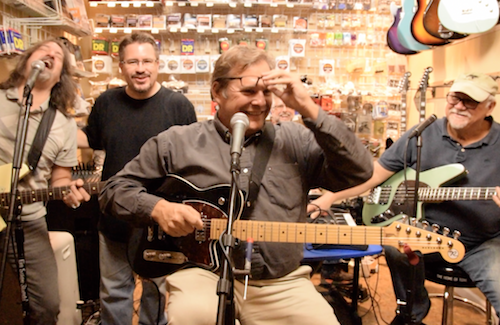 Maury's bandmates dropped by the store today, and they brought their pal J-Mac with them. The Shellshocked Churchhills are Tim Perry, Rob Beck, Jody Kennedy and Maury Rutch. In this clip, J-Mac is playing Maury's Reverend Buckshot and Mesa/Boogie Lonestar. Tim is playing a Reverend Six Gun through a Mesa/Boogie Mark V, Jody is playing a Reverend Mercalli through a Mesa/Boogie Subway D-800 and Rob is playing Maury's nephew's electronic drum kit. Thanks, Aiden! Disorder in the House. Truer words have never been spoken.
J-Mac isn't the only reason we were laughing. Before he arrived, we were already off the rails. In addition to playing Bass, Jody also had his trusty sequencer, filled with famous movie soundbytes. He dialed up some Apocalypse Now and it didn't take much for us to lose what little focus we had.