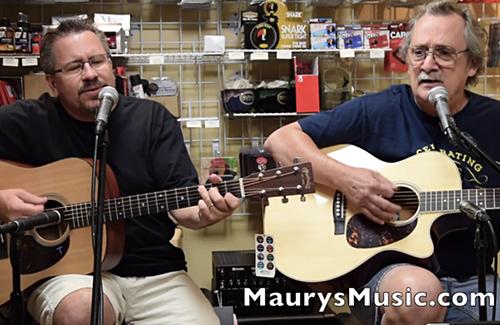 John Hall and Maury have been friends since they both started their own businesses back in 2003. The two met at the very first UMGF Nazfest at Nazareth Boro Park, and became fast friends. John & his wife Brenda run Blues Creek Guitars in Hegins, PA where they sell guitar parts & perform guitar repairs. John will even teach you how to build your own guitar from scratch if you sign up for his guitar-making class. Its been a long time coming, but Maury finally got John to drop by, and our course, we rolled tape. John played one tune on his Blues Creek Cuban Mahogany / Torrefied Adirondack dreadnought, and 2 songs on our Martin GPCPA2 Mahogany. Maury is playing a Martin D-16GT loaded with a Trance Audio Amulet M Phantom... hence the sexy blue painters tape T on the pickguard. :D Sounded great, John ... thanks for dropping by!

​

Man we had a great time. I am glad to see you used auto tune. Looking forward to Naz Maybe we need to do a few of these there. Thanks Maury you made me feel good.
Posted by
john hall
on
07/17/2017 - 04:45 PM
You Boys sound purty damn good. When does yer next album come out?
Posted by
Greg
on
11/30/2017 - 07:25 PM
You guys sounded really great, don't understand why I couldn't hear wagon wheel though. Keep up the great work Maury. Will see you soon.
Posted by
Payne shelton
on
12/01/2017 - 02:10 PM