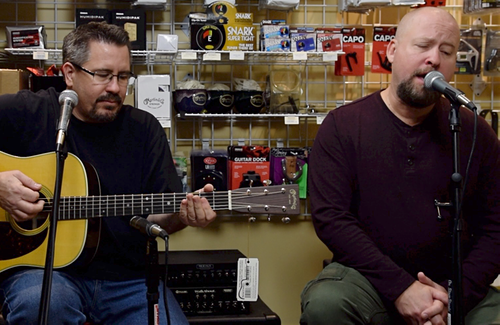 Maury's old bandmate Lamar Snyder dropped by & the two reconnected on some of their favorite old songs. Over the years, their duo, Cool Change, evolved into a 4-piece band with Nick Roberti on bass & Albie Coccio on drums. In this clip, Maury is playing a Martin D-28 (2017). Lamar also plays guitar & percussion. He's the proud owner of a Martin OM-28 Marquis, Blueridge BR-163, a Mesa/Boogie Mark Five:25 and a plethora of electric guitars & amps. Thanks for dropping by!

Dang you guys sound really great together. What a voice Lamar, great harmonies. Geez what else can I say but awesomeness
Posted by
Payne shelton
on
12/13/2017 - 02:35 PM
Love this! Lady..my favorite! I miss "Cool Change" nights at Trainers. Sorry i missed Lamar when he was home. You guys are so good.
Posted by
Lisa Bleskachek
on
12/15/2017 - 10:35 AM