Thursday, December 14 2017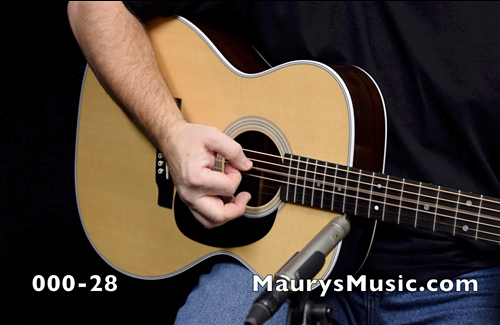 A few weeks ago we compared the Martin 000-28 vs OM-28. That generated some good discussion, and one customer asked us how those two compare to the Martin OM-21. Let's find out! All three of these guitars share the same 000/OM body size (shape and depth). They all have solid Sitka Spruce tops and they all feautre solid East Indian Rosewood back & sides. However, there are some key differences - some are cosmetic, while others influence the guitar's tone.
000-28 is short scale, with non-scalloped braces and a narrow 1 11/16" nut
OM-21 is long scale with scalloped braces, a wide 1 3/4" nut and faux tortoise binding
OM-28 is long scale, with scalloped braces, a wide 1 3/4" nut and herringbone binding

Which do you prefer & why? Post your comments below.
Thanks so much for doing this! Having played on an OM-21 at a Dallas store, I thought it represents the best value. Of these 3 you've played here, though, I really like the 000-28 the best. I think it projects best, across the entire tonal range. The OM-21 here sounded thinner than the other two, to me. FWIW, of these I would vote 000-28, then OM-28, then OM-21. But with only $400 separating them, it would be a difficult choice.
Posted by
Bill Joyner
on
12/15/2017 - 12:16 PM