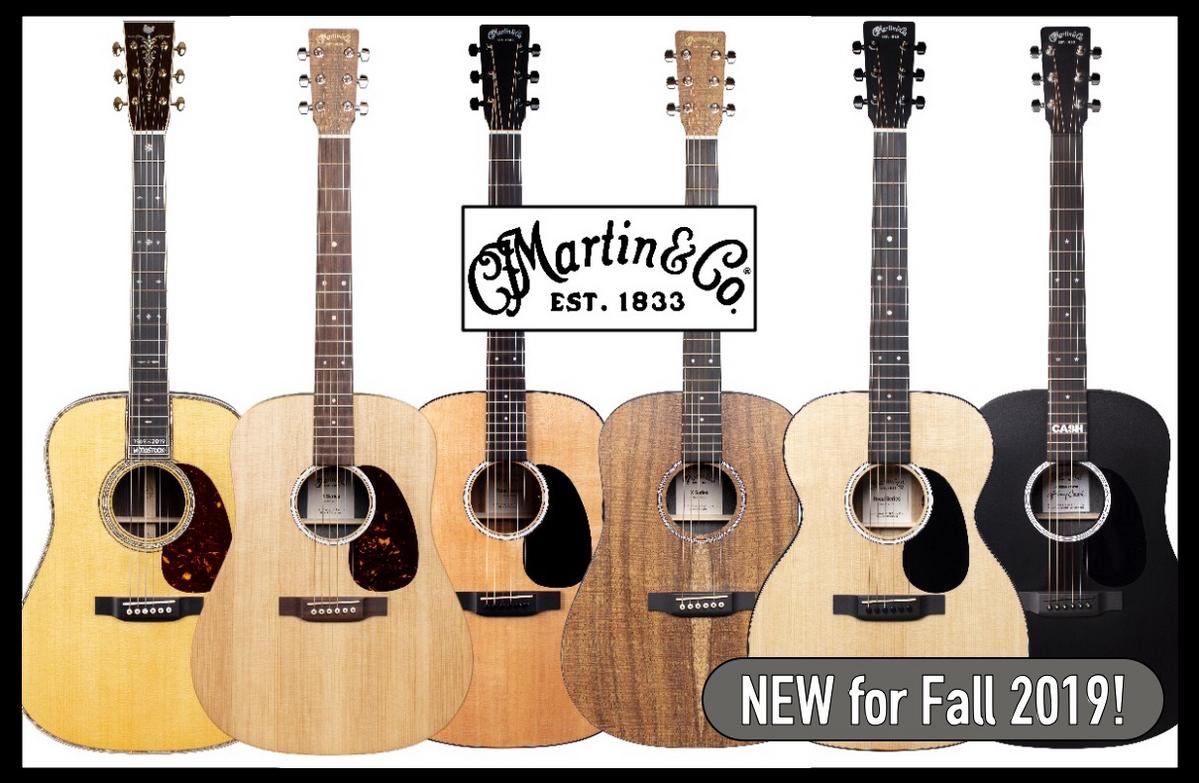 Why were these new Martin models held back from Summer NAMM?

Ask Maury no questions and he'll tell you no fibs. But he will happily tell you about them now that they have been released. And Maury's Music hopes to have them each in stock as soon as the finish is dry and the strings are in tune.
But it is safe to say this first guitar was saved for a very special day indeed.

D-45 Woodstock 50th Anniversary Guitar
Limited to 50 instruments, this is a glittering, glorious tribute to the lasting legacy of an historic cultural phenomenon that took place 50 years ago this past weekend. The Woodstock Music and Art Fair: An Aquarian Exhibition was three days and three nights of peace, love, and music.
Nearly half-a-million people took part, with millions more forever changed by the legendary performances from icons of Folk, Blues, Rock, and Soul music that were recorded there, and the humanitarian ideals forever associated with the word Woodstock. And Martin guitars were right there in the thick of it all, in the hands of Joan Baez, Crosby, Stills Nash & Young, Arlo Guthrie, among others.

To commemorate this most-influential of music festivals, Martin has released the third of three limited edition models, the D-45 Woodstock 50th Anniversary guitar.

Dazzling multi-color abalone shell graces every edge of the back, sides, and top of this exquisite collector's item. But this instrument is far grander than the D-45s owned by Jimi Hendrix or CSNY. The fretboard has the ornate diamonds, snowflakes, and cat's eyes inlay of a pre-war D-45. And Martin's elaborate yet elegant alternate torch is inlaid on the headstock's faceplate, crowned with a beautiful rendition of the dove of peace that appeared on the original Woodstock poster from 1969.

That's not all! Gorgeous European flamed maple is used for the binding of the body, neck, and headstock, setting off the dark East Indian rosewood back and sides, and Sitka spruce top, each made from the highest grade available from Martin's famous wood acclimation room. And forward-shifted scalloped bracing guarantees the beautiful and complex tone of this master-grade instrument is enhanced and projected to its best advantage.

A peace sign is inlayed in the flamed maple heel cap, and "Woodstock 1969 – 2019" is inlaid on the jet black ebony fingerboard at the 19th and 20th frets. It comes with Martin's exclusive Titanium strings and a unique embroidered ply hardshell case.
Even more than the D-35 and DX Woodstock models, this most-opulent commemorative guitar will be treasured by its lucky owners as an historic heirloom for generations to come.

---
The Beauty of a Koa guitar for an exceptionally good price.

A couple of amazing new entrants have appeared in Martin's expanding Road Series. The D-12E Koa and 000-12E Koa models are thoroughly modern acoustic-electric guitars made for public performance and the guitarist with an eye for beautiful wood; each comes standard with Fishman MX-T electronics that has an onboard tuner, for plug-and-play ease.
These handsome instruments are environmentally-conscious in their use of wood alternatives, like the FSC® Certified Richlite used for the fretboard and bridge, and the return to a guitar-making practice dating from the earliest days of C. F. Martin Senior in 1830s, whereby the luthier lays down a thin layer of visually striking exotic wood over a back and sides made from a more-plentiful species of tonewood. In this case, an exceptionally fine veneer of rare Hawaiian koa is bonded with African mahogany, known for its lively trebles and warm, woody bottom end, for a guitar that looks as great as it sounds, and is made all the richer and more powerful by a top of solid Sitka spruce. The entire body is protected by a high gloss finish that shows off the complex grain of the koa in dramatic fashion.

The short-scale 000 and long-scale Dreadnought have the High Performance fretboard taper, 1-3/4" width at nut and 2-1/8" at the 12th fret, fronting Martin's sleek Performing Artist neck profile, with a hand-rubbed non-stick finish for fast fingering. And black tuners, pickguard, and binding are set off by a white headstock logo, and the mother-of-pearl-pattern sound hole rosette that makes the Road Series Martins stand out all the more from rest of the herd that's heard on stage at the local open mic or across the regional club circuit.

---
The beauty of Koa on budget!

Two new dreadnought-size models, the DX1E and DX2E have been released for Martin's most-affordable X Series, featuring bodies of High Pressure Laminate decorated by photographic reproductions of some of the highest-priced koa to find its way from the Hawaiian Islands to Chris Martin's stash of the rarest of the rare. Truly stunning!
And each instrument has a neck made from real wood! This is a new feature for the X Series that reduces overall-weight and allows for better transference of the vibrating string energy that get converted into beautiful Martin tone.

---
An exceptionally affordable tribute to the Man in Black, Martin's new DX Johnny Cash model is a modern acoustic-electric guitar based upon the custom order all-black D-35 that Martin Guitars made for the legendary balladeer back in the early 1970s, without telling then-CEO Fred Martin, who said he would never make guitars with solid-color finishes.
He was a large man with a large voice, not unlike this awesome X Series dreadnought model with HPL back, sides, and top of deep jet black. And just like the pricier D-35 Johnny Cash signature model, it comes with a shimmering white soundhole rosette, Old Glory style stars for the fret position markers, and a large white CASH instylized block letters at the 18th fret. A sleek Performing Artist neck profile and a fingerboard with Martin's fast High Performance Taper give a modern feel to this timeless tribute designed to honor one of the truly great Americans, Johnny Cash.
Comes with Fishman MX electronics.