Wednesday, January 15 2020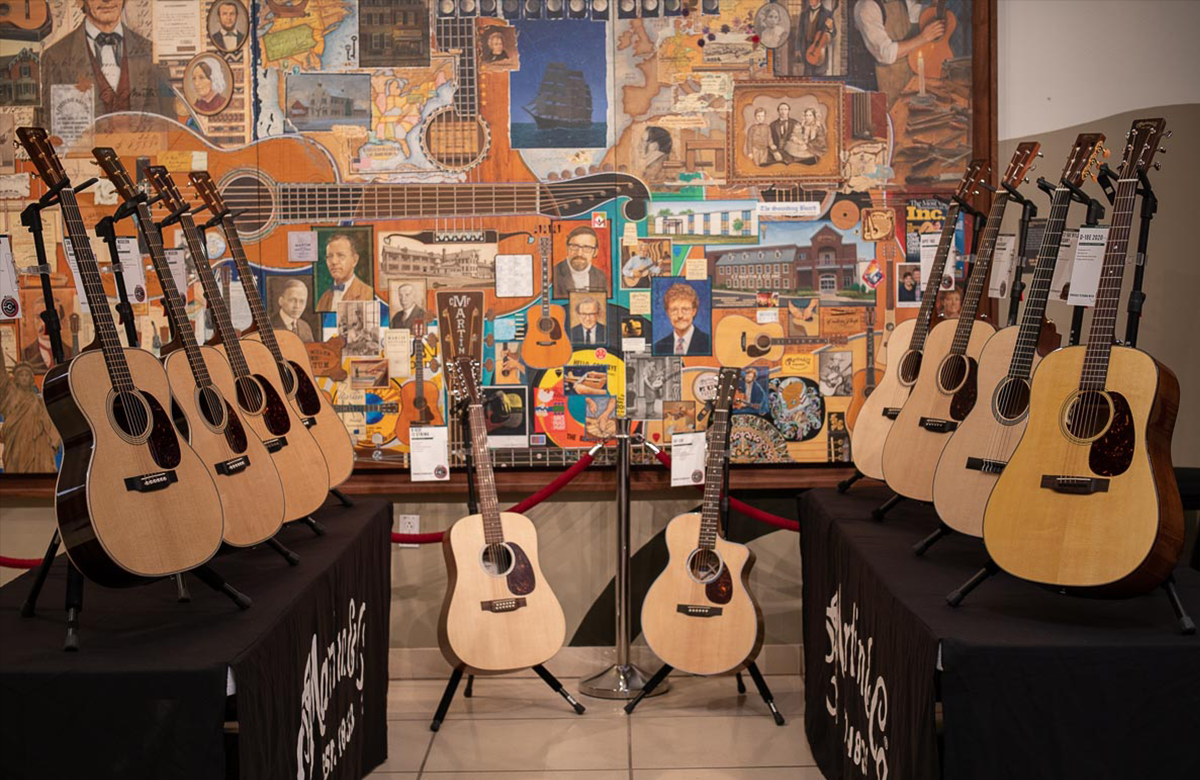 Maury's Music in association with C. F. Martin & Company is proud to present the new 2020 Martin guitars – New Martins for the New Decade!
The Acoustic-Electric Modern Deluxe Models Have Finally Arrived!

Next Generation Aura HD Imaging technology now part of the new Fishman Aura VT Blend electronics. One year ago the Modern Deluxe Series was announced with four fabulous models that have soared up the popularity charts. Made with classic pre-war Martins in mind, but using the latest, greatest technology, including carbon fiber bridge plates, ultralight titanium alloy neck rod and the super comfortable Vintage Deluxe neck profile, each Modern Deluxe Martin has a VTS Sitka spruce top with VTS Adirondack spruce bracing with Golden Era scalloping and secured with superior natural protein glue, and deluxe appointments like flamed European maple binding and gold hardware including long-lasting EVO frets, all four Modern Deluxe models are now available in an acoustic-electric edition.
The mahogany D-18E Modern Deluxe, and the rosewood D-28E Modern Deluxe, OM-28E Modern Deluxe, and 000-28E Modern Deluxe feature the latest, greatest Aura pickup system with stunning detail and ability to blend in as much or little of the Aura image as desired. List prices range from $4,999 - $5,799. And guess what? We already got em in stock! So give us a call if want to learn more.

---
D-42 Purple Martin Flamed Myrtle
​​The fourth Purple Martin model is made with lovely flamed myrtle with a tone as clear and musical as songbird, in this case the purple martin, state bird of Pennsylvania, home to Maury's Music and Maritn Guitars. The top is richly bearclawed Engelmann spruce, known for its glowing harmonic complexity, as colorful as the unique purple burst used on the top and back of this majestic museum-grade instrument. And then there are the exquisite inlays that have to be seen in person to truly appreciate the intricacy and magical refractive rainbows they give off. Truly stunning! List price $14,999

D-18E 2020
Limited to 2,020 instruments, the D-18E 2020 is a special version of one of the most popular Martins made today, the D-18E acoustic-electric mahogany dreadnought. What makes this instrument special is the beautiful East Indian rosewood fretboard, bridge, and headstock faceplate, as well as being used for the heel cap and body binding! D-18s were made with rosewood boards and bridges from the late 40s into the twentieth century. And there is no doubt the rosewood bridge helps the genuine mahogany and Sitka spruce dreadnought to sound more open and airy, making this acoustic-electric dreadnought ideal for finesse flatpickers and singers who want as pretty an accompaniment as possible.
List price $3,649

---

D-16E Mahogany and GPC-16E Mahogany
Mahogany tone has returned to the 16 Series with two new models to go along with the rosewood versions. Featuring Fishman® Matrix VT Enhance™ electronics and the super comfortable high-performance taper matched to a Modified Low Oval profile, and each made with a 000 body depth for long-term comfort and anti-feedback control when playing through loud sound systems, it may be hard to choose which 16 Series is right for you. Dreadnought or Grand Performance Cutaway? Mahogany or Rosewood?
We happen to have them all in stock, and along with videos to help you decide. List price $2,049

---
​​000C12-16E NYLON
Martin's latest nylon string guitar is a dream to play, whether your music is classical, folk, Latin, or jazz. And this beautiful cutaway acoustic electric 12-fret 000 has mahogany back and sides and Fishman® Matrix VT Enhance™ electronics, and it comes strung with Martin Magnifico® premium classical strings at a price almost as beautiful as the tone it puts out. List price $2,499

​​BC-16E
Get down, way down into the bass tones of the new Martin BC-16E acoustic-electric bass guitar, with a powerful Stika spruce top with scalloped, forward-shifted braces and luscious East Indian back and sides. Mammoth tone, round and rich, acoustic or when playing through the Fishman electronics. Bad to the bone! ​​List price $2,399

---

X Series
Martin is offering a large number of high-affordable X Series models at this years NAMM show, to numerous to mention here. We will be featuring them in a blog post all their own, coming soon! But feel free to check them out HERE. ​​List prices from $799 - $899.
---

SC-13E!
Martin revealed a completely NEW body design with the new SC-13E! 13-fret asymmetrical S body size with deep scoop cutaway, heel-less Velocity neck with new asymmetrical ergonomic profile, Sure Align neck joint and more.