Thursday, November 05 2020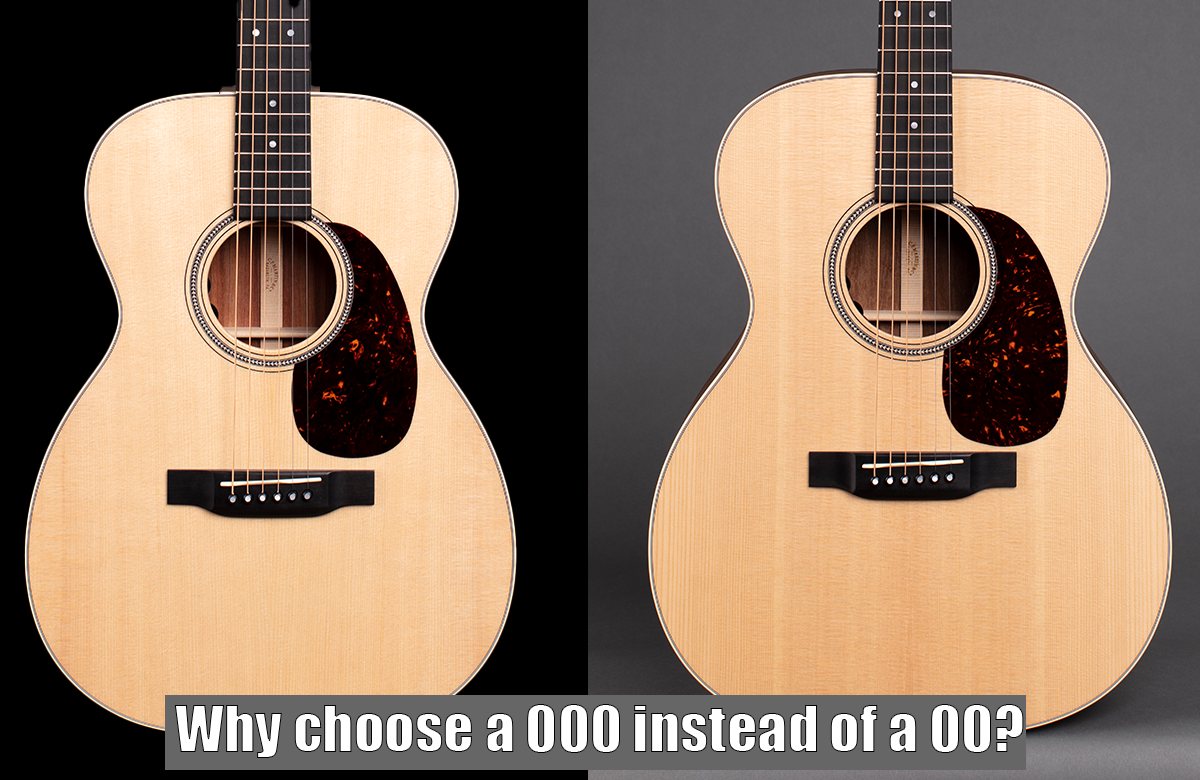 Why Choose a Martin 00 Instead of a 000? (Or Vice Versa)
As we contemplate and compare the similarities between the wonderful Martin 000-16E Granadillo and 00-16E Granadillo, the differences between them are definitely in the details.

Both models offer all solid-wood construction, including a Sitka spruce top with scalloped bracing, fronting Granadillo back and sides. Granadillo is a tropical hardwood from Central and South America of considerable density. So, the tone of both models has ample bottom end presence and pretty trebles enhanced with expressive harmonic overtones, closer to the rosewood family than the mahogany family of tonewoods. Granadillo is ideally suited for smaller bodies because of its enhanced bass response.

They both have the short-scale version of Martin's Modified Low Oval neck profile with their fast, sleek High Performance taper to the genuine ebony fingerboard, and the attractive Style 16 appointments that include Antique White binding and a classic herringbone sound hole rosette.
In fact, if you saw just one of these two models on stage in the hands of a guitarist, it would be difficult to tell which it was, since they look that much alike. So what's the difference?

The 00 is a Grand Concert size guitar with a soundboard and back that measure 14-5/16" across at the widest part of the lower bout, and with an overall body length of 18-7/8". The Martin 00s were very popular in the 1930s and 1940s, before being overshadowed by larger, louder guitars prior to the invention of modern acoustic guitar pickup systems. Today 00s are more popular than ever, and the Fishman Matrix VT Enhance electronics with the combination of a Martrix undersaddle pickup and Enhance soundboard sensor is perfect for today's progressive acoustic music.

The 000-16E Granadillo also has the Matrix VT Enhance system. But it is an Auditorium size guitar that measures a full 15" across the lower bout, and has a body length of 19-3/8". The 000 never lost its popularity, and for a time was basically the only alternative offered by Martin to their mighty Dreadnought models.
Even though the 00 and 000 have the same depth to the sides (4-1/8") the 000 has a larger sound chamber. And that makes a difference in tone, but also in feel.
The 00 size allows the neck to be 1/2" closer to the player's body. That may not seem like much, but it can mean a good deal during lengthy practice or performance, especially if a guitarist is of smaller stature. Many players say the 00 feels better when sitting down and is easier to reach around when standing up, compared to other sizes.

And the smaller body size and overall length mean a smaller case, which can fit into smaller spaces. So the 00 might be looked on as a better choice for a "travel guitar" while still being a "real" guitar with satisfying acoustic tone. And when plugged in, the voice can be as big and bassy as required, thanks to modern electronics and EQ.
When it comes to acoustic tone, the larger 000 sound chamber means it puts out a larger sound. Now, by larger we do not mean louder, although the 000 does have slightly greater sonic volume. Rather, the voice of the 000 is wider, projecting with notes a little more spread out. And while both models have very good balance across all six strings, the 000 has a slightly bigger note from the low E string.

The 00 has a more focused tone, which projects forward, with plenty of bass response thanks to the Granadillo back and sides, and with each note defined with great clarity. The 000 seems to have more space or air between the notes, while having the same richness from the wound strings and pretty musicality from the unwound strings. At least, that is how we hear it. Which one do we like best? Honestly, we cannot make up our minds, as there is so much to love about each of these wonderful Martin guitars.

But while you must consider the slight difference in physical size between the 00 and 000 while making such a purchase, we hope our videos of Maury demonstrating each model with the same microphone and same technique might help you decide which one appeals to you most, when it comes tone and dynamics.


Martin 000-16E Granadillo


Martin 00-16E Granadillo

Before we created this blog post, we asked some players of both sizes about why they play what they play, and in a nutshell here is what they had to say: it is a combination of comfort, playability, and tone.

In other words, it is a matter of such personal preferences that a guitarist should consider their own needs and likes when making such a choice.
We wrote to Spoon Phillips, our long-time friend in Brooklyn, New York, who always has an opinion worth heeding. As usual, Spoon had a lot to say about the subject, offering arguments for both based on tone and based on size.

"I have heard from various readers of my blog who've asked the same question". So, I will tell you what I told them. I always enjoy 00s because they are super-comfortable and a lot of fun to play. I would love to have one as my living room sofa guitar, for composing music or just for casual enjoyment. But ultimately I went for 000s, because I am coming from a Dreadnought and OM perspective. I want the advantages of a short-scale neck, but I also want the little bit extra "umph" in the bass that a 000 provides, from having the same size soundboard and sound chamber as an Orchestra Model.

If my main focus was acoustic Blues, I might have gone the 00 route, as they have a tone that can go from angelic and ethereal right into a punchy bark and snap that's great for playing the Blues, not to mention the fast playability and bendability to the strings."

Spoon went on to tell us a story about two accomplished guitarists who bought 00s because of their physical dimensions, but for opposite reasons. "Both went to Berklee College of Music in Boston. But they knew each other since childhood, when they bonded over being the youngest girls at the Frank Zappa concerts.

One of them went on to be a successful guitar teacher in New York City, before returning to work for her alma mater. She can be accurately described as a petite pixie of a person, who found that the 00 size was ideal for her short frame and arms, and her slender, smaller-than-average hands, which can play the most impressive Jazz scales like monkeys scurrying up and down a granadilla tree. [That's where they get their favorite food, the passion fruit. And the granadilla tree is also where Martin gets the granadillo wood used to make the 00-16E Granadillo and 000-16E Granadillo.]

But the point is, having the short-scale neck nearer to her body, because of the smaller 00 body, makes all that impressive playing a lot easier for her to achieve.
The other guitarist ended up in Nashville as a multi-instrumentalist, musical folklorist, and renowned journalist. She is basically the opposite of a petite pixie. But she too finds the exact same Martin 00 to be exceptionally comfortable, because of how its smaller specifications fit under and within the anatomical curves of what might be best described as her ample, womanly specifications. That happens to be partly why Martin chose the 00 size for their Women in Music models back in the 1990s.
But there are plenty of men folk out there playing 00s these days. I find it quite interesting that 00s have become so popular, since the size was practically extinct by the turn of the century. I do believe you are correct that a lot of that has to do with modern amplification. But I think it also has to do with the modern alternative acoustic music scene, which centered on the ukulele before branching out into various mini-guitars, like the Ed Sheeran models.

The 00 seems quite large to a ukulele player, while still being easy to play and portable too. But it has the complete dynamic range of full-size guitar. It was, after all, considered large enough for perform a "grand concert." But I personally play a 000 because of how the beefier lowest bass string stands out from the herd a little more than the low E string on a 00, which is more perfectly aligned with the other strings."

To each their own reasons! Which will you choose? The 00-16E Granadillo or the 000-16E Granadillo?