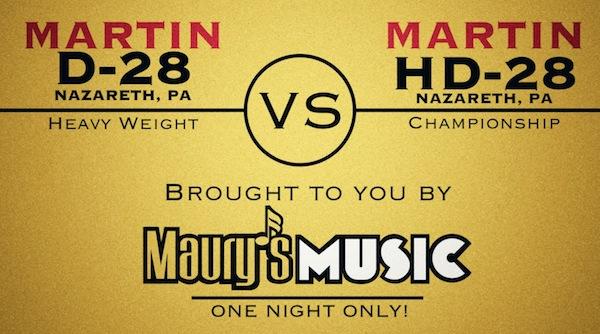 This week we're going to try to clear up one of the most common questions I'm asked by customers, the differences between a Martin D-28 and a Martin HD-28. Which is "better", which works for what style and what is the right one for you.
Without a doubt the 28 Series Dreadnoughts are Martin's most popular products and with good reason. Released over 80 years ago, the D-28 revolutionized the acoustic guitar world. It was the first mass produced large bodied, steel stringed instrument and it was readily adopted by players across the country. For Bluegrass guitarists who needed a louder guitar with a pronounced bass to be heard on a busy stage, the D-28 was a godsend. Projective enough to be heard over multiple instruments without sacrificing tonal quality or detail, the D-28 has carved out a place in Bluegrass, Country, Folk, Pop and probably a dozen genres that I'm simply forgetting. The D-28 is the guitar that made Martin a household name and without it, I don't believe they'd be the same company we know and love today.
While it's popularity has remained relatively constant, as an instrument itself the 28 series Dreadnoughts have been anything but static. Martin has made countless iterations of these instruments, far too many for a single blog post to even scratch the surface of. With this in mind we're going to have to focus our attention a bit. This article will be dealing with the modern versions of the Martin D-28 and it's younger brother, the HD-28. We'll have to leave the vintage models, the Marquis editions and the Authentics for a different day.

How are they built and how do they look?
Lets get the similarities out of the way first. The D-28 and the HD-28 are identical when it comes to measurements. Both are 14-Fret Martin Dreadnoughts with a long at 25.4" scale length. Both feature Low Profile necks and 1-11/16" nut spacings. The D-28 and the HD-28 are both constructed with a solid Sitka Spruce top, 5/16" X bracing, an ebony fingerboard and bridge, and East Indian Rosewood backs and sides. What all of this is really saying is that, in terms of feel, there is no difference. If you're comfortable playing a D-28 you'll find the HD-28 just as comfortable and vice versa. Honestly, with my eyes closed if I was holding one (and not playing it) I really wouldn't be able to tell the difference.
There are some aesthetic differences between the two. The first is that the HD-28 has Herringbone inlays while the D-28 has simpler black/white striped inlays. Originally all 28 Series guitars had Herringbone inlays. The H in HD actually stands for Herringbone. Originally the herringbone binding was taken off of the D-28 as a cost saving measure to keep the guitar affordable to everyday players. In the mid 1970s Martin released the HD-28 as an answer to the customers who wanted a D-28 that was more reminiscent of the "Golden Era" 28s of the 1930s and '40s. In this same vein Martin also uses a decorative Tortoise Shell patterned pick-guard on the HD-28 while the standard D-28 has a more reserved plain black pick-guard.
D-28 Pick Guard HD-28 Pick Guard
D-28 Binding HD-28 Binding
D-28 Purfling HD-28 Purfling

How do they sound and why?
While it's cosmetic upgrades are nice, it's not looks alone that separate the HD-28 from the D-28. To understand what really sets these instruments apart we're going to have to take a step back and look a little more carefully at the bracing. As I mentioned earlier, both the D-28 and the HD-28 have 5/16" X bracing, but those familiar with the guitars will notice I left out one important detail. The D-28 is a straight braced guitar while the HD-28 features scalloped bracing.
For those of you unfamiliar with the idea of scalloped braces, here is a brief overview:
Scalloping is a process where a braces are made concave by the luthier who carefully shaves away at the brace, arching it and making the center thinner than either end. The idea behind this is simple. The sound of a guitar is highly dependent on the vibration of the top. The more vibration the top gets, the louder and more bass heavy the guitar will be. Luthiers try to find the "sweet spot" for lack of a better term where there is as little bracing as possible so that the top can vibrate freely but still enough support to keep the guitar stable and structurally sound. A guitar without this shaving away of the braces is refered to as straight braced.
Originally the D-28, and all Martin guitars had scalloped bracing. As the years progressed players began using thicker strings with more tension. To help make sure the guitars could stand up to this increased tension, Martin stopped scalloping them after the mid 1940's and the standard D-28 has been straight braced ever since. To get a better idea of the difference between straight and scalloped bracing, please refer to the pictures below
Straight Bracing Scalloped Bracing
Illustrations courtesy of Martin Guitars
The problem with comparing the tone of two different model guitrs is that the sound of an instrument is dependent on countless variables. Bracing, wood thickness, wood quality, whether or not the luthier had a headache that day, the age of the strings and a host of other things all play a part. So, for the purposes of this article we're going to have to generalize a bit and treat the comparison as if all else is equal. Two guitars, one a D-28, one an HD-28, both with identical wood, strings, etc. The first thing you'll notice when comparing a D-28 to an HD-28 is the bass response. Right out of the box the HD will have a louder, fuller bass than a D-28. It may also just be generally louder. As we said, this is all due to the scalloping of the braces.
As with all things Acoustic Guitar related, there is of course a catch. Most players who get a chance to do a direct comparison of a D-28 and an HD-28 in the same room are probably going to do so at a guitar shop, meaning we're dealing with brand new, unbroken in instruments. In this setting I think most people are going to prefer the fullness and volume of the HD-28 over the D-28. The problem is, this doesn't allow us to take aging into account. The D-28 will be a stiffer sounding, quieter instrument at the beginning of it's life. However, as it is played over the years and the wood begins to break in the D-28 will begin to develop a stronger bass, in a way "catching up" to the tone that the HD-28 started with. After all, there are countless players, many of the famous guitarists who have been playing straight braced D-28s for decades. They must have a reason for it.
Subjectivity and personal opinion
When I get questions like this from customers who are trying to make a decision on a guitar, I really wish I could give a definitive answer. "Guitar X is better than Guitar Y for these reasons..." would make my life and theirs a lot simpler. Unfortunately, it just doesn't work that way. Depending on your playing styles, tastes or simple nostalgia, you may prefer the D-28 to the HD-28 or you may think the HD-28 blows the D-28 out of the water. Even personally, I bounce back and forth all the time on which one I "like more". The HD-28 has a fantastic low end and, for flat-picking is second to none in my book. The D-28 lacks some bass, but has a more balanced tone to my ear, which I sometimes prefer for melodic work. The reality is simply that there is no winner or loser. Both are great guitars that have withstood the test of time for a reason. I do however hope that a better understanding of the differences will help you in your decision between the two instruments.
Further Listening:
If you're really trying to get a grasp of the tonal differences between the D-28 and the HD-28, I recommend taking some time to watch the product demo videos we have on our site. If possible, use a set of headphones to listen as I don't think that a laptop or a phone speaker will have the fidelity needed to really appreciate their nuances.
Both fine guitars, but I think the HD-28 sounds better! Thanks for the comparison! I own a HD-28E Retro which has the PA neck and 1 3/4 nut which I also prefer. Love Martins!!
Posted by
Mike Griffith
on
05/21/2015 - 08:17 PM
I own an HD 28 but have never played a D28. I liked the article. It made me wish I could have the best of both. When I bought the HD I played a D45. Which I have to say SERIOUSLY impressed me. But I didn't want the bling. So I bought the 28 instead. Price wasn't a problem for me at the time. It was just the looks. Since, I have had the guitar adjusted by an expert luthier. It now has an action not far of my SG and I reckon better than my brother's Les Paul. The sound is amazing. Boy does that thing fill a BIG room.
Posted by
Jim Dale
on
03/04/2017 - 12:32 AM
I agree that upon aging d28's bass is more loose and catching up to new hd28's bass sound. But what about hd28 upon aging?i heard it sound too boomy.. Of course personal taste is different, but that's what i heard! Is that true?
Posted by
Slianto
on
04/20/2017 - 09:54 PM
I have both and also HAD 28V. I cannot say one sounds better than the other as each one is unique in it's own way. It just depends on which sounds I want to hear. I.love them all the same. Great guitars of which I am a very fortunate owner
Posted by
Dennis Myers
on
01/05/2018 - 06:19 PM
I am a beginning guitar player. I am saving for a quality Martin. What would the difference be between the D-28 and the OM-28 as far as playability and tonal quality. I have large hands so i need a wider fretboard.i am leaning towards the OM 28. If i can afford new is there any advantage to buying a mint used one
Posted by
Dan Van Buskirk
on
02/08/2018 - 09:25 PM
To be clear, when the HD-28 was introduced in the 70's it was fit with a solid black pick guard. That continued into the 90's at least. I'm not sure when the tortoise shell was introduced on the standard HD-28 but it was after the early 90's. I agree the HD produced much more bass and I believe overall response, which is one of the reasons I sold my 12 year old D-28 and bought the HD-28 new. The new, off the shelf HD was clearly much looser than the older broken in D-28. What I disagree with is the idea that a D-28 catches up with an HD-28. HD-28's also loosen up and break-in as do D-28's. Yes each guitar has it's own personality. I was fortunate enough to find 4 new HD-28's in the local store way back when I purchased mine.
Posted by
Jan Frank Rische
on
05/02/2018 - 09:03 PM
Dan, there is a huge difference between OM and a D. I have owned both and a OO parlor size. My favorite by far is the OM. It has better tonal balance, less boomy, which are very subjective terms. What is not subjective is that the OM is narrower in depth and a smaller lower bout. This makes the OM a much more comfortable guitar to play for hours on end, which is what a beginner should desire. I like wide fingerboards, measured at the nut, for fingerstyle. If you are going to mainly strum chords, you would likely prefer a narrower nut width, less than 1 3/4 inch. Good luck if you ar still looking
Posted by
John
on
01/20/2019 - 01:34 PM
Thanks. Good article. Answered all my questions.
Posted by
Michael Roberts
on
06/16/2019 - 09:16 PM