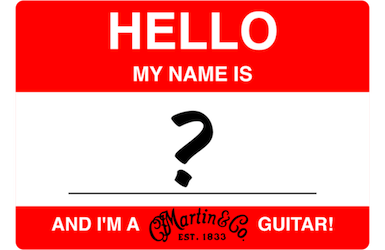 For a newcomer to Martin guitars, the sheer size of their lineup can be overwhelming. With over 100 guitars in their lineup at any one time, all labeled with Martin's own unique labeling system, it could seem tough to narrow down your options. This weeks article is going to be an explanation of Martin's guitar naming system, breaking down exactly what each part of a model's name designates and what it means to you. In ten minutes you can go from a complete Martin beginner to an expert.
Breaking down the basic naming conventions
First, let's break down the format of Martin's basic naming convention. This system normally involves 2 to 3 different pieces per model name. For our example, let's look at the D-16RGT
The pre-hyphen Letters/Numbers : "D" - In most cases the body size is the only thing listed before the hyphen in a Martin Guitar's title. In this case we have a "D", designating the guitar as a Dreadnought sized instrument.
The post-hyphen number : 16 - The two digit number following the hyphen is usually the Series designation. So this particular guitar is a member of the 16 series family.
The suffix letters : RGT - The suffix letters, or the following the series number, are normally specific attributes of this particular guitar. In the D-16RGT's case, the R stands for Rosewood and the GT stands for "Glossed Top". You'll find a more comprehensive list of these Suffix designations later in this article.
​Pre Hyphen Letters/Numbers : Martin Body Sizes
Starting from smallest body size to the largest...
0, 00 and 000 - Martin's 3 smallest body sizes, with 0 being the smallest and 000 being the biggest of the 3. All similar in shape, but with length and width dimensions varying between size. The 000 is also sometimes refered to as an Auditorium size body.
0000/M : 0000 and M are interchangeable. Slightly larger than the 000 but without getting too much deeper. Commonly refered to as a Grand Auditorium
OM : Orchestra Model. The body of these guitars are identical to those labeled 000.
GP - Essentially a deeper bodied OM size guitar. Close to the same top shape as an OM with almost the same depth as a Dreadnought.
D - Dreadnought, Martin's signature body shape.
J and Grand J - Martin's two largest body sizes. Body sizes work particularly well for 12-String guitars, but are not nearly as common as Martin's other body sizes.
​
Post-hyphen Numbers : Martin Series
Knowing the basics of what general attributes each series has can really help you cut down on the time it takes you to narrow down your instrument choices. Here are list of the most popular:
15 - Martin's affordable series for those looking to get into a completely solid wood guitar. All Mahogany (Or similar tonewood) in construction. They use the less popular A-Frame bracing.
16 - Originally created as an affordable alternative to their more expensive 18 and 28 series. Solid wood top, back and sides, these guitars will come with a spruce top but can be found with both Mahogany and Rosewood back and sides, depending on the model.
18 - The first step into the truely well known Martins. Spruce top, X bracing, Mahogany back and sides.
21 - Sort of a cross between the 18 series and the 28s. 21 series guitars, such as the OM-21 are built with 18 series appointments but with 28 series tonewoods.
28 - Spruce top, East Indian Rosewood back and sides, X bracing and a two piece back. Martins best known and loved series, the 28s are the guitars that helped make the company what it is today.
35 - Originally created when Martin was having a hard time sourcing large enough pieces of Rosewood, the 35 series is very similar to the 28s. Spruce tops, East Indian Rosewood back and sides. The two general differences are most in the series have bound necks and a 3 piece Rosewood back instead of a two. Also tend to have thinner bracing than similar guitars of other series.
41-45 - Martin's high-end "Flagship" guitars. Highest grade woods, abalone rosettes, intricate inlays. All of these guitars will be a Spruce top with East Indian Rosewood backs and sides. The backs are made up of two pieces.
Suffixes
A - This guitar has a thinner depth than usually associated with the body size.
C - This model features a Cutaway.
E - This model comes with pickup installed right at the Martin factory
GE - This guitar is a member of the Golden Era series
GT - Glossed Top. When you see this designation it means that the top of the guitar has a Gloss finish while the back and sides will have a satin finish. A guitar without this designation will either have the top, back and sides all Glossed or all Satin
K - Koa. This can mean that the guitar is made using Koa wood (Where it normally wouldn't be in that series, for example the 000-28K Authentic) or, such as in the case of the Little Martin guitars, it uses HPL that has a faux Koa print on the outside.
LS - Large Soundhole
M - Mahogany. Same as with the Koa (K), this designation can mean that the guitar is made of genuine Mahogany or else that it features a Mahogany print on it's HPL.
N - The guitar is a Nylon String.
V - Vintage. Typically denotes that a guitar has a Modified V neck profile.
R - Rosewood. Same rules apply as for Koa and Mahogany
S - This guitar features a Slotted Headstock. For example, the HD-28VS, which features both a Modified V neck and a Slotted headstock.
Exceptions
Of course, as with almost everything related to acoustic guitars, there are going to be exceptions to Martin's standard naming convention. It would be impossible to list all of the exceptions in Martin's catalog (As well as fruitless, since any comprehensive list would be out of date relatively quickly). So instead, here are a few examples:
D12-28 : Unusual for Martin guitars, the D12-28 has numbers that fall before the hyphen. In this particular case the number is 12, designating this guitar as a Dreadnought sized 12-String guitar in the 28 series.
SWOMGT : First thing you'll notice is no hyphens or numbers at all. For the SWOMGT, the first letters do not designate the body size. Instead, SW stands for Sustainable Wood, which is actually a particular series of guitars. The OM is the body size and the GT is for "Glossed Top".
00-DB Tweedy : The 00 in this guitar does designate the body size as expected. The DB however is not a series, instead meaning Deep Body. So we know it's a 00 sized guitar with a deeper than usual body. The Tweedy is simple the last name of the artist who worked with Martin in designing this guitar, Jeff Tweedy of Wilco.
OM vs 000 : Traditionally the designations of OM or 000 told us a lot of information beyond body size. Conventionally, an "OM" (also know as Orchestra Model) was a guitar with a 000 sized body, a long scale, and a 1-3/4" nut. A "000" was a guitar with a 000 body size, a short scale and, normally, a 1-11/16" nut. Over the years this strict delineation has been lost. Some OM models feature 1-11/16" nuts while some 000 models have 1-3/4" and sometimes even long scales. When deciding between particular OM or 000 guitars in the Martin line, it's important to double check these specs to make sure the guitars are build with the features you need.
HD Guitars : Guitars listed as HD before their hyphen are also exceptions to Martin's normal syntax. An HD and a D are both Dreadnaught sized guitars. The H in HD actually stands for Herringbone, a description of the inlays the HD models have that the standard D model does not. Keep in mind though that a guitar does not need to have an H in it's name to have a herringbone trim. For example an OM-28 also has a Bold Herringbone top inlay but does not have an H in it's model designation.
As you can see, while there are certain rules that will help you navigate the Martin line, it's only going to get you so far. As new models are released, some will inevitably fall out of the normal Martin naming conventions. However, with the information given here you will be able to parse the majority of Martin's catalogue. As always, we're here to help so please don't hesitate to contact us with any questions you may have. We are happy to help you choose the Martin that is right for you!