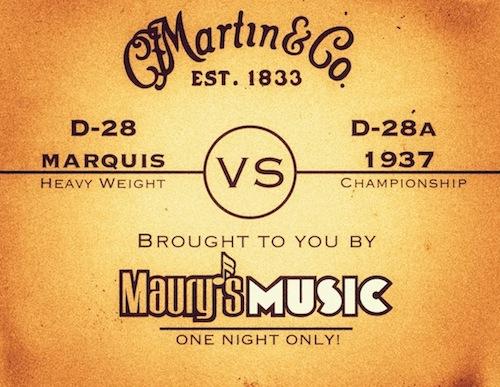 For this week's article we're going to try something new. This topic was actually requested to us by a customer who was having some difficulty understanding the difference between the D-28 Marquis and D-28 Authentic 1937. Both of these guitars offer similar woods, construction and features. However, as with all things acoustic guitar, the devil is in the details and it's only by looking carefully at the specs that you'll get a full picture. But first, let's talk generally.
Marquis and Authentics: What are they?
Martin's Marquis Collection guitars are designed to be a "step above" their Standard Series offerings. These instruments come with higher wood grades, fancier appointments and a definite vintage inspired flair that sets them apart from the more plain (for lack of a better word) Standard Series guitars. They are popular among a lot of players because they successfully balance a line between the convenience of modern Standard Series instruments and the vintage features that so many Martin players lust after. They are meant to be a blend of the Golden-Era guitars of yesteryear with the modern construction techniques of today's Martin lineup.
The Authentic series, on the other hand, takes the idea of recreating a Golden-Era guitar and pushes it to it's farthest point. Martin's Authentic series are designed to be as close of a representation to how an instrument was built in each models respective year as is currently possible. By using CAT Scan machines to inspect actual Golden-Era Martin's from their own collection, Martin has been able to make as close of a reproduction of these pre-war guitars as one could hope to, at least without the use of a time machine. While some concessions must be made in terms of materials that are either unavailable or simply no longer legal to use, Martin has been meticulous in getting these guitars to be as accurate as possible. They use identical (or at least similar as possible) woods, construction techniques and measurements as the guitars upon which they were based.

D-28 Marquis D-28 Authentic 1937
What's the same?
Before we begin to dissect the difference between these two models, we take a brief moment to lay out the features that these guitars share. Both the Marquis and the 1937 are identical Dreadnought sized 14 Fret instruments with dovetail neck joints. Both are constructed with Adirondack soundboards braced with 5/16" Adirondack braces. Both have 2-5/16" bridge spacings, 1-¾" nuts, 2-¼" widths at the 12th fret and 25.4" scale lengths. They also both feature scalloped forward shifted X bracing. I'll be the first to admit that these specs make up a large portion of the "basics" of a guitar and, for a lot of players, are the first things we check when searching for a new instrument.
So what makes them different?
The Woods:
The first place to start when comparing any two Martin Dreadnoughts are the body woods. As said above, both of these instruments feature solid Adirondack Spruce tops. The D-28 Marquis has an untreated Adirondack top. At the beginning of the guitar's life it may sound a little overly bright or brittle, but as the guitar breaks in, both from playing and from the simple passage of time, this Adirondack will begin to mellow a bit, still giving that bright, sharp attack that bluegrass players love while also introducing "sweeter" more complex elements to the tone.
The new (Made from 2015 onward) D-28 Authentic 1937s' top has been treated with Martin's Vintage Tone System (VTS). This is a proprietary process that bakes the wood, breaking down the cellulose and water content, in essence giving the brand new top the same characteristics that a well played untreated Adirondack top may take years to develop. This VTS treatment is a new feature among authentic guitars. Anyone who owns a pre-2015 Martin Authentic, whether it be the D-28 1937 or otherwise, will have an untreated Adirondack top.
These guitars also differ in the rosewood used for the backs and sides. The D-28 Marquis uses Martin's standard go-to East Indian Rosewood. This is the same species seen on all standard series Rosewood instruments. The D-28 Authentic 1937 on the other hand is built using Madagascar rosewood. To my ear, these woods are very similar in terms of tone although the Madagascar may be slightly more responsive in terms of harmonics. Visually however the Madagascar definitely surpasses the East Indian, with a much more colorful and interesting looking grain pattern.
The Necks:
The D-28 Marquis features Martin's Modified V neck profile. With the exception of the Authentic series guitars the Mod V neck is probably Martin's most "vintage" inspired neck but not to an extreme. Although not nearly as slim as some of Martin's other profiles, it should still feel pretty familiar to most Martin players even if they haven't played it before.
The D-28 Authentic 1937 features a Barrel & Heel neck, made to the exact measurements of the original 1937 guitars. For those who haven't had the chance to play a neck of this size before, it can come across as a little intimidating at first. However, don't let size get confused with comfort. Although the Authentic neck is bigger many players, myself included, find it to be a very nice neck to play on and it will probably suit those with medium to large sized hands very well.
There are two other small differences in the necks between the Marquis and the Authentic 1937. The more obvious of the two is the finish. The D-28 Marquis features a Satin finished neck, just as the majority of Martin's do. The D-28A 1937 features a period correct gloss neck. Which is better is a subjective question that every player must decide for themselves. The other difference between the two is more "under the hood". The Marquis, like all modern Martin's has a two way adjustable truss rod. This means that neck relief can be adjusted due to climate change or different string gauges that provide different tension on the neck. The D-28 Authentic 1937 on the other hand features a non-adjustable truss rod, which means that humidity must be carefully controlled year round to prevent relief change on the neck. Also, the guitar will come strung with medium gauge Martin strings and the truss rod is pre-adjusted for that specific tension. Changing to a higher or lower gauge may cause issues in the relief that can only be adjusted by reverting back to the original stock string gauge.
Glues:
Vintage Golden-Era Martin's were constructed with hide glue. This is an older style of heated glue that requires a deft hand because of the speed at which it must be applied before cooling. Over the years as technology advanced most guitar manufacturers, Martin included, have moved on to an easier to use white glue for acoustic construction. The D-28 Marquis is constructed with the more modern white glue.
In the spirit of keeping the Authentic series as "authentic" as possible, the 1937 is constructed using hide glue. The difference between this hide glue construction and newer white glue is something of a standing argument between guitar experts. Some luthiers claim that wood glue leads to a looser construction, allowing for easier vibration and a more resonant guitar. Others say the difference is nominal if it exists at all. Personally, I always had the impression that even when fresh from the factory the Authentic guitars sounded more "broken in" than other Martin models. Your own milage may vary.
Which is for you?
The choice between the D-28 Marquis and the D-28 Authentic 1937 is not an easy one. Both bring their own pros and cons to the table and it's up to the player to decide what's best for them. The Marquis is a beautiful hand crafted instrument that seems to effortlessly mix the vintage features we want with the modern features we've come to expect. The 1937 is undoubtely one of the best Adirondack topped rosewood dreadnaughts being produced by Martin today. You'll need to weigh them both carefully and figure out which features are most important to you. But don't stress about it too much. At the end of the day both of these instruments are top of the line and I can't see most player being truly disapointed with either.
Maury's blog is intended to cover some of the most common player questions, whether they be about products we carry or techniques of playing. We're always brainstorming new blog subjects between ourselves but we could always use some help. If you have an idea for a blog article you'd like to see or a question that you can't seem to find an answer for, let us know below by posting your comment!
Can you order the VTS top on the Marquis? New Adi tops seem a little stiff to me and I'm getting too old to wait for them to break in!
Posted by
Bill Cook
on
07/15/2015 - 02:49 PM
Wow I live close to this neighborhood, I have a D28 SB Marquis and a D28 Marquis 1941 Authentic. Since I can only play one at a time I usually pick the 1941. But when I play the Marquis SB I am very pleased. So I would say play them both and do it together and separate. If you find yourself happy with both buy buy the Marquis SB and then get a Marquis D18 Golden Era. Now you get Rosewood and Mahogany. But if it only will be one try a D28 1941 Authentic then decide. It all comes down to what inspires you!
Posted by
Max Vander Linden
on
07/15/2015 - 03:48 PM
Bill, the D-28 Marquis can now be ordered with a VTS top through the Custom Shop. If you'd like more information, please send me an email.
Posted by
Angelo
on
07/15/2015 - 04:12 PM
I have a 2008 D-28 Marquis NT. The neck is perfect for me. The sound is the best I've ever played (started 1969)... balanced tone with that noted Martin base. I put a K&K Pure Mini pickup with sound wheel in mine. The truss rod is essential to me. No chance I would buy any quitar without one. Love the wider string spacing (2 5/16) at the bridge with 1.75 nut. I'm set for life.
Posted by
Bob Johnson
on
03/13/2018 - 05:23 AM
Yeah the Marquis just does it for me, although the Authentic is another breed from the past. The climate we have as in four season would require the adjustable truss rod.I play her lots and it has opened really good.It's that good both the Marquis/Authentic.....The GE/Retro offerings is another story.
Posted by
Rodney N.
on
03/10/2020 - 11:41 AM