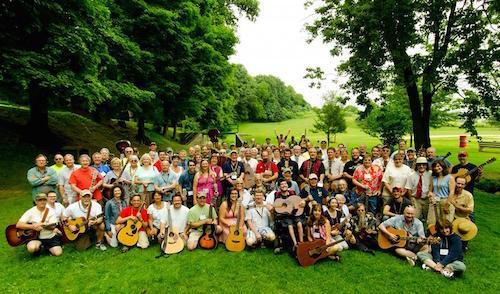 Every year, in early August, the members of the Unofficial Martin Guitar Forum gather in Nazareth, PA for a weekend of comradery and jamming. Maury's been a member of the UMGF since 2001 and he's proud to be a part of such a great group of Martin Guitar fans. Friday & Sunday is spent informally at the Nazareth Boro Park, where anyone & everyone can perform, listen, or both!
On Saturday, Martin On Main is the big attraction downtown, and the streets are lined with food vendors, a couple small corner stages where you can hear local acoustic talent, Blues Creek Guitars performs free restrings (wow!) and paid pickup installations, Martin Guitar has a booth where you can try their instruments and enter a guitar giveaway raffle, and Maury's Music is proud to sponsor the sound production.
The real draw at Martin on Main, is the main stage music - and sadly, every year this block party comes and goes with little or no kudos to the UMGF volunteer performers who electrify the entire afternoon with amazing live music.
So here's a Maury's Music THANK YOU to all of the Unofficial Martin Guitar Forum members who volunteer their time and talents, onstage. Thanks for all you do!
Photos courtesy UMGF member, Jay Keller:

Had a great time at Martin on Main in the past or looking forward to this year's event? Please post your comment below.