Wednesday, August 19 2015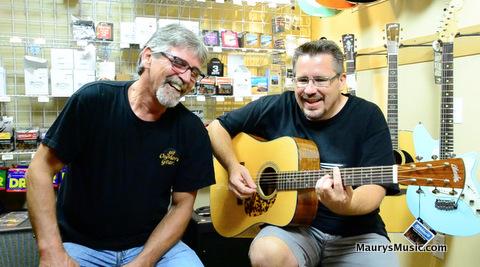 Ron is a great local musician and a good friend & customer of ours! His band "Nightwind" performs all over our local area and he was also a member of "Shades of Grey" a few years back. A rabid fan of the Fab Four, he's been known to scream "BEATLE ME!" at Maury & Tim whenever he's in attendance. We often play a Beatles song for him on one condition: He has to do one with us. This is the one we do. Maury is playing a Blueridge BR-140A.
I've been listening to Ron's music all my life. He makes our parents very proud whenever they would hear him play and/or sing. Love ya Ron!
Posted by
Cheryl
on
08/20/2015 - 12:52 PM
I've been listen to Ron's music my whole life too. I guess that makes us both lifetime fans. Great blog!
Posted by
Susan
on
08/20/2015 - 02:53 PM
Musical beyond words, keep on rockin Ron, we are proud!!!!!
Posted by
Annette
on
08/20/2015 - 05:11 PM
Love it!! Miss seeing you guys!!
Posted by
Skye
on
08/20/2015 - 09:45 PM