Wednesday, December 09 2015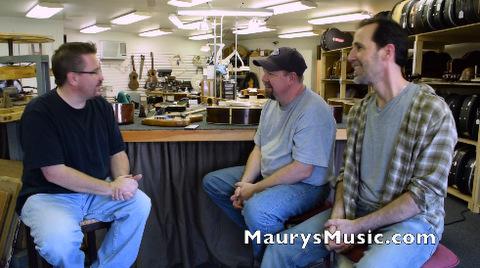 Maury visited Brothers Music Shop in Wind Gap, PA. Dave & Rich are good friends of ours and their years of experience working at Martin Guitar have fueled their passion for instrument repair & vintage restoration. Brothers Music Shop is known for bringing old guitars back to life, and we got a brief history lesson of this great little repair center.
Rich and Dave (and Charlie) are tremendously gifted Musicians. BROTHERS MUSIC SHOP is run with Professionalism, HONESTY, and unsurpassed workmanship !!! In the last 5 months, I purchased two guitars here - a Taylor and a Martin -and love both. I know that if I ever need any work on them Rich and Dave will be there for me. AND when I am ready for another guitar, there is NO doubt where I will go to find it !!! Dec 19th is a holiday get together and open mic...looking forward to joining friends at the shop. The listening room has a magical aura that keeps you coming back for more !!!
Posted by
Jeannie Lee
on
12/11/2015 - 11:27 PM
Love these field trip videos! I'm also happy that Rich and Dave have "made it" and are doing so well. Two great businesses - Maury's and Brothers, and such great friends. Hope to be there Saturday.
Posted by
Rhys Ord
on
12/12/2015 - 10:28 AM