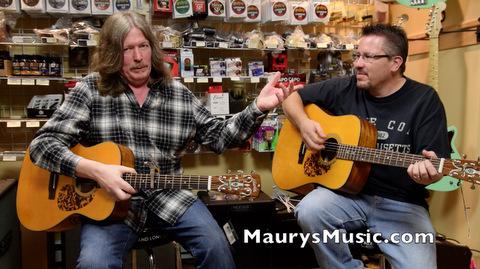 At Maury's Music, we play the products we sell. Maury has performed onstage with some very talented local musicians over the years, and they're all fans of Maury's Music. Go figure! :) Chris was here today for a Mesa/Boogie video shoot. After the guys were finished in the studio, they sat down for an impromptu Beatles tune. Chris is playing the Blueridge BR-143 and Maury is playing the Blueridge BR-140.
Thanks for stopping by, Chris!
That was beautiful! I just love our local musicians! You are two of the best! Can't wait to have you both back. At the center to play!
Posted by
Shirley Tirpak
on
12/14/2015 - 10:52 PM
What a wonderful version of one of my favorite songs. Beautifully done. Thank you.
Posted by
Greg Kendig
on
12/16/2015 - 09:01 PM
Great job maury and chris. Remember, I want front row seats when you two start your world tour
Posted by
Annie derlunas
on
12/18/2015 - 02:40 PM
Outstanding job. Nice harmony. Keep the videos coming.
Posted by
Norm Warner
on
12/27/2015 - 09:54 AM