Tuesday, February 23 2016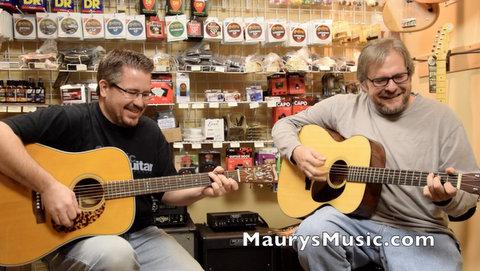 Jim Macaluso is one of Maury's oldest pals. When Jennifer Lopez morphed into J-Lo, we upgraded Jim to Jmac. So it is written, so it shall be done. :D Maury & Jmac performed together with Becky & the Beasts' drummer Larry Choley in The Jmac trio for a few years in the Carbon/Schuylkill county areas, and Jmac can be found sitting in with Maury & Tim whenever he's in town. The two have a serious affection for golf and Warren Zevon music & this tune is one we often do at our local gigs. Maury is playing a Blueridge BR-160 and Jmac has a Martin 000-18.
​


​
Great videos with JMac! Love the 000-18 he's playing. So tempting! And your great high harmony on the Zevon tune just proves that you hoodwinked me into singing lead on "Pepper" last November!
Posted by
Marshall Fleisher
on
02/23/2016 - 08:07 PM
Ha! You heard me try and sing Sgt Peppers. What a foul, unhappy steaming pile of vocal garbage. :) You are the Macca of D.O.R.K.F. and always shall be. Yeah Jmac's 000-18 is a sweet one.
Posted by
Maury
on
02/23/2016 - 10:21 PM