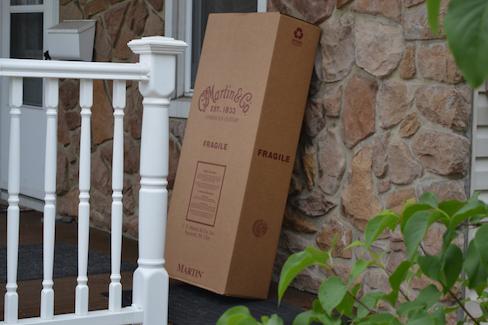 You arrive home after a long day of work. Woohooooo! Your new guitar was delivered today ... at 11am. It's 6:30pm and you can't wait to tear open the box and take it for a test-drive! You'd better hurry. The store who sold it to you offers a 3-day inspection period, and day 1 is almost over already. Maybe after dinner with your family you can sneak some guitar time. If it's cold outside, you really must wait until tomorrow to open the box. Shocking the guitar from cold to room temps too soon can crack the finish, or worse.
Day 2. Wake up early and give yourself some ME time with your new guitar. Not too loud now, not everyone is awake yet. :) After work, you can put it through its paces. Or do you have to pick up your kids at soccer practice? Better find out. Family first!
Day 3. You awake to find you really like your new guitar... but your'e not completely sure if the neck is as comfortable as you hoped and you haven't had a chance to really know if this guitar is that much better than the other one you played last week. Too bad - time's up. If you don't postmark the guitar for shipment today, you have no recourse, as your 3-day trial is expired. Not fair? We agree!
At Maury's Music, we give you 14 days to truly evaluate your new instrument. We know you're busy. You're time is valuable and you deserve to really know if this guitar is right for you. Take the weekend. Play it at home and at rehearsal. Take it to your lesson on Tuesday and ask for your teacher's opinion. Take it to your tech. Be sure! You've wanted this guitar for so long. You want it to be right. Don't rush it. At Maury's Music, we play the products we sell, we give you honest advice from a player's point of view. Some other stores only give you 2-3 days, and that's not nearly enough time. Some of them charge shipping and some even charge you with a restocking fee / processing fee if you return it. Why would you overpay for the guitar, pay for shipping, risk a restocking fee, or limit yourself to a fast and furious trial period? You shouldn't. And we're here to make sure you don't have to.
When shopping for your next guitar, don't just compare prices - compare policies, too. We're Maury's Music and we appreciate the opportunity to earn your business!
How much time do you need to truly evaluate a guitar's tone & feel? Please post your comments below.
You want the best, you buy from the best. MAURYS MUSIC, COALDALE PA. The best place to buy your musical needs, and wants.Professional at its best.
Posted by
Payne Shelton
on
01/17/2018 - 03:44 PM
My 1971 D28 feels good in my hands, a part of me. But having said that, I haven't had a problem with any Martin neck yet. I got a custom OM35 from you in the 90s through UMGF, and I think it had a modified low profile. That guitar booms! I have a friend who plays banjo, and he doubted anyone would hear me over his banjo, but that OM really projects!
Posted by
Joel Baker
on
01/18/2018 - 11:59 AM