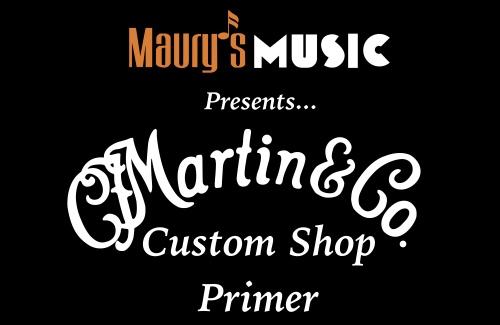 For fans of the brand, the Martin Custom Shop holds a bit of mystique. It's where their top tier luthiers work, putting out guitars that ride a fine line between instrument and showpiece. Maury's Music is proud to work closely with the Martin Custom Shop to help bring these instruments to our customers.
For those of you curious about the Martin Custom Shop, I've come up with a primer of sorts, something to answer some of the more common questions as well as give some helpful tips for first time Custom Shop Buyers
Play a bunch of Martins!
There is really no other way to get a handle on what you want out of a custom shop instrument without getting your hands on as many Martin instruments as possible. Sure, we can talk theoretically about what a Madagascar Rosewood dreadnaught should sound like compared to an East Indian Rosewood model, but the only way to truly understand it is to go out and play a Madagascar dread. No amount of research can beat real world experience when it comes to a musical instrument. The more you play the more you'll refine your preferences, turning what could seem like an infinite amount of options into a trimmed list of personal must-haves.
Don't be intimidated.
Probably the biggest reason I've wanted to write about the Custom Shop, is to reach out to the people who just don't think that a custom guitar can be for them. Take a look at Martin's advertising for their Custom Shop and you're going to be floored by the instruments they choose to showcase. Just for fun let's do that right now.

What we have here is the kind of guitar that people seriously consider selling their soul for.
Pretty, huh? Above is a quick example of one of my favorite Custom Shop Martins an CS-OM True North -16. I pulled the picture from Martin's "The Age of the Individual" pdf available on their website. The reason I chose this guitar is that it's a great example of what comes to mind when many of us think "Custom Shop". It features top grade woods, delicate hand done inlays, and an absolutely distinctive look. But with beauty comes pain, so it's also priced accordingly and unfortunately is out of the price range of a lot of Martin players.
It makes sense that Martin uses instruments like the True North in their advertisements. Everybody wants to put their best foot forward. But I think it can also be a little detrimental. If everytime the Custom Shop is mentioned we all think of guitars like the True North, it makes custom Martins seem like an aspirational item out of the reach of mortal man. I know that's how I thought of them before I started working here at Maury's Music and dealt personally with the Martin Custom Shop. Turns out I was dead wrong and that it's really not that way at all.
Now that I have a better handle on it, I like to think of the Custom Shop as a way for a player to take an already great standard model and make it the perfect guitar for themselves. Love the D-35 but you're uncomfortable with the narrow neck? Change it to a 1.75". Love the sound of an HD-28 but you're not a fan of herringbone? Put scalloped braces on a D-28 instead. Considering how many models they offer and there's a really good chance that, with one or two affordable changes, you can have that guitar you've always wished they built. While there is a minimum amount of changes that are required to be accepted by the shop, I've seen guitars with as little as a nut width and profile change that Martin was happy to build. And the actual increase in cost can be minimal, only a couple of percent more than what the stock instrument would run you.
None of this is to say that you can't go wild. If you've always wanted a guitar with its own particular flare, be that a custom inlay, a fancy pickguard or maybe something a little more personalized, let us know. We here at Maury's Music get just as excited as our customers to see their craziest ideas come to life so we're happy to put in as much time as it takes to help that happen.
Start with the right base model (With maybe just a little help).
Just like there is more than one way to skin a cat, there is more than one way to get the custom Martin that you're after and selecting the right starting instrument is going to help you make it as cost effective as possible. The reason for this is simply that different spec changes cost different amounts. A neck profile change is priced different than a body size change, a change in tonewood is different than a change in bridge style, etc. And this means that sometimes you can save some serious money by considering these differences and going about things in the less obvious way.
Let's consider some options where this might not be as obvious. Let's say you wanted a 000-28 with scalloped braces and a 1.75" nut. You could do that by adding scalloped braces and a wider nut to a 000-28, but you could just as easily do it by starting with an OM-28 and changing the scale length. Or let's say you want a D-28 with the same binding as a D-18. Is it better to just change the binding on the D-28 or is it better to order a D-18 with Rosewood back and sides? Either way you can end up with the same guitar, but you can have two different prices depending on which way you approach it
I'm sure this can seem a little convoluted, but here's the great part: You don't have to worry about any of this. Part of what Maury's Music offers when you order a Custom Shop instrument is that we're going to take the specs you want and find the most economical way to have it built for you. Part of doing this for a living is that we, for better or worse, can rattle off the specs for just about any Martin you can name. This, along with our close relationship with Martin, means that we can consider all of these different paths to the guitar you want and find you the one that's going to get you the price you want. If we can find a way that makes things more affordable to you, we absolutely will.
The dreaded wait time.
One of the first things people seem to ask when they talk to us about the Custom Shop is the wait time. It can vary for better or worse depending on the complexity of your build or just how busy the time of year is but a fair estimate is 6 to 8 months. The reason for this isn't that the guitar itself takes that long to be built but simply that you have to wait in line until the shop can start construction on your instrument. If this seems a little too long just remember that Martin's Custom Shop is staffed by a small number of absolute expert luthiers. I promise it's worth the wait.
Ready to pull the trigger?
If you've weighed your options and you ready to start your own Custom Shop adventure, just get in touch. We're always happy to talk on the phone about personalized Custom Shop guitars and can help you work through any of the stickier details you may not have completely decided on yet. Or, if you prefer, you can check out our Custom Shop Guitar Inquiry Form. Just put in the base model you're considering, select any of the other options and submit. We'll get back to you with a price quote via your choice of email or phone. Also, don't let the simplicity of the form throw you. These options barely scratch the surface of what you can do with a Custom Shop if you prefer and will just give us a good solid starting place to continue the conversation.
Just a reminder... you can SAVE up to 40% OFF the list price of your Martin Custom Shop guitar at Maury's Music!
If you haven't talked to us about the Martin Custom Shop before, we hope you found this article useful. Be sure to check out our Custom Shop Inquiry Form, as well as the custom Martin's already for sale on our website. Have your own dream Martin? Tell us in the comments below!​
All well n good, bottom line, I,m average Joe Schmow,regular job, let's be real, who can afford a custom Martin. High end guitars are out of reach for regular Joe,s.
Posted by
Bill Smale
on
08/08/2018 - 10:00 AM
Bill, you might be surprised. Martin has a lot of affordable options and Maury's Music offers a very generous discount on Custom Martin Guitars. We should talk.
Posted by
Maury
on
08/08/2018 - 11:50 AM