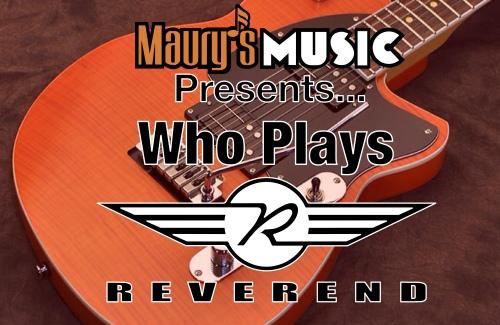 At this year's Summer NAMM, Reverend unveiled what is probably their most daring looking guitar, the Jenn Wasner Signature. Designed by a collaboration of Wasner herself, artist April Camlin and Reverend's own Joe Naylor, the guitar has a unique visual style sure to be equally loved and hated. While I haven't written about it before, I've always been intrigued by Reverend's Signature Series. Reverend seems to collaborate with some of the more interesting, if less well known, players in the industry. This week I'd like to take a look at a couple of my favorites.

Ron Asheton
​
As a founding member of the Stooges, Ron Asheton is the godfather of punk guitarists. Rejecting the polish and production of the music that was popular at the time, the Stooges instead wrote basic, power-chord based rock never quite found it's audience during their initial formation. Luckily, history has been kind to Ron Asheton and his music.Since their initial breakup in 1974, the Stooges have been inducted into the Rock and Roll Hall of Fame and Asheton himself has been named as one of Rolling Stone's Top 100 Guitar Players of all Time. As the primary songwriter for the group's first 2 albums, Asheton's songs have since been covered by artists as diverse as the Sex Pistols, the Red Hot Chili Peppers, Rage Against the Machine and R.E.M.

If you've ever gotten a chance to play a Ron Asheton Signature, there can be no doubt that it was designed with Asheton's forceful playing style in mind. While it can be played clean, this is a guitar that is meant to be played dirty with the volume cranked to 10.
​
Required Listening: The Stooges - Now I Wanna Be Your Dog. Loud, fast, brutal. Even nearly 50 years after it's original release, this track still sounds transgressive. From the opening note, Asheton's heavily distorted guitar takes center stage, sounding as much like industrial machinery as it does a musical instrument.

Pete Anderson
​
While he may not be a household name, Pete Anderson has had a career that should make any guitarist envious. Starting as collaborator with Dwight Yoakam, Anderson has become known for his versatility in both the studio and on the stage, effortlessly switching between western, blues and even flamenco music. On top of this, Anderson is a sought after record producer, working with such high level acts as Roy Orbison, Tanya Tucker and Buck Owens.

Pete Anderson currently has 5 signature models with Reverend. This may seem like a lot, but I think it's Anderson's experience as not only a guitar player but as a producer that lead to this number. Rather than trying to come up with one jack of all trades kind of instrument, Anderson instead focuses on using the right tool for the right job and each of his signature models is specially suited for a particular kind of tone.

Required listening: Dwight Yoakam - Fast as You. This is a song that was made to be danced to at a bar. Fast and fun with a tight honky tonk guitar pushing it forward. Be sure to check out the solos on this track. They're sparce yet engaging, and it seems like Anderson took Miles Davis's advice that its about the notes you don't play.

Reeves Gabrels
Reeves Gabrels is the guitarist's guitarist. Known for his experimental improvisation, Reeves playing pushes the limits of what a guitar can or should do, blending rock, blues and the avant garde into a style uniquely his. He is best known for his collaborations with David Bowie, an artist who used Gabrels' experimental playing to great effect a half dozen albums between 1989 and 1999. Gabrels has also released 5 solo albums and been touring with the English goth-rock band The Cure since 2012.

Reeves Gabrels has two signature models with Reverend, the Reeves Gabrels Signature and the Reeves Gabrels Spacehawk. Both guitars have electronics that prioritize versatility of tone, allowing Gabrels the flexibility he needs to achieve a multitude of different sounds, often during the same song.
Required listening : David Bowie - I'm Afraid of Americans. While the album it was released on is nowhere near his strongest work, this track has always been one of my favorite Bowie songs. This is thanks in no small part to Reeves Gabrels' guitar work. Cacophonic and even atonal at times, Gabrels' playing suited the paranoia of Bowie's vocals.
​
​And that about wraps it up for this week. Do you have any favorite artists who play Reverend guitars? Be sure to tell us in the comments below!