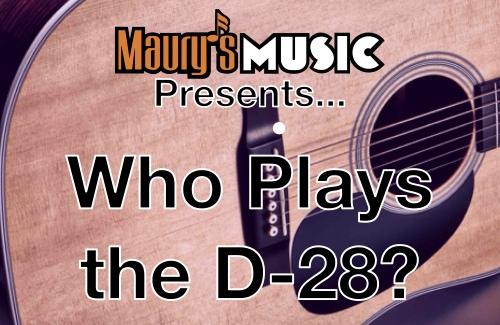 The D-28 is the archetypal Martin guitar. First released 85 years ago, the D-28 has to this day remained Martin's most popular model. Once so sought after that during the 1950s there was a 2 year wait to receive one from the factory, the D-28 has been played and loved by literally tens of thousands of guitarists around the world. So this week I want to take a look at some of my favorite musicians who have become known for playing D-28s. We'll take a look at not only what made their music special, but also what made their personal D-28s worth taking notice.
Tony Rice
Tony Rice isn't a guitar player. He's a virtuoso. A god among men. Considered by many to be the most influential Bluegrass guitarist of all time, Rice has released dozens of albums, both with his own group, in collaboration with other artists. Always an experimenter, Rice loves to combine elements of Bluegrass, Folk and Jazz into his music and has worked with everyone from Jerry Garcia to Emmylou Harris.
Tony Rice's D-28 has a history so complex that it deserves it's own book. Known by it's serial number of 58957, this guitar was once owned by Clarence White before it was sold by him in 1965 due to financial concerns. Nearly 10 years later it found it's way into Rice's hands. Although it certainly shows the signs of its age, including divots in the soundboard where a young Clarence White shot it with a BB-gun, 58957 is still prized by Rice who plays it to this day and has described it as a "Holy Grail".
Required Listening :
'Tipper' - Me & My Guitar (1986)
If I had to sum up Rice's playing on this track to a single word it would be "blistering". Playing notes with a speed that would make John Coltrane jealous, Rice rides a fine line between melody and technicality that few players can pull off successfully. It's very easy for aspiring Bluegrass players to become too concerned with the technical side, forgetting that muscle memory can never take the place of creativity. "Tipper" is worth taking a look at as a reminder that while it's a lot of fun to hear a guitar lead taken at almost inhuman speeds, you still need a melody you can hum along to.
John Prine
John Prine is, without a doubt, my favorite American songwriter. Coming to prominance during the Chicago folk revival of the late 1960's, prine would become known for his often humorous "common man" style of writing. His writing is categorized by its honesty and genuineness. Depending on the song you listen to Prine may come off as sentimental or sarcastic, goofy or deadly serious, but no matter what you know that he means it. Although he never reached the same level of fame as some of his peers, Prine has had a celebrated 45 year long career. He was inducted into the Nashville Songwriters Hall of Fame in 2003 and has made fans of Bob Dylan, Johnny Cash and Roger Waters, just to name a few.
John Prine has been playing the same 1968 D-28 since the start of his career. Generally used for fingerpicking (He prefers his Gibsons for rhythm work) his D-28 has been used, to the best of my knowledge, on all 22 of his albums. Described by him as "the guitar that never missed a show", Prine's D-28 was almost lost for good when it was knocked off of a stand in 2007 causing its headstock to snap off. Luckily the break was successfully repaired and the guitar is back on stage with Prine today.
Required Listening:
'Sam Stone' - John Prine (1971)
Sam Stone. A heartbreaking tale of drug addiction faced by many Vietnam veterans in the 1970's, Sam Stone showcases Prine's strengths as a storyteller. While songs about drug addiction and the tragedy that follows is well trodden ground for folk musicians, it's Prine's ability to distill this complex issue into its most back emotions that makes puts this song head and shoulders above its contemporaries. Coming across less as a morality tale and more like a eulogy to a lost friend, Sam Stone is a masterpiece that I can't recommend highly enough.
Fun fact: Sam Stone was listed at #8 on Rolling Stone's list of the '10 Saddest Songs of All Time'. A truly feel good tune.
John Lennon
What can I possibly say about John Lennon that hasn't already been said? Between his time with the Beatles and his (often) critically acclaimed solo efforts, John Lennon has achieved almost mythic status in the minds of fans around the world. Penning some of the most popular songs in history, John Lennon has left a legacy that is impossible to surpass. Maybe he wasn't actually "bigger than Jesus", but he was running a close second.
John Lennon and Paul McCartney both played identical 1965 D-28s (Well almost identical. McCartney had to string his upside down because he's one of those weirdo left handed players). Probably most well known for being showcased in the photos from the Beatles' trip to India and in the "Hello, Goodbye" segment of the Magical Mystery Tour movie. Martin has recently released a John Lennon signature D-28 based on his guitar.
Required listening:
'Good Morning, Good Morning' - Sgt. Pepper's Lonely Hearts Club Band (1967)
One of the things I find most interesting about John Lennon's songwriting and that I don't hear mentioned much by critics or fans is the ease with which he played with song structure. His ability to weave odd time signatures into his song and have them work so well that they're hardly even noticable to the average listener is extremely difficult to pull off. Take a close listen to this song and you'll notice how the beat counts for different lines varies greatly but somehow always sounds natural. It's something that not many songwriters could pull off, let alone so fluidly.
That's it for this week I hope you enjoyed reading about the artists who have inspired me. Of course, I've only scratched the surface so be sure to tell us who your favorite D-28 players are in the comments below.