Wednesday, September 14 2016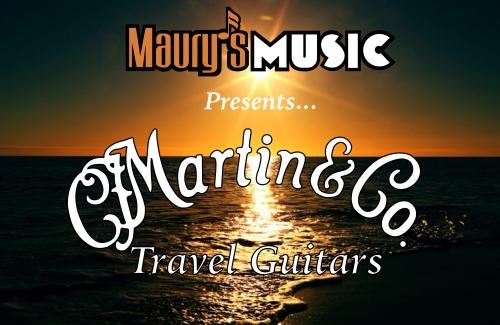 Whether you're going to the beach, a business trip, or an exotic island getaway, the urge to make music will still be there. This week I'd like to take a look at the world of Martin travel guitars and specifically their three most popular variants: The Backpacker, the LX1 and the D Jr.
Normally when comparing guitars I dig into the details… What bracing do they have? What tonewoods? How does the neck feel? While this minutia is important when discussing daily player guitars, I'm going to go a different route this time and instead discuss the aspects that affect how these guitars are going to perform while traveling.
Portability
Without a doubt, the Backpacker is the most portable guitar in Martin's lineup today. Measuring only 8" wide at the lower bout and a mere 2" deep, the backpacker is about as small as you can get while still being able to be accurately called a guitar. The Backpacker will fit almost anywhere, whether that's an overhead compartment, a back seat stuffed with luggage, or strapped to the side of your backpack. It's also the lightest guitar Martin currently offers, coming in at an average of about 2 lbs (There will be some variation in weight between any two individual guitars).
Coming in second is the LX1. Officially the LX1 has a "modified 0" sized body and you can sort of think of it as how big a backpacker would be with a more traditional shape. It's also worth noting that while the LX1 has a bigger body in terms of volume, it's overall length from headstock to endpin is actually a few inches shorter than the Backpacker due to the placement of the bridge. While maybe not as easy to carry long distances as the Backpacker, the LX1 can still fit into some pretty tight spots and a great size for car or plane travel (Depending on your airlines policies, of course)
The D Jr. falls somewhere between a big travel guitar and a small dreadnaught. It's built at a scale of 15/16th, making it only marginally smaller than a standard Martin dreadnaught. This means that if space is at a premium on your travels the D Jr probably isn't the best choice. It's too big to be taken on a plane as a carry on and it's not going to save you a whole lot of room if you're traveling by land. However, it's larger size may be worth it for some people since it's probably the most natural feeling of the 3 guitars. Sit down with a D Jr and it's easy to forget that you're playing a scaled down guitar at all. It really just feels like a short scale D-18.
Durability
When traveling with a guitar, especially over long distances, it's not uncommon to put stresses on the instrument beyond what they would experience in everyday life. Maybe you'll be playing in front of a campfire. Maybe you'll be throwing it in the back seat with other luggage that might fall on top of the gigbag.
The D Jr. and the Backpacker pretty much tied for 2nd place when it comes to durability (Or for last place, if you want to be a pessimist). Like with any solid wood acoustic, the D Jr. and the Backpacker require a certain level of babying. Both are susceptible to environmental concerns such as heat and humidity and the owner will need to be aware of this if they want to keep their guitars performing at their best. If you find yourself traveling in places with usual creature comforts then this shouldn't really be much of a problem than a full size guitar, but if you find yourself spending a lot of time off the beaten path you may want to consider the LX1.
What makes the LX1 such a standout? It all comes down to it's construction materials. While the Backpacker and the Dread Jr are solid wood instruments most of the materials used in the LX1 are composites. Martin used HPL for the back and sides and Stratabond (a type of plywood originally used in rifle stocks) for the neck. While these materials might not be the best tonally, they really are great if you're looking for a guitar that can take anything you or mother nature can throw at it. Neither is particularly sensitive to humidity or temperature changes, making the LX1 perfect for outdoor use. HPL is also great at resisting dents and cracks. I've banged the corners of my personal HPL Martin off of countless tables, chairs and the like and I'd have been hard pressed to show you one noticeable spot 8 years down the line.
Sound
Let's just come right out and say it… the Backpacker is not a great sounding guitar. It's claim to fame and it's only real reason for existence is to be as small as possible. The problem is that in order to achieve this compromises that had to be made which cause the tone and projection to suffer. It's small body cavity means that there are little to no bass frequencies in it's tone and the small soundboard makes for a very quiet guitar that can be drowned out by an enthusiastic singer, let alone a full size acoustic. This may be a benefit though, if you think you'll be spending a lot of time in hotel rooms but would still like to practice.
The LX1 fairs quite a bit better. While it's smaller body and HPL construction do take away some of the presence that you'd get from a full sized instrument, the LX1 still manages to sound like a Martin. It's loud enough to work well in an ensemble setting, especially if you use a heavier attack. Also, while it's brighter than most similarly sized guitars, I think that the LX1 still has a pretty decent overall balance, not trending too thin or tinny like the Backpacker can.
The D Jr. is so close in size to full size Martin's it's pretty hard to argue that it has the best sound out of the bunch. Although not as bass heavy as most dreads due to it's short scale and smaller soundbox, the D Jr. still has the sort warmth you'd expect from more expensive full size Martins. It's the perfect choice for someone who wants a smaller guitar to take on trips but isn't willing to make a lot of sacrifices in the sound to do so.
So who wins?
Just like with all things guitar related, there are no definite answers as to what is the best Martin travel guitar. It's up to the individual player to weigh the pros and cons of all 3 and decide which one will suit their needs best. Does your guitar need to be as small as possible, sound great or be bulletproof? Carefully consider what kinds of places you'll be visiting and how you need your guitar to function. No matter which you choose, you'll still be getting a Martin.
Happy travels! Do you have a favorite guitar to take on the road with you? Be sure to let us know in the comments below.
I'm fortunate to have a Martin 1930 0-17 that I take on my travels. This old all mahogany Martin has enough mojo thatZ6FUD rings with enough volume and tone and its size is perfect for motel rooms and camping. A lot of people are surprised in how the sound carries outside when I'm picking around a campfire.....
Posted by
Doug Hamer
on
09/14/2016 - 03:50 PM
Hi! What about a size "0", like a 0x2mae, how does it perform? Size is between LX and drj correct? Does the sound changes from little Martin? Thanks for your amazing work, Sil
Posted by
Sil
on
12/17/2017 - 09:41 PM