Saturday, December 03 2016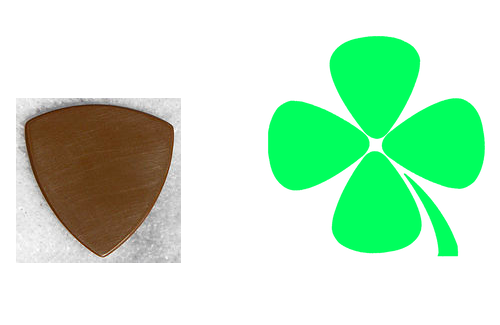 Charmed Life Picks are Made in the USA from two of the most popular materials in the guitar playing world. Top players have compared the CL picks to Blue Chip and Red Bear, and for good reason ... Charmed Life picks are handmade from those same two materials. I received my first CL pick - a .75mm Brown Series Triangle, and I really like it! I spent over 20 years playing thin picks, and developed a "death grip" because those picks flex so well. When Lori and I started Maury's Music, I discovered several boutique pick manufacturers, but all their products were too thick for my grip. Strumming with a heavy pick requires a good amount of touch, and it's taken me a more than a few years to re-train my muscle memory.
I found out about Charmed Life Picks several months ago, on the Acoustic Guitar Forum. We're a proud sponsor of the AGF, and I'd often see glowing reviews for Scott's Charmed Life guitar picks (Scott's a member there, too). I wanted to dip my toes in the pool, but Scott's inventory was mostly standard shaped picks, in thicknesses of .90 and greater. That is ... until now!
Charmed Life Picks just announced their new .75 brown triangle & I immediately ran for my wallet. For me, this pick is the best of both worlds. Because of its large shape and .75 thickness, it has enough flex for my grip, and the right amount of attack & presence. Because of the material used, it has warmth, sustain and a beautiful decay. Before finding this pick, I would want to play a thick pick for its warmth, but need to play a thin pick for its flex and sharpness. This CL pick really brings out the tone of my Martin OM-28V. I'll still bring a pocket full of Dunlop .60 triangles & Awe In One Yellows to my gigs, but my new Charmed Life CT75 is my #1 go-to in the studio and at home. Maybe someday I'll graduate to the thicker .90s - but for now, I'm pretty psyched to have quality pick with some flex. Thanks again Scott!
It's unrealistic to try and capture the subtleties of guitar pick's tone in a YouTube video, but I just wanted to share my first impressions on-camera. Do you play a Charmed Life Pick? Please post your comments below. Thanks!
Maury, may I ask what kind of strings you're using? I picked up an OM28 last summer, still experimenting with strings. I love the way yours sounds.
Posted by
Steve
on
02/12/2017 - 03:57 PM
Thanks for the kind words! I experiment from time to time but usually use Martin MSP7100 and that's what you're hearing in these videos. 👍
Posted by
Maury
on
02/12/2017 - 04:04 PM
What Guitar are you playing? I think i want one of those. Reese
Posted by
Reese
on
03/17/2017 - 04:21 PM
Hi Maury Thanks for an awesome article as usual! Just wanted to ask, where can I get myself these picks? After watching the videos I'm very keen to try them for myself. Thanks so much, Justin http://guitarpickzone.com/best-guitar-picks/
Posted by
Justin Levitt
on
10/27/2017 - 02:07 PM
Thanks! You can order at https://www.charmedlifepicks.com/
Posted by
Maury
on
10/27/2017 - 02:16 PM