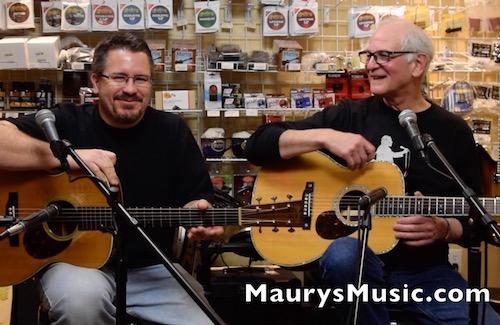 Marshall Fleisher is Maury's bandmate, customer and good pal! He's the "F" in Maury's band D.O.R.K.F. and one of these days we're gonna get the whole band in here! In this clip, Maury is playing his Martin OM-28V, and Marshall is playing the Martin OM-42 he purchased at Maury's Music in 2014. He fell in love with it in the Pickin' Parlor at Martin & the honeymoon isn't over. Thanks for dropping by! Please post your comments below.
​
​
Guys...sounds GREAT! Love that Walk Away Renee version too.
Posted by
Dennis Whalen
on
01/17/2017 - 10:16 AM
Made my day! Thanks Marshall. Hi Maury. More, please! Bob Brecht
Posted by
Bob Brecht
on
01/18/2017 - 10:24 AM
This was one of your best! Sound quality is fantastic. Thank you.
Posted by
John Lynch
on
01/18/2017 - 02:06 PM
Hi, & thanks Maury, I sure miss the old days. Had a LOT of fun at your place.....PeeBee..
Posted by
Pat Bacon, PeeBee....
on
01/20/2017 - 11:27 PM