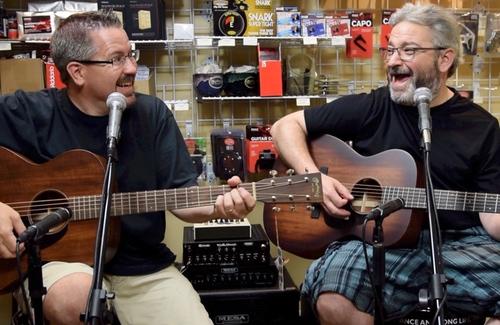 Danny Cannon & I have been friends for a long, long time. Among his growing collection, he's the proud owner of a Blueridge BR-43 and a sweet Reverend Sensei HB. He recently began performing solo acoutstic shows and a few days ago he scored a brand new Martin GPCX1AE. In this clip, Maury is playing a Martin 000-15m and Danny has a Martin 00-15E Retro. Danny, thank you for all your support, and for jamming with me. Sounded great!
PS- Let us know when you're ready for that Mesa/Boogie Express 5:50+ :)
Loved the Jam Both of you paly and sing great!!
Posted by
Debbie Crouse
on
08/04/2017 - 12:15 PM
MAURY CAN MAKE YOU FEEL VERY COMFORTABLE IN FRONT OF THE CAMERA.
Posted by
john hall
on
08/24/2017 - 08:03 PM