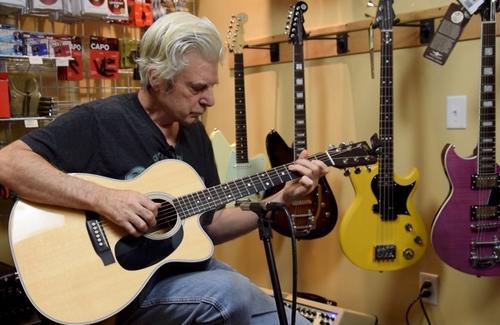 Dan "Couser" Crowley dropped by to pick up his Custom Shop Martin deep body 000-28C. Maury installed a Trance Audio Amulet M for him, and when he came to collect, Maury talked him into playing a tune.
Dan began playing guitar in junior high school, and performed in numerous area oldies groups and country bands throughout high school. While in college, he joined a rock band and hit the road. After several years on the road he moved back to Jim Thorpe. In the 80's he hooked up with Jody Kennedy (Shellshocked Churchhills), Larry Choley, and Mike Swartz to form the successful "Couser Band", performing rock, progressive rock and jazz. Dan's currently involved in writing/performing acoustic guitar instrumentals and creating landscape/seascape photographs while watching his hair turn grey.
Thanks for dropping by - you sounded great!
It's like see an old ghost playing . I could listen to tunes like that all day.And I know he has' em up his sleeve. ........Great job Dan.
Posted by
Pat Crowley
on
09/01/2017 - 08:45 AM