Tuesday, November 21 2017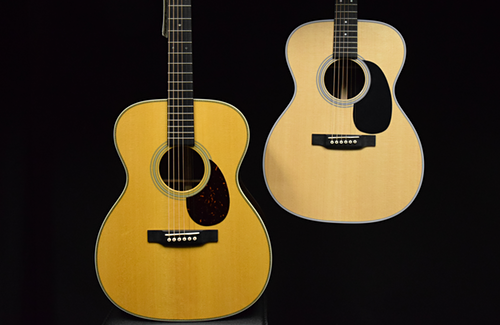 What's the difference between the Martin 000-28 and OM-28? Good question!
Maury's main guitar since 1998 has been his trusty Martin OM-28V. Back then, it was actually named OM-28VR. Today's OM-28 is the modern version of the 28V, with some very minor updates- but that's another story for another time. ;)
The Martin 000-28 vs OM-28 is a popular subject around these parts. These guitars share more similarties than differences, but the differences are important ingredients, when it comes to how these two sound.
KEY SIMILARITIES: Both the 000-28 and the OM-28 share the same
body size (and depth)
tonewood (back, sides and top)
dovetail neck joint
nitrocellulose lacquer finish
THE BIG DIFFERENCES: The 000-28 and OM-28 have different
scale lengths
width at nut and saddle
bracing
The 000-28 has a short 24.9" scale length = softer feel and less projection. String bends are easier, and the frets are closer together.
The OM-28 has a long 25/4" scale length = feels stiffer, projects better. Frets are farther apart, and string bends are tougher.
The 000-28 has a narrow 1 11/16" nut & the string spacing is tighter at the saddle - generally preferred by flatpickers.*
The OM-28 has a wider 1 3/4 nut & wider string spacing at the saddle - usually considered "better" for fingerstyle.*
*these are not hard & fast rules, but they deserve some merit, as they are proven more often than not.
The 000-28 has non-scalloped braces. This restricts top vibration compared to scalloped braces.
The OM-28 has scalloped braces. This helps the top vibrate more freely compared to straight braces.
Short scale length moves the top less than long scale length, too. On their own, scale length and brace thickness (mass) greatly affect how freely the top will vibrate. In the case of these 2 guitars, scale length and brace thickness are doubly important, as each of these models features a bracing pattern and scale length working in tandem towards the opposite results. The 000-28 has the less powerful scale length and the less powerful bracing. The OM-28 has the more projective scale length and the more projective bracing.
So the OM-28 is better, right? NOT NECESSARILY. Both of these guitars get you the Martin Rosewood/Sitka auditorium size tone. The 000-28 is more delicate and subtle. The OM-28 is beefier and bolder. Which one is right for you depends entirely on your personal preference. Nut width and string spacing might help guide you into the right one just as much as tone. The search is the fun part, right? :D
Of course, there are other minor differences - mainly the black/white trim vs herringbone, large vs small pickguard, and toner (top color). For a full list of specs on both of these guitars, please click the links below. Thanks for reading! Which guitar do you prefer? Please post your opinions in the comments section.

I kept my eyes closed the first I played this video, and opened them the second. My eyes confirmed what my ears told me... I like(d) the OM-28 more. It seems to me that the OM-28 has more "clarity," which probably comes from the greater projection.
Posted by
Bill Joyner
on
11/21/2017 - 09:06 PM
I have owned and played both mid 30s 000-28s and OM-28s. Both are great instruments but the power and projection of the OM is superior. About 10 years ago I was in a session with Albert Lee and he was playing an early OM-45 (basically same as OM-28)...WOW! Must say that was best sounding acoustic tracks I've ever heard!
Posted by
Peter Trauth
on
04/22/2019 - 05:15 PM
I'm gonna buy one of these guitars. I finger pick but I have small hand. Would that make a difference?
Posted by
Gary
on
10/20/2019 - 06:35 PM
I just got a 2005 Martin 000-28VS. 1-13/16" wide neck. I'm loving it. Thanks Maury for all your knowledge!
Posted by
James Morrison
on
02/19/2021 - 08:13 PM
I have been looking hard at both of these and I like everything about the OM, but will probably go with the 000 just because I'm looking for an acoustic to do pedal steel style bends on. I already have a dreadnaught, a Gibson Southern Jumob, and I love it, but man, it's hard to do those bends on that thing. I figure, I have my big sound, let's get something different. And I have never, ever had a problem with not being loud enough.
Posted by
Mike Brown
on
04/21/2021 - 05:28 PM