Wednesday, December 06 2017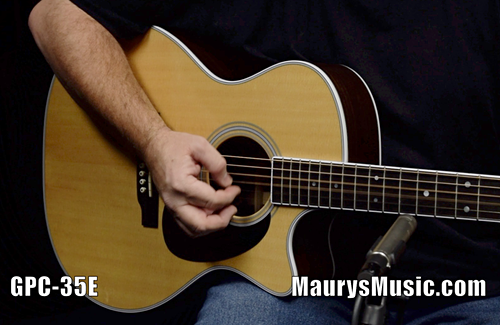 Maury compares three Martin Grand Performance Cutaway guitars. Martin's GPC body size is larger than an OM but smaller than a traditional Dreadnought. The cutaway body allows for easy access to the upper frets and the long scale lenghth helps make for a punchy, projecive quality. If you're looking for a versatile stage guitar, with the muscle of an OM with a tight, clean bass - the GPC body size should definitely be on your radar.
The GPC-18E, GPC-28E and the GPC-35E. All three guitars share the same solid sitka top & Fishman electronics. The GPC-18E has solid mahogany back & sides & scalloped X bracing. The GPC-28E features solid rosewood back & sides and forward-shifted non-scalloped bracing. The GPC-35E also has forward-shifted non-scalloped bracing but a 3-piece rosewood back. Audio was recorded with a Rode NT-5 direct to disk. No processing, effects or EQ. Which do YOU prefer & why? Post your comments below.