Thursday, February 15 2018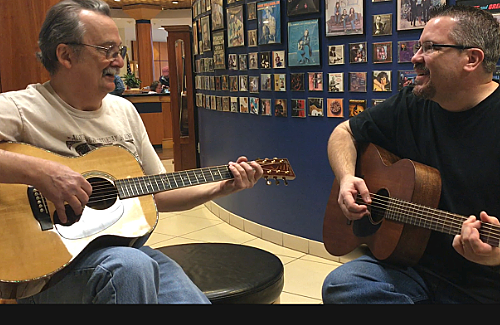 Maury needed to meet John Hall for some important company business. Ronnie shipped his Martin CS-00041-15 to Maury for a Trance Audio pickup install. Before the guitar makes the return trip back to its owner, John Hall of Blues Creek Guitars needs to perform some of his fretboard magic. Well, as luck would have it, the Martin Guitar Factory is located directly in between Maury's Music and Blues Creek Guitars. What better place to meet? 😎
Great guys! Perfect song for the perfect meeting place!
Posted by
Enis
on
02/16/2018 - 02:16 PM
An enjoyable session. Sound so good I don't have to scream . thanks Maury it was enjoyable
Posted by
john hall
on
02/16/2018 - 03:54 PM
After months of research I decided on a Trance Audio pick up system installed by Maury at Maury's Music (Martin dealer, extremely knowledgeable and an exceptional musician) and a nut repair and set up by John Hall of Blues Creek Guitars (Experienced luthier and Martin authorized for repairs). It was very special to see Maury and John having fun playing together and John playing my guitar at The "Martin Guitar Factory". Thanks Maury and John.
Posted by
Ronny Allen
on
02/17/2018 - 02:27 PM