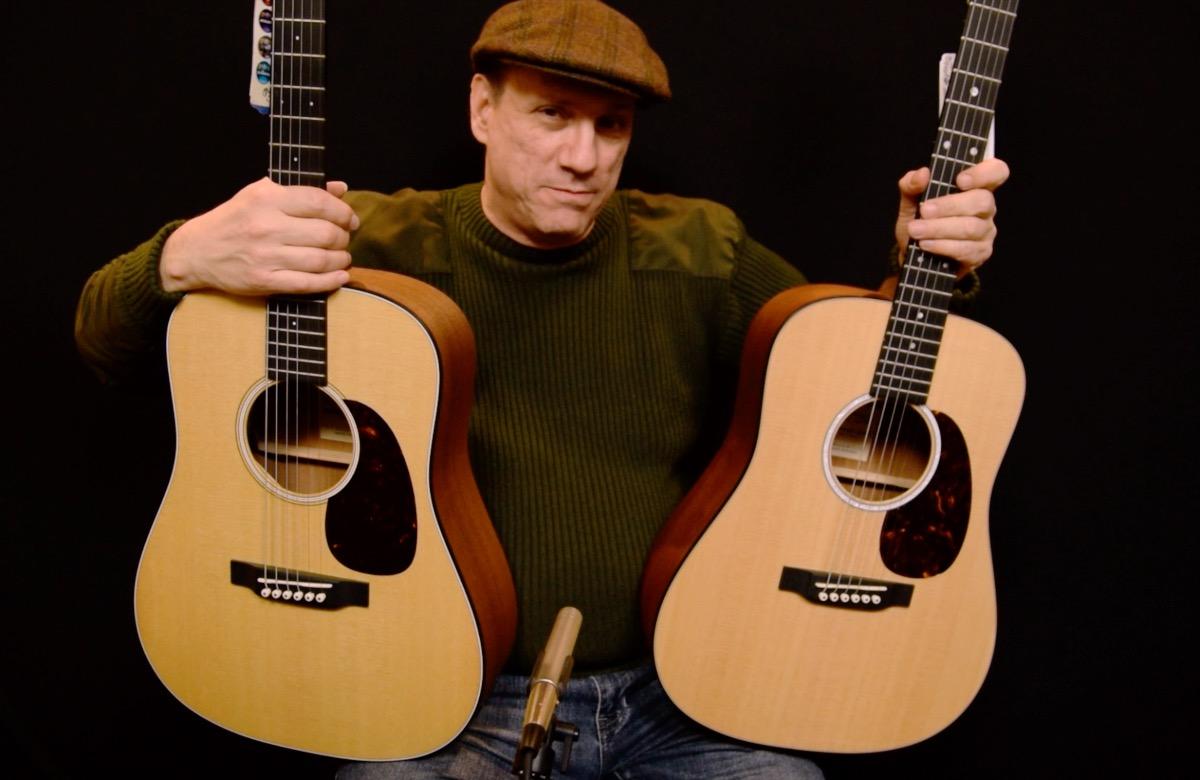 Martin Dreadnought Junior 10
At Winter NAMM 2019 C.F. Martin & Company debuted the new Dreadnought Junior 10 and Dreadnought Junior 10 Burst. The new DJr-10 design differs from the previous version in one significant way, the depth of the body is shallower.
For a limited time 2018 D Junior remains for sale, allowing guitarists the choice between these two successful designs.
Both guitars are made from all-solid tonewoods used for the neck and body, including sapele back and sides from equatorial Africa, and a Sitka spruce top from the Pacific Northwest, with the clear, woody tone one expects from the mahogany family of tropical tonewoods, enhancing the warm and wide dynamic range of Sitka spruce.
Each version has the same bracing, comfortable neck shape, satin finish, and so on. The updated 2019 appointments on the DJr-10 include the wide decorative sound hole rosette, made from faux mother-of-pearl, which is part of Martin's new Style 10. Style 10 is also found in Martin's newly renovated Road Series of affordable, full-sized acoustic electric instruments created with the gigging musician in mind. The 2018 Jr. has a more-traditional rosette, similar in looks to the Standard Series guitars.

D Jr (left) and Djr-10 (right)

The original DJr is basically what it looks like, Martin's legendary Dreadnought design reduced in size, so that is makes for a very good travel guitar, with a comfortable neck that has a short 24" string scale, and overall dimensions that work well for smaller guitarists, like children for example, or anyone who wants a real guitar of good quality with smaller dimensions. 2019 DJr-10 has the sides have the depth of a 000 or OM, while retaining the same top and back size, and the dreadnought silhouette. This allows the guitar to stow away in even smaller locations, making it an even better travel guitar when it comes to overhead bins on aircraft, say, or fitting into that over packed SUV.

D Jr (left) and Djr-10 (right)
Smaller guitars have become more and more popular, particularly with younger musicians who embraced the recent popularity of the ukulele and wanted a guitar with six-string guitar of similar proportions. Ed Sheeran prefers the Little Martin size, but other guitarists wanted something a bit bigger, and Martin answered with the Dreadnought Junior. This new Dreadnought Junior 10 has the same top size, but with shallower sides more like the Little Martin models.
Shallower sides also mean a change in sound, both in terms of tone and dynamics. And that may make all the difference for the discerning guitarist trying to decide between these two DJr versions.
The 2018 D Junior, with a side depth to top width ratio of dreadnoughts, like the D-18 and D-28, has similar overall dynamics to traditional Ds. In other words it has a full-bodied voice, thanks to a prominent bottom bass note from the low E string. The notes from the midrange and treble strings are enhanced by the warmth of that impressive bottom end.

D Jr (left) and Djr-10 (right)
The 2019 D Junior 10, has tonal dynamics more like an Orchestra Model, with the bottom bass string brought more in line with the midrange and treble, resulting in a voice that sounds evenly balanced across all six strings. And the D Junior 10 sounds more open, again like an OM, because the voice is less thick and more airy. The individual notes stand apart from each other, and project with great clarity.
Some guitarists may consider it a trade-off, the shallower body being more comfortable and more stowable in exchange for giving up the rounder, fuller bass and richness behind and around the fundamental notes.

D Jr (left) and Djr-10 (right)
Some guitars may find the reduced sound chamber depth of the D Junior 10 to be simply a bonus that comes along with the new string-to-string balance, openness, and definition to the fundamental notes. And other guitarists will prefer the feel of the greater body depth and the thicker, fuller tone heard from the larger sound chamber of the original Dreadnought Junior design.
To each their own – that is, so long as supplies of the 2018 Dreadnought Junior last!
Thank you Mr. Spoon Phillips for your wonderful videos on all these fine guitars. I'm a petite gal and play 00 size guitars. Love Dred's for their sound/tone, however, just too big for me. When Martin first came out with the original Dred Jr. I tried & bought it . Was exactly the sound I was looking for in a smaller guitar. Recently tried the the newer Dred Jr. 10 and do not care for the sound. Looks like a smaller Dred , but the sound (to my ears)...does not cut it. Should you have any say in the matter, please tell C.F. Martin Co. to offer both the original Dred JR. along with the newer Dred 10. Thanks again for all you do ! https://www.youtube.com/watch?v=ydIOAYRuWjA&list=UU02IVIHzE5ZsHXV9GrS_OgQ&index=11
Posted by
Busking Betty from Bak-ta-Bak
on
04/25/2019 - 01:30 PM
I spoke to Martin as I wanted to buy the older version. They said it will not be available again. The sound is also due to the strings. Using Authentic PB's might make it sound better and closer to the original. That's what I will try anyway. Still a great guitar but a shame that they changed it. Everyone is saying the same thing.
Posted by
Dom
on
04/22/2020 - 09:12 AM
I recently bought a 2018 d jr model after watching your comparison video, but I'm not actually sure mine is the original version. The serial number definitely puts it in 2018 but the body has a cherry color like the new version and a removable plastic strap button on the bottom instead of the metal jack button. Most importantly,the body depth is just over 4 inches towards the bottom, but tapers up to about 3 1/2 inches at the top. The rosette,and fret markers match the specs of the original but not sure if the body is the shallower body of the current model because I have nothing to compare it to. Can anyone give me the measurements of the original or new version?
Posted by
Jake
on
02/09/2021 - 03:27 AM
Reply to Jake on 02/09/2021 Hi, I'm having a similar issue, hoping I have an original D JR and not a more recent D JR 10. I gather that regarding lower bout depth, the D JR stands at 4 3/8" (112mm) whereas the D JR 10 has a depth similar to a 14 fret 000 which stands at 4 1/8" (105mm). Another tip would be to look up the serial number on Martin's website. In my case, it starts with 19 which dates it circa 2015. I have concluded mine is a DJ R since depth and serial number converge. Hope it helps.
Posted by
Alex
on
03/02/2021 - 06:16 PM
You'd already mentioned the serial...sorry I understand the D Jr 10 has rounded beveled edges at the back to increase comfort. In summary, if yours matches the rosette, fret markers, body depth, un-beveled edges and year of production...all that's left for you is to enjoy your ORIGINAL D Jr :D
Posted by
Alex
on
03/03/2021 - 03:56 AM
I purchased my original D-Jr in late 2018 - Serial number begins with 220... It's my understanding that the original uses medium gauge strings where the D-Jr 10 uses light - a significant difference. I enjoy the traditional sound of my original D-Jr.
Posted by
Pete
on
05/07/2022 - 01:36 PM