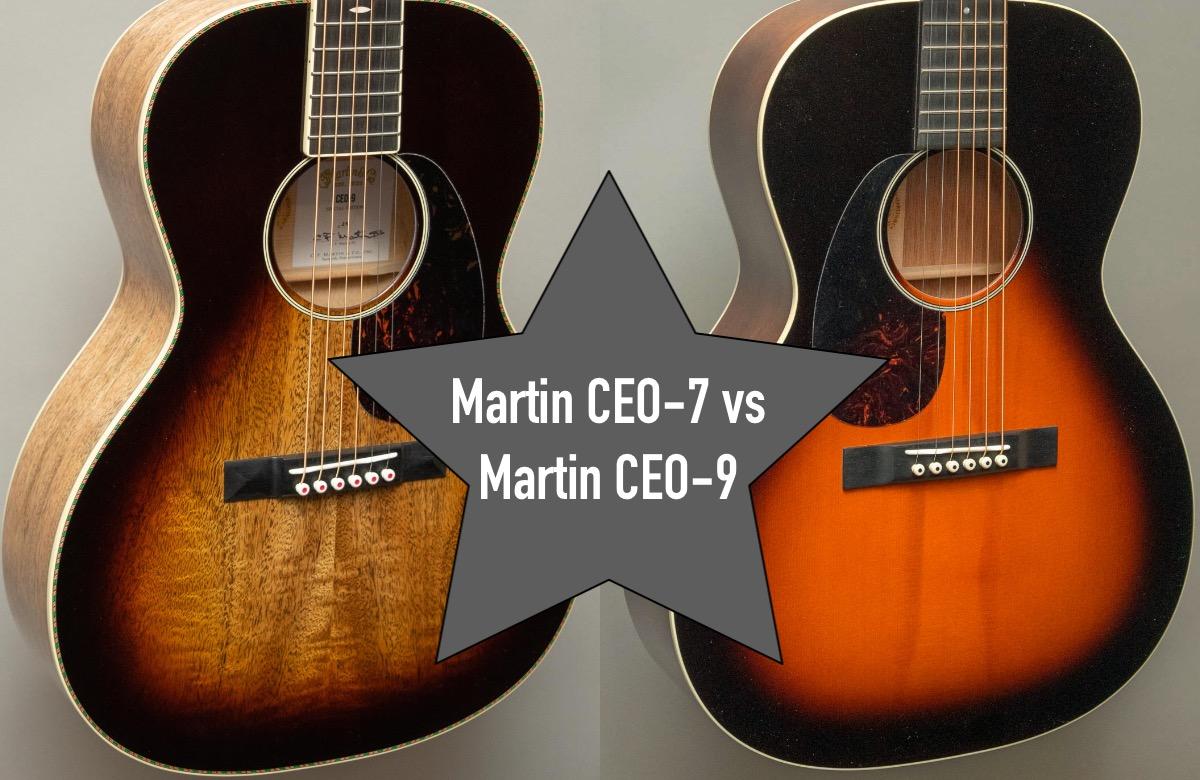 Martin Guitars entered new tonewood territory with the introduction of the CEO-9, made from solid Curly mango. While this is hardly the first acoustic guitar made with mango wood, it represents Martin's first use of this tropical tonewood. And they have gone all in, by using solid beautiful Curly mango wood for the back, sides, and the top.
Otherwise, the CEO-9 closely resembles the super-popular CEO-7. Both guitars were designed by Company CEO, Chris Martin, and have many features in common. Which one might you like best?
Martin used the CEO-7 to introduce their 00L size, with a longer top and back that provides a larger sound chamber then the basic 14-fret 00, while retaining the same side depth. It was inspired by various Depression Era guitar designs, and it combines a 14-fret neck with a slope shoulder body shape, similar to Martin's original 12 fret guitar designs. The CEO-9 also uses the 00L size, but with different tonewoods.
The CEO-7 has mahogany for the back and sides, topped with Adirondack spruce, the same species used for soundboards on most Martin guitars made before the 1940s. But the CEO-9 revives a different prewar tradition, the use of a hardwood soundboard.

The NEW Martin CEO-9
Back in the day such Martin guitars were made from Hawaiian koa wood, or mahogany, as can also be found on modern Martins in the 15 Series and the 000-28K Authentic 1921. The Curly mango wood on the CEO-9 has never appeared on a Martin before, and it has its own unique tonal properties, with fundamental notes of focused clarity that include pretty, musical trebles, muscular mids, and a rounded bass. All of them integrated by a glowing woody warmth unique to hardwood tops.
The mahogany/Adirondack tone of the CEO-7 is bright and clear, with a woody dryness. Whereas the all-Curly mango voice of the CEO-9 has a fuller, warmer tone. And yet, the sound of both of these CEO models will mature and become considerably more complex, open, and dynamic as their tops get played-in.

The Martin CEO-7
Otherwise, these two outstanding guitars have the same short-scale neck with the same Modified V neck profile, standard fretboard taper (1-3/4" at nut, 2-1/4" at the 12th fret,) and 2-5/16" string spacing. But the CEO-9 has some upscale features the CEO-7 does not, both inside and out.
Where the CEO-7 has a traditional bridge plate made from solid maple, CEO-9 has a composite bridge plate made from a piece of VTS torrefied Adirondack spruce between two thin plates of carbon fiber. And it also gets bridge pins made of Liquidmetal, which like the special bridge plate helps increase volume and sustain. And both likely help that hardwood top to sound as good as it does right out of the box, and will continue to help it sound better and better as the years go on.
CEO-7 has an Autumn Sunset burst finish on it spruce top. CEO-9 has the unique Mango Burst finish for its figured Curly mango top. But it also gets a retro pyramid bridge, vintage Style 42 fretboard markers, and fretboard binding for a very impressive overall aesthetic, ornate yet refined.


CEO-9's pyramid bridge & Liquidmetal pins
One other important feature that sets the CEO-9 apart from the CEO-7 is the fact it is a limited edition. While the popular CEO-7's run won't last forever, it will remain in the Martin catalog for some time yet. But only 50 CEO-9s will be built for sale to the general public, and are sure to sell out sooner than later.
Yo Maury. Does Martin still make the CEO-7? I asked you a few weeks ago but I think I said theCEO-9. Thanks . Stay safe and healthy!
Posted by
John Rossi
on
03/22/2020 - 05:36 PM
Hi John- yes the CEO7 is still offered.
Posted by
Maury
on
03/22/2020 - 07:03 PM