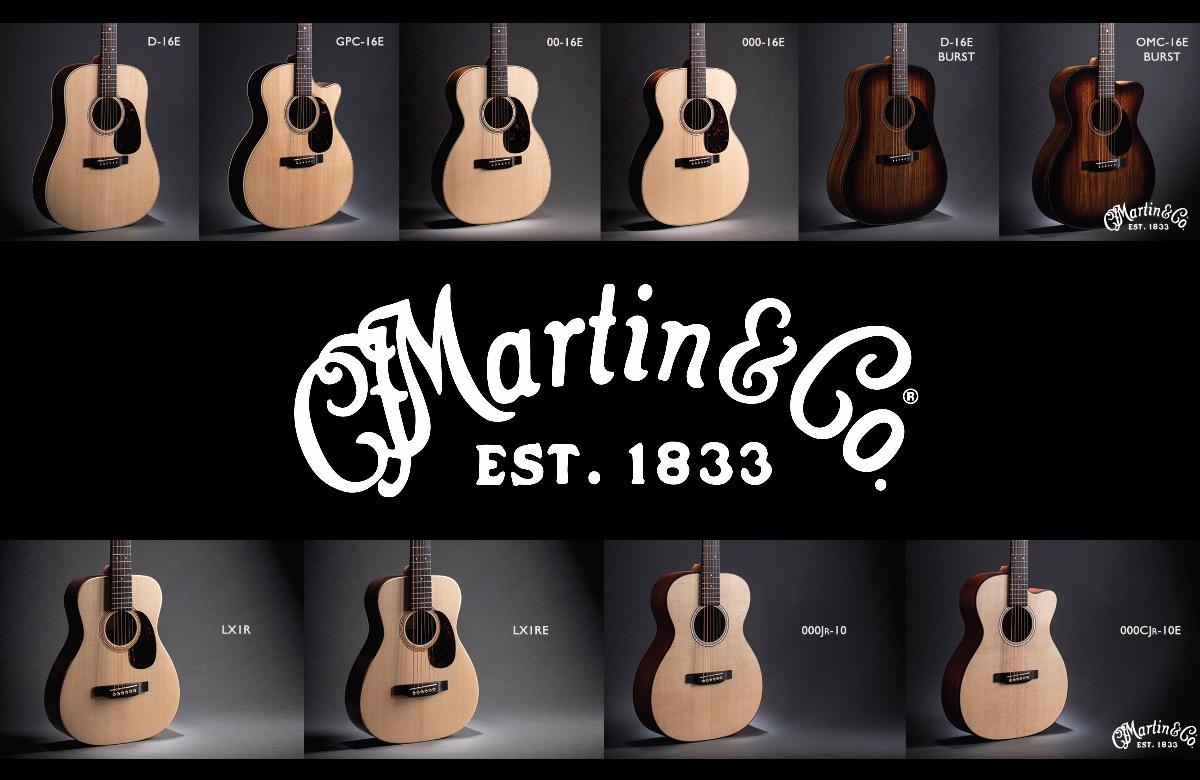 Boy Howdy! Summer is heating up in Nashville, Tennessee. But the Martin guitars will be super-cool as the new 2019 models make their debut at Summer NAMM 2019. And here is Maury's Music's exclusive sneak preview!!!


Seven new models in the 16 Series!

All of them have sleek, fast 1-3/4"necks with Martin's Modified Low Oval Profile paired with the High Performance Taper to the solid ebony fingerboard, and 2-5/32" string spacing at the solid ebony bridge. And all of them have Fishman's duel-source Matrix VT Enhance electronics built right in.

The new D-16E and GPC-16E have luscious East Indian Rosewood back and sides and a Sitka spruce top with forward-shifted, scalloped 5/16" braces, for a rich, robust tone. A rosette of bold herringbone and matching black top trim, Antique White binding, and Style 28 mother-of-pearl dots for the fretboard markers complete the latest looks for 16 Series Martins.

The new 000-16E and 00-16E have Sitka spruce topping Granadillo back and sides, which has a tone similar to rosewood, but with a pronounced midrange chime ideal for guitars of this size, as well as scalloped 1/4" braces, comfortable short-scale High Performance necks, and otherwise they have the same cosmetic features as their larger brethren mentioned above.

The new D-16E Burst and OMC-16E Burst have totally different look for the solid ovangkol used as the back, sides, and top. With a Mahogany Burst top shading and faux tortoise binding and pickguard, these new 16E Burst models have a unique tone, as the clarity of ovangkol is enhanced by the presence of a hardwood top, and arresting good looks to boot.
Rounding out the new 16s is the D-16E Brexit, which has specifications similar to last year's D-16 Sycamore model, plus uniquely whimsical artwork by Robert F. Goetzl, known for his many contributions to Martins collectable limited editions. In this case, none other than George Washington appears in shades and headphones and the graffito quip "Brexit Hmmmm? Been there done that!!"

Black Walnut Limited Edition
The 000E Black Walnut Ambertone is an edition of 125 guitars made with American Black walnut for the back and sides and a Sitka spruce top, for a tone often said to have the treble clarity of mahogany with overtones more like those heard from rosewood. This short-scale 000 has Martin's Modified Low Oval Profile shape to the neck and the High Performance Taper to the fretboard. The gorgeous gloss Ambertone burst finish and the Fishman Matrix VT Enhance duel-source pickup system makes sure this limited edition Martin sounds as good as it looks.
Summertime is Travel Time!

Whether you're hitting the open road or retreating to your favorite fishing grounds, Martin has new travel-oriented guitars you will definitely want to check out. Four of them are affordable travel-size instruments, and two are exclusive limited editions with travel-oriented themes!
Junior's Got Some Littler Siblings!

Martin's D Junior models now have smaller siblings in the 000Jr-10 and 000CJr-10E. Made with sapele back and sides and a Sitka spruce top, and the appointments of Martin's new Style 10, these slightly- smaller than a standard Auditorium size Martin guitar have a neck with a 24" scale, and the sleek fast High Performance Taper, and a body with nice curves that make it even more comfortable for sofa sitting or porch swing serenades than their dreadnought shaped counterparts. And the softened edge where the back meets the side only increases the effect.

The 000CJr-10E has a cutaway for access to the uppermost frets, and onboard Fishman Sonitone plug and play electronics. But whether you reach for the C and E, or the purely acoustic 000Jr-10, you'll be playing a guitar that travels well without sacrificing tone for portability.

Little Martins with Rosewood Looks


The LX1R and LX1RE bring new looks the Little Martin lineup, with HPL back and sides of a rich rosewood pattern, and a top made of solid Sitka spruce that sports an attractive pickguard, and super-cool laser- etched rosette of bold herringbone within rings of rope that are just so dope! The convenient size is ideal for musical children, or for fitting into that over-packed vacation vehicle, or even slipping into the overhead bin of an airliner, these good looking Little Martins offer a lot of tone in a small package. And the LX1RE has Fishman Sonitone electronics onboard, so you can turn it up as loud as the neighbors will allow.

OOL Fly Fishing Limited Edition

This 100-guitar edition is embellished with beautiful fretboard inlays depicting the fine art of fly fishing; while the sunburst top is adorned with intricate illustrations by fine artist William Mathews.

The Long Grand Concert 00L body size increases tonal presence in the low-mids and bass, making it a very good choice for the bright and lively Goncolo Alves used for the back and sides. The lovely woodgrain of the marvelous tonewood is brought out by the full gloss finish. A short-scale version of Martin's High Performance Neck and scalloped 1/4" braces likewise maximize responsiveness and comfortable playability.

Call ASAP if you want one of this limited edition. (610) 871-1673. Call even sooner if you want to add the optional onboard electronics, installed at the Martin factory.
American Chopper Custom


An instant collector's item of just seven guitars, the American Chopper Custom is a remarkable piece of luthiery. Designed and created in connection with two episodes of American Chopper, the television program featuring preeminent motorcycle designer Paul Teutul Jr. A unique three-wheeled vehicle was created by Paul Jr. Designs, which also collaborated in the design of a custom guitar inspired by the same aesthetic sensibility.

In terms of a musical instrument, it is a 14-fret dreadnought with Engelmann spruce used for the top and Guatemalan rosewood for the back and sides, which combine to make a lush voice of complex overtones and a rich, warm bottom end, made all the mellower by the special Titanium Core strings.

As a work of art and high-end design, the instrument's body has panels with automotive-inspired aluminum rivets, and custom copper and wood inlays, flamed European maple bindings, "skeletonized" knobs on the open-gear tuning machines, and even a label made of stainless steel.

What an awesome lineup for Summer NAMM! Martin has done it again, by offering something that fits into everyone's budget. Way to go Martin, way to go! (BOOM BOOM!!!)

Or should we say Vroom Vroom!
Have questions about any of these Martin Guitars? Post them below and Maury will be happy to answer them!