Wednesday, September 04 2019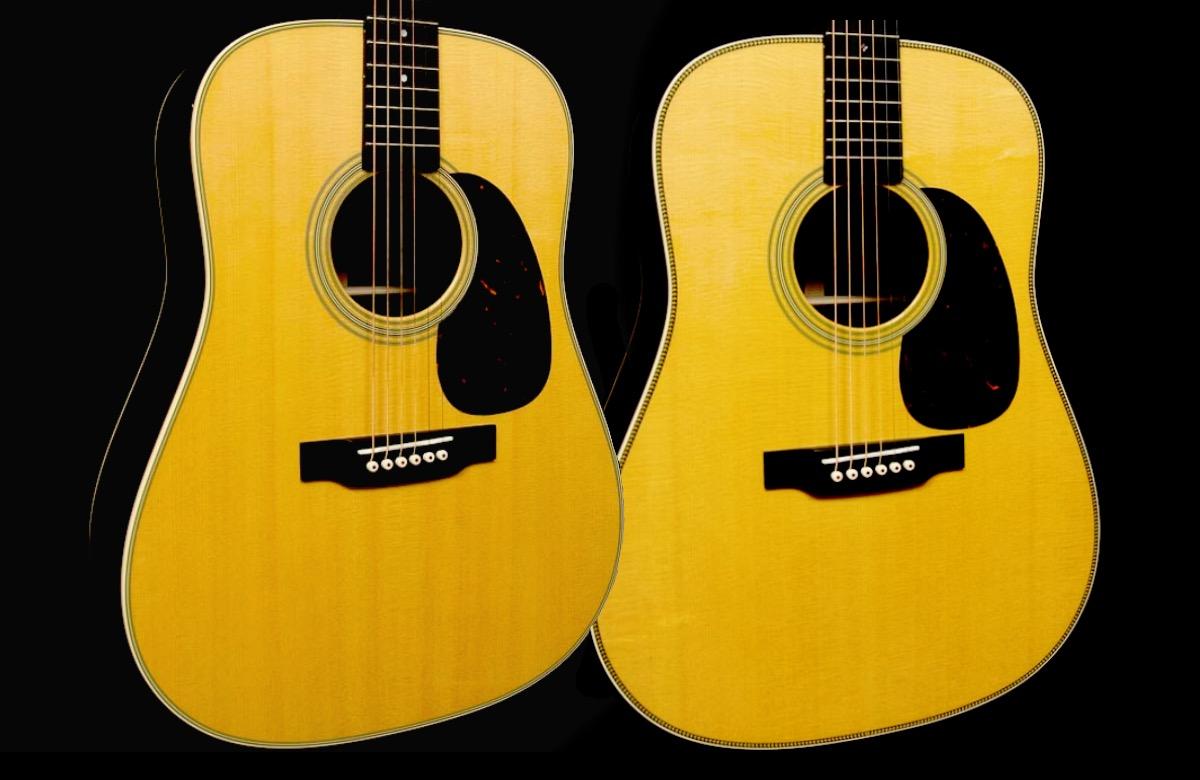 Martin Guitar Comparison #1 – 2018 D-28 vs. 2018 HD-28

I cannot remember how many times we've been asked to compare two different Martin guitars for a customer on the verge of purchasing one or the other. But I can say with certainty that the comparison requested more than any other has to be the Standard Series D-28 versus the HD-28. And that is why we are featuring these two acoustic guitar classics.
The most significant difference is that the HD-28 has scalloped bracing and the D-28 has non-scalloped bracing, also known as straight bracing.

Straight bracing was first used on Dreadnought-size Martins in the late 1940s, and the significance of scalloped bracing was forgotten for many years. Eventually, people lucky enough to play one of the 691 D-28s made between 1934 and 1944 began to notice the difference in tone heard from those older Martins. In time, scalloped bracing reappeared on Martin guitars after some three decades.

L to R, Martin D-28, Martin HD-28

Before we delve into how the type of bracing affects the sound of an acoustic guitar, let's first examine what these two best-selling Martins have in common, which is almost everything, so it may seem.

Each is made in the Standard Series version of Martin's Style 28. That means they have a back and sides made from solid East Indian rosewood, which are "bookmatched" to mirror the beautiful natural grain patterns with their dark and rich colors of coffee and chocolate. Each has a soundboard made from quartersawn solid Sitka spruce from the Pacific Northwest. Likewise bookmatched and full of rippling cross grain, while the long grainlines are tight and evenly spaced, providing the ideal ratio of stiffness and flexibility.

D-28 (L) features dot inlays, while the HD-28 has diamonds & squares

This tonewood combination of Sitka spruce over East Indian rosewood offers fundamental notes powerful and pure, enhanced by complex overtone content and exceptionally full-bodied warmth in the lower registers, which can easily reach robust levels of volume, thanks to the large Dreadnought body size. Martin rosewood Dreadnoughts have been imitated the world over since the first 14-fret D-28 appeared in 1934. But there are few guitars quite like those from Martin's Standard Series, which sets the standard to which all other acoustic guitars must be compared.
Each of these Martins has the same high-gloss finish of traditional nitrocellulose lacquer, which ages and gets played-in right along with those world-class tonewoods. Each has the same long-scale High Performance neck, which has the twenty-first century feel of Martin's Modified Low Oval profile fronted by a solid ebony fretboard that measures 1-3/4" wide at the solid bone nut, and 2-1/8" at the 12th fret, along with the same 2-5/32" string spacing at the compensated bone saddle in the solid ebony bridge. And each has the same Grover Stay-Tite 18:1 gear ratio tuning machines, with vintage-style open back gears and butter bean knobs.

Aesthetic Differences
On the surface, they differ in the trim around the edge of the top and in the selection of fret position markers. The D-28 has the multi-ply black and white line top purfling and large mother-of-pearl dot fret markers of the classic D-28s from the past 70-odd years, like those played by Dwight Yoakam, Michael Hedges, Beck, and the Beatles, to name but a very few. And the Aging Toner used on the top works with the Antique White binding and faux tortoise pickguard to give the appearance of an even older D-28 made from 1946 to 1966.


Both models come with a faux tortoise pickguard

The HD-28 has the same toner, pickguard, and binding, but around the edge of the top is inlaid the herringbone purfling signified in the model name by the addition of an "H." And along with that vintage herringbone trim is the 1930's style Zig-zag back strip and the long-pattern Diamonds and Squares fretboard markers made from multi-color abalone shell. These are all features that give the HD-28 an appearance like the herringbone D-28s made in the 1930s and early 1940s. Often called "pre-war 'bones," those now-priceless vintage Martins are coveted by Bluegrass pickers, and a favorite of Woodstock-era singer-songwriters Stephen Stills and Neil Young.

And while these two modern Martin dreadnoughts offer looks of two different vintage Martins, they also offer two different, if related sounds. But one cannot see why that is without an inspection mirror, as the cause lies hidden beneath the solid Sitka spruce soundboard. It is, of course, the scalloped bracing used on the HD-28, similar shape and positioning as the bracing used on pre-war Martins.
At the time of its introduction in 1976, the HD-28 was the first Martin dreadnought model made with scalloped braces to appear in the catalog since 1944. But times do change, and now it is the Standard D- 28 that is one of only two Martin dreadnoughts still being made without scalloped braces - the other being the Standard D-35.
Scalloped Braces
Scalloping refers to a process whereby the main X brace and surrounding tone bars are further shaped after they've been glued onto the soundboard, by a master craftsperson using a very sharp chisel. The ends and sides are tapered, and the tops of the braces have scooping curves sliced out of them that are known as scallops. The scooping of the X bracing and larger tone bars leaves a couple of peaks along the way, which give them an appearance similar to a suspension bridge. The smaller tone bars have symmetrical tapering on either side, resulting in a center peak. The bracing nearest and above the sound hole remains identical in each of these two models.


D-28 features black & white purfling, while the HD-28 gets herringbone
The purpose of all this carving is to remove mass, which makes each brace more flexible. This in turn makes the entire soundboard more flexible, so it has greater response to the physical energy coming from the strings. The bracing is also lighter in weight which allows for an efficient transference of that physical energy from the ebony bridge and maple bridge plate, out across the soundboard, where it is converted to sound waves.

The effect on audible tone is heard as a noticeable increase in the resonance quavering among and around the main fundamental notes coming from each string. And there is also some additional bass response as well, since most of the scalloping directly affects the flexibility of the wide bottom bout.
That resonance is often said to make the voice sound more open, as if there is greater depth behind that main voice. This is caused by a discernable echo from all those soundwaves reflecting off the rosewood and the vibrating spruce, which gives the aural illusion of a deep, wide space, as the soundwaves repeatedly bounce around inside the guitar, as its voice is generated and projected out into the room.

Well then, if scalloped bracing makes for such a complex, resonant tone, how does the sound of the Standard D-28 differ and why might someone want a guitar that didn't have scalloped bracing? The answer is found in the same reason someone might like scalloped bracing – tone, dynamics, and personal preference.

When it comes to tone, it is not like those tone-creating processes aren't going on in the D-28 with its straight-braced construction. It is just happening to a lesser degree.


2019 Martin HD-28


Non-Scalloped Braces

The subtle but noticeable decrease in the echoing body resonance produced by scalloped bracing allows the voice of the D-28 to put the focus on those initial, fundamental notes coming from the six strings. There is a certain directness and strength in the notes heard from a guitar with straight braces that makes the notes stand out and seem larger yet clearly defined.

When it comes to dynamics, that definition remains intact even under the hardest strumming. The strength of those stiffer, non-scalloped braces translates into stronger notes that can take anything a heavy-handed guitarist can dish out and remain steady and clearly heard. "Punchy" is a term often used for the straight-braced Martins from the 1950s and '60s. And today's Standard D-28 is one powerful puncher!

The D-28 still generates plenty of body resonance, but it doesn't waver around as much, so the main notes take center stage, as it were. Each note is strong and steady, and the resulting resonance plays more of a supporting role, and does not rise up to engulf the fundamentals in the manner heard from a guitar built with scalloped braces.

The HD-28 is lusher in its tone, the D-28 leaner and more defined. Some people prefer the way the D- 28's notes retain their individuality during strumming and picking. Others fall in love with the HD-28's cavernous sound chamber echoing with the tone of scalloped bracing.

The scalloped bracing tone is more popular these days, which is why most Martins in any size are now made with scalloped braces. But there are plenty of guitarists who hear the straight braced D-28 and say, "Now THAT is the classic Martin tone I crave."

2019 Martin D-28

Classic Martin Tone, 'Bone or no 'Bone

When people reach for any Martin Dreadnought, they do so because they seek the deep, full bass response that sets Martins apart from those other leading brands. And both of these 28s are made with the main X brace in the forward-shifted position, which offers maximized benefits in bottom end power and midrange presence. So, the straight-braced D-28 still has a deep, rumbling bass, even more thanearlier versions could offer before Martin converted the entire Standard Series to vintage-style forward- shifted bracing.

Some guitarists can't get enough of that honed yet muscled definition of the D-28, that make the main notes stand up and out in a three dimensional way. Other guitarists want that 3-D effect heard down inside the voice, where the wavering body resonance marries directly with the responsive fundamentals, thanks to the light, scalloped braces of the HD-28.

In either case, the D-28 and its sibling the HD-28 offer awesome options for a professional-level acoustic guitar with modern playability and the classic tone that only comes from a hand-crafted musical instrument with a sound chamber made of choice solid tonewoods, fused to a solid wood neck with a traditional hand-fitted dovetail neck joint that's set into a solid mahogany neck block. And nobody does that like the folks at C. F. Martin & Co.

Two classic rosewood Dreadnoughts. Each with their own awesome Martin tone.
Great comparison! Thank you. But..... How does the D-28 MD sound in comparison???? I have a D-28 (bought from you) and have been thinking of adding the MD. Thanks
Posted by
David
on
09/05/2019 - 12:30 PM
Thanks! Please follow this YouTube URL for our comparison between the D-28MD, HD-28 and D-28A. https://www.youtube.com/watch?v=qO0t-Pmascw
Posted by
Maury
on
09/05/2019 - 12:39 PM
Thank you for this great comparison. I read this and then compared both guitars in person. I definitely fall into the D-28 camp.
Posted by
Andrew
on
09/06/2019 - 11:50 AM
I saw the video and it was well done, but I was hoping to have the difference of the md compared to the others verbalized by someone like the above comparison. Does it sound like an HD 28 on steroids? Is it a good compliment to my D-28? Or would I be better served with another option? It's hard to tell all the little subtleties on a video if you know what I mean. I do like my D-28 for playing it real hard and I like the bass. Does the md have more bass? I'm looking to add to my collection and I'm looking for the special Martin lol
Posted by
David
on
09/08/2019 - 08:04 PM
Sorry David- but if the actual guitar recordings aren't helping you as much as you'd hoped, I think the best thing would be for you to play these in-person. TSP describing them shouldn't carry *more* weight then his playing them. Just my .02 and YMMV
Posted by
Maury
on
09/08/2019 - 08:14 PM
Yes playing them in person is the way to go, however nobody within 500 miles of me has one to try. I figured since you so elegantly described the difference in sound from the D-28 compared to the HD-28, that adding the difference of the D-28MD would be a no brainer for whoever wrote that article. I guess my best option would be to order one and then return it if I don't like it enough compared to my standard D-28. Thank you for your insight Maury.
Posted by
David
on
09/10/2019 - 09:55 PM
You explain in a graphic picturesque way. Describing sounds,tones,with words isn't an easy task! Martin's deserve the descriptions you gave because Martin's to me sound multi-faceted like a diamond looks! Best acoustic guitar ever made in my opinion!
Posted by
Michelle McMurtry
on
09/12/2019 - 01:53 PM
Can you please tell me about my HD 28 Larch Top #524098
Posted by
David
on
02/21/2020 - 05:04 AM
I appreciate the sound of the non-scalloped (and non-shifted) bracing if my 2012 D-28. I use light strings, and am awestruck at the delicate tone that can be produced finger picking. That's certainly not what my bluegrass brothers are looking for. But this incredible guitar has more than one way to amaze.
Posted by
Phil Hughes
on
02/23/2020 - 03:14 PM
What a great read,I have been wanting a D28 for over 40 years,I am 53 now,my uncle has a 1954 D28,bought his son a new D28 in 1978,and this coming Saturday I'm going to go get mine.It is truly a big purchase and one that will have me traveling a lot of miles with several stops in the Dallas/Fort Worth area to the shops that have them in stock,I had to call about a dozen stores to make sure who had the D28 along with the HD28 for me to compare,not sure how many stops I will make or have to backtrack to pick the right one for me,but I do know It will be fun
Posted by
A.D.Pritchard
on
06/10/2020 - 09:51 AM
I hear a difference between my 1968 D-35 and a D-28S from 1964. It is more pronounced with the D-18S which uses different woods. Does the new D-222 measure up to these instruments?
Posted by
John
on
01/28/2021 - 07:44 AM
Hi there. Very accurate analysis! Allow me to add my opinion since I've compared those two at home before buying. It was me playing the guitars and another person listening, in front of me 1.5-2 meters away. HD28 has for sure a wider & stronger sound projection. D28 is somehow stiffer & sounds compressed comparing to HD28. Bass in HD28 is broader & I'd say clean. Highs in HD28 are obvious - riding on top of the powerful sound. HD28 sounds more responsive - reactive to my picking style. Less mass seems to allow more oscillations.. I bought the HD28. CSNY music - I've been fond of - sounds better with an HD28.
Posted by
luke
on
07/13/2021 - 06:32 AM
I always wanted a D-28. While in California last year I was able to visit a large store that had one. Luckily they had a D-18, a D-28 and a HD-28. I tried all three. I play maple, mahogany, walnut and rosewood guitars. The HD-28 sounds superior and plays beautifully. I got an Ambertone model and enjoy it especially for flatpicking. It looks great too. Quite elegant and not overstated.
Posted by
Jaya Jeff
on
03/31/2023 - 02:17 AM