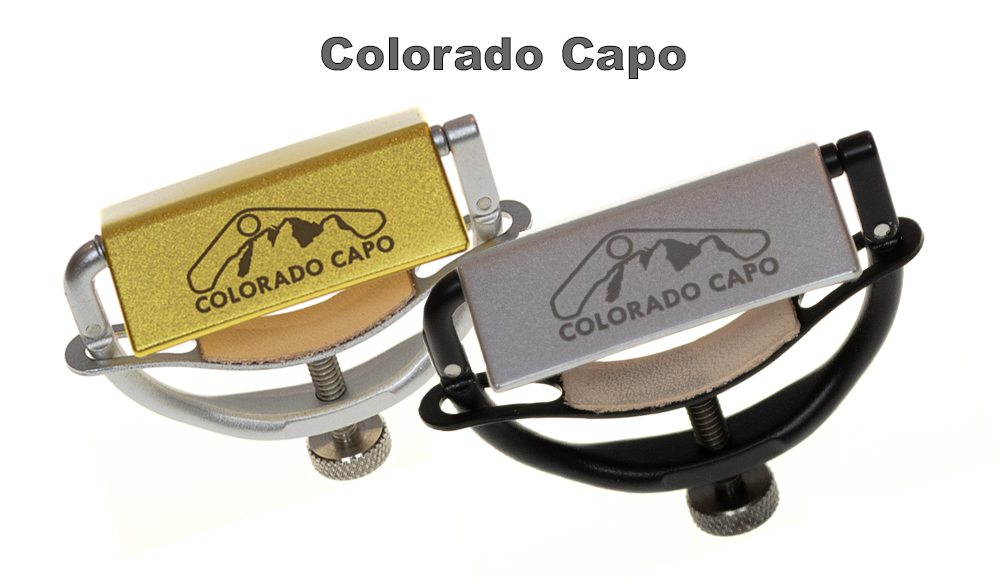 The Colorado Capo takes the familiar yoke design, and improves upon it in 2 significant ways. First, its unique, patented design allows for the leading edge of the blade to get very close to the fret - closer than other capos, and this provides better intonation & tuning stability. It also helps keep things in tune when bending the unwound strings.
The other major benefit to the Colorado Capo is the location of the frame. While the front of the blade sits snug against the fret, the rear of the capo gets out of the way - almost 1/2 fret behind the one you're playing - making chords SO much easier. Your hand won't bump into the yoke, even on clunky chord shapes like Emaj and B7. Out of the way so you can play is the moral of this story - and it really does what it claims.
The Colorado Capo comes in TWO blade sizes*. The 2.0" blade is recommended for use on guitars with 1 11/16" nuts and 1 3/4" nuts up to the 5th fret. The 2.1" blade is better for use on guitars with 1 7/8" nuts or those times when you want to capo a 1 3/4" guitar higher than the 5th fret. Both size blades are available in aluminum and brass, and yokes are, too.
*Aluminum only
You can purchase a complete capo
an extra Yoke...
...or an extra Blade
If you have any questions about the new Colorado Capo, please contact us & we'll be happy to help!
The price?
Posted by
Romuald Leclair
on
08/06/2020 - 02:21 PM
Romuald, please click the product links in this blog, for their current pricing. For example, clicking on: Aluminum with Aluminum Blade 2.0" will show you its price.
Posted by
Maury
on
08/06/2020 - 02:29 PM