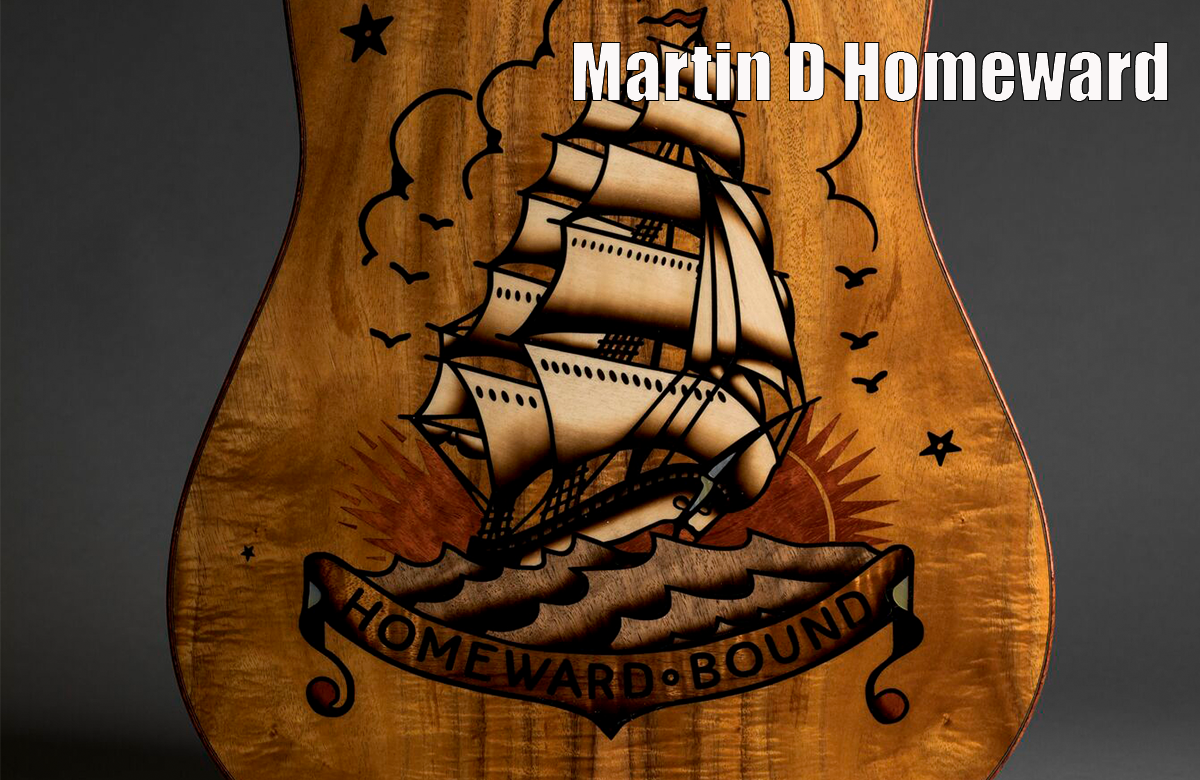 With its nautical theme celebrating the age of the great clipper ships, the Martin D Homeward is a true masterpiece of the woodworking arts, among the most visually beautiful guitars C. F. Martin has ever produced. This mighty dreadnaught features back and sides of gorgeous solid koa from the Hawaiian Islands and a unique soundboard of heavy bearclaw Sitka spruce.
As a Martin guitar, this D-size vessel of tone and music has a full-bodied voice with a robust bottom end beyond most koa guitars, thanks to the forward-shifted bracing, while also having all the complex high-end overtones and midrange clarity that makes koa so well-loved as a tonewood, and makes the koa sound so much more interesting and singular than the "somewhere between mahogany and rosewood" often used to describe it. And when it comes to visual beauty, there is nothing quite like top shelf koa!
No photo can capture or do justice to the magnificent three-dimensional depth in this koa grain, glimmering with angel hair medullary rays of amber and honey, and layers of rippled crossgrain glinting with hints of pirate's gold from the bottom of a sandy lagoon. The deeply stunning koa honeypot is set off wonderfully by the busy bearclaw figure in the spruce, which stand out like the crests of whitecap waves o'er that briny koa deep. All of the exquisite solid tonewoods on this very special guitar were hand-selected by a select group of craftspeople in Martin's Custom Shop, including our departed friend, the late Emily Meixell, who also meticulously picked out and inlaid the colorful wooden marquetry and polished seashell gracing the back, top, fingerboard, and headstock faceplate.

The bearclaw top has a sound hole ringed with seafaring Manila rope made from wood that is heat-treated for subtle pigment variations, but so realistic you'll be tempted to pick it up and run it through your fingers. It is surrounded by the stars and bars of Old Glory bunting straight from the 1870s. Peeking out around the bunting are the tips of bumpy conk shells inlaid with highly-figured abalone, and the tip of an anchor adorned with a polished garnet, all made from wood that, again, is so 3-D in its appearance it is hard to believe it is actually flat and under the high gloss nitrocellulose finish.

Weaving its way across this tableau is a banner of highly-quilted koa (or possible Bubinga) with the inscription "ROCKED IN THE CRADLE OF THE DEEP," taken from a beloved sailors hymn first published in 1840 and a comforting staple of maritime and naval life ever since.

Inspired by classic scrimshaw engravings of the nineteenth century, the breathtaking koa back features a magnificent clipper ship racing through the waves with a fair sunrise at its back, the morning breeze in its many sails, a morning star off its starboard side, and another off its port bow, guiding the great ship toward its homeport with the help of three seabirds. All of them achieved with beautiful wood inlaid by hand along with mother of pearl accents. And at the bottom of this impressive "scrimshaw" is a large banner inscribed with "HOMEWARD BOUND." Outstanding!

Similarly, the solid ebony fingerboard features figured wood and mother of pearl to create a decorative anchor, rope, and stars of various sizes, some looking like they are made from hammered brass. And with a touch of romantic whimsy, the three-dimensional koa headstock faceplate is inlaid with a traditional hula dancer playing the ukulele of her own Hawaiian homeland, and made with the finest detail.

The dancer looks like a tattoo some sailor brought home to remember his exotic adventure to the tropics. And no wonder, since she and all of the designs used on this glorious maritime Martin were taken directly from the original designs invented by the late, great Honolulu tattoo artist known as Sailor Jerry, whose signature is inlaid next to the hula dancer on the headstock. Other features of note include the quilted Bubinga bindings on the body and fretboard, and the koa tuner buttons, and special hardshell case with Custom Shop embroidery. We just love this D Homeward so much! And you will too, especially once you see it in person. So give us a call when you are ready for the voyage of a lifetime with this unmatchable Martin guitar.


Emily Meixell (May 2, 1983 ~ July 31, 2019)
Amazing guitar. However, the pennant on the boat's top sail is pointing incorrectly. The pointed part of the flag would be facing forward because the wind filling the sails shows it's originating from behind. Dig?
Posted by
karl
on
02/24/2023 - 01:04 PM