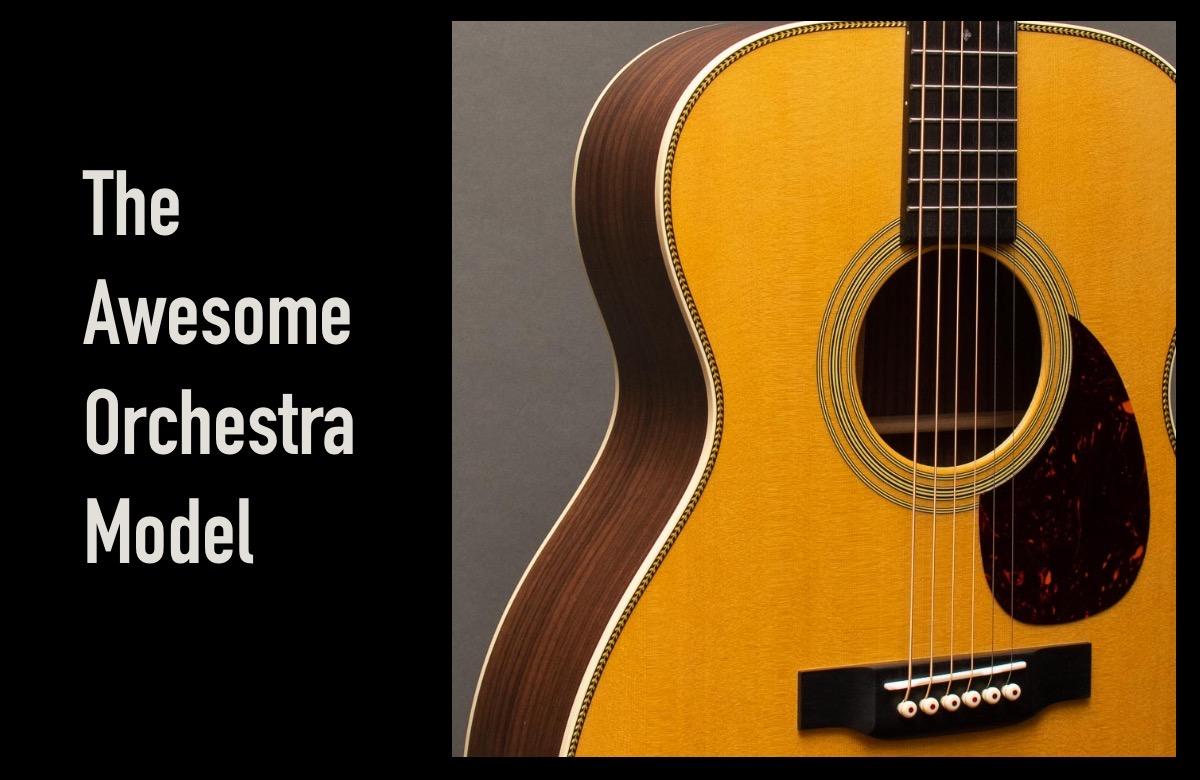 A week after Maury appeared on the popular YouTube webzine "The Aaron Short Music Hangout," Martin's Dick Boak took his place in front of a webcam for a lengthy and enlightening interview on the same show. Aaron asked him what his favorite Martin guitar was. Dick replied that there are so many great Martins, but for him it is the Orchestra Model. He said that he owns many guitars, but his OM just seems to find its way into his hands virtually every day. Dick Boak is not alone in this opinion. No less than Eric Clapton famously said that if reincarnation exists, he wants to come back as a Martin OM. And it is no coincidence that John Mayer's signature model is based on his long-time go-to axe, which happens to be the same Martin OM model that Dick Boak plays, and the very same one played to this day by Maury of Maury's Music. The reason is simple – Martin OMs are awesome!

The first Orchestra Model to appear in Martin's catalog of legendary acoustic guitar designs was the OM-28. Since its introduction in 1930, its revolutionary 14-fret neck made it the ancestor of every 14-fret acoustic guitar built around the globe to this very day. And that includes all of the amazing Martin OMs featured in this blog post, from the most opulent OM-42 to the OMC-16E Burst Ovangkol, costing less than half the price of its luxury model cousin.
And in between the two is found that most popular OM of all, the current OM-28 (2018). This model received its "Reimagined Standard Series" makeover in 2018, which is why you see (2018) in a model name, even when the guitar is built in 2020.

Righteous Rosewood
Today's Standard Series OM-28 has all the engineering features that made that original Orchestra Model such an important innovation in acoustic guitar design. The combination of a long-scale neck with the OM size soundboard supported with light, scalloped braces creates an extraordinary engine of tone production. The string tension of the long-scale works wonders with the OM-size soundboard, as it injects the ideal amount of physical energy through the small maple bridge plate and throughout the spruce top. The light 1/4" bracing is scalloped by hand to achieve an ideal ratio of stiffness to flexibility, allowing that spruce soundboard to respond freely yet with enormous power, maximizing the potential of the OM size sound chamber.

The results are a marvelous voice of prodigious projection and an open, room-filling resonance. And it creates the famous OM tonal balance from bass to treble that makes every Martin Orchestra Model exceptionally versatile, befitting any and all styles of music. For rhythm strumming, flatpicking solos, and every kind of fingerpicking from Country blues to Celtic ballads, there isn't a better Swiss Army Knife of acoustic guitars than a Martin OM. And the shape and size of the OM body makes them wonderfully comfortable to play for long periods of time, whether a guitarist is sitting or standing.

Made from all solid tonewoods, the Standard Series OM-28 has a Sitka spruce top of excellent quality and a back and sides of beautiful Indian rosewood that enriches the clear, powerful tone with additional warmth and marvelous harmonic overtones of delightful complexity. In 2018 Martin retired its Vintage Series instruments, with their Modified V necks, and the Standard Series OM-28 was upgraded to the classic appointments similar to the original OM-28 from the early 1930s. So now, the looks and tone of the OM-28V played by Maury, Dick Boak, and John Mayer can now be had with a comfortable, modern neck shape.

This vintage styling includes the herringbone purfling around the spruce top, and elegant Diamonds and Squares position markers on the solid ebony fingerboard. The primary difference from the now retired OM-28V is the replacement of the wide vintage V neck with Martin's High Performance neck that combines the super-comfortable Modified Low Oval neck profile with the sleek High Performance Taper, sometimes called the Performing Artist Taper.

The neck starts with a traditional OM 1-3/4" width at the solid bone nut, but has a sleeker taper to the fretboard, so it measures 2-1/8" at the 12th fret. With a fast, comfy neck perfect for today's music, today's OM-28 is more versatile than ever before! And for the guitarist who needs top-shelf amplification, there is the Martin OM-28E with Fishman Aura VT Enhance (2018) that captures the exquisite tone of an OM-28 heard through a world-class microphone via Fishman's amazing Aura technology, and enhances it with an additional Enhance bridge plate sensor that blends in any modern percussive techniques applied to the soundboard itself. Other pickup systems are available for installation in your new Martin OM, or ordered pre-installed at the Martin factory.

Martin's Standard Series offers two other OMs that are almost as popular as the legendary OM-28 - the luxurious OM-42 (2018) and the budget-minded OM-21 (2018). Each is made with the same solid Indian rosewood back and sides and solid Sitka spruce top, 1/4" scalloped bracing, and the easy on the hands High Performance Neck. Martin's OM-42 is constructed of the highest grade rosewood and spruce from their massive store of the world's best tonewoods. The tight, perfectly quartersawn Sitka spruce soundboard is graced by glorious high-color abalone shell inlaid around the edge of the top and the fretboard extension, complementing the stunning abalone ring of the sound hole rosette.
Large, round abalone snowflakes adorn the jet black ebony bridge, set off by the abalone dots on the white bridge pins. The Antique White binding rimming the back and sides extends all the way up the bound neck and around the bound headstock, which features an ornate C. F. Martin logo inlaid in stunning abalone and gleaming golden tuning machines. The deep, flawless black of the ebony fretboard is likewise inlaid with glorious abalone markers of snowflakes, diamonds, and cats eyes from the first fret to the seventeenth, giving this magnificent musical instrument the looks of a 1930s OM-45. And brightly colored marquetry of the Style 45 back strip is inlaid down the back made from the very best solid Indian rosewood money can buy.

Conversely, the OM-21 is the best OM you can buy for the least amount of money from Martin's Standard Series of handmade, professional level acoustic guitars. Its body has same tonewoods and construction as the OM-28, including the traditional, hand-fitted dovetail neck joint and high gloss nitrocellulose lacquer finish, along with the same High Performance Neck with its two-way adjustable truss rod and solid ebony fretboard and bridge.
Our customers who bought one, love their OM-21. It is the perfect choice for the guitarist who wants to obtain that classic Martin rosewood tone at the lowest price possible, thanks to the simpler yet tasteful appointments a of 21 Style instrument, that forgoes the vintage herringbone trim and diamond fretboard of an OM-28.

Mahogany Lovers Rejoice
Although Martin does not currently offer a mahogany OM in the Standard Series, we are proud to offer magnificent mahogany Orchestra Models with Standard Series construction, including genuine Mahogany back and sides, built exclusively for Maury's Music in Martin's famous Custom Shop. These guitars never stay in the shop for long, so ACT NOW if you want this awesome Martin Custom Shop OM Size 18 Style guitar with a 1933 Ambertone Top. Martin's Ambertone top shading was original inspired by an actual 1933 OM-18 made with a normal sunburst top that had faded over the decades, until it turned into a soft, warm glow. It is now one of the most requested top shading options available from the Custom Shop. And this guitar also has an Old Style 18 rosette and vintage style headstock logo and of course open back nickel tuners with vintage style butter bean knobs, and Golden Era style scalloped bracing, for optimum responsiveness. Oh My!
OMs Made of Environmentally Friendly Tonewoods
Our friend from Brooklyn, Spoon Phillips said he thought the OME Cherry may be the best sounding Martin made from American cherry he's ever played. It may have something to do with the European spruce top, which adds additional complexity to the voice. That top is made from spruce certified by the Forestry Stewardship Counsel, as is every bit of wood used to make this classic Orchestra Model. The FSC works to ensure natural resources like tonewood are sourced and harvested in a way that keeps forests healthy and any local workers and native populations safe and healthy as well.

Featuring an African blackwood headstock faceplate, the unique styling of this solid cherry music box include a bound neck carved from Select Mahogany, ebony bridge and fretboard, golden open back tuners, Diamond & Squares fret markers, 5-ply black and white top trim, and a unique rosette with a faux tortoise shell ring that beautifully sets off the cherry back and sides with its gorgeous dark mahogany toner. And it comes with plug-and-play Fishman Matrix VT Enhance NT 1 electronics, with on-board volume and tone controls!

Last and least expensive, but one of the coolest looking Martins ever, is the OMC-16E Ovangkol. Similar to a walnut, Ovangkol is an African hardwood that looks and sounds more like a rosewood, but with the midrange pop and high end sparkle of koa. And it makes a surprisingly good top wood, sounding more like a spruce than other hardwoods like mahogany. And doesn't it look great under Martin's Mahogany Burst top shading?!

This 16 Series instrument has a cutaway that provides the high-fret access of an electric guitar, while offering the beautiful tone of an acoustic guitar, including when it is plugged into the Fishman Matrix VT Enhance electronics with on-board controls for volume, tone, and blending the undersaddle pickup with the special Enhance bridge plate sensor to pick up any percussive techniques applied to the soundboard. And the woody Ovangkol looks are set off nicely by the herringbone rosette, and the red tortoise bindings. And it looks really great on stage! Almost as good as it sounds.

From the jazz orchestras of the 1930s to the progressive rock bands of the 2020s, Martins Orchestra Model revolution continues to inspire great music from guitarists of all styles of music. It is no wonder that players who own multiple guitars of various sizes and shapes almost always own at least one OM. And there are no OMs quite like those made by the same people who invented the original 14-fret Orchestra Model – C. F. Martin & Co., est. 1833.
Subscribe to Aaron Short's YouTube channel today - and tell him Maury sent 'ya!
Should I get an 018 standard for it's size or an 0M28 standard?
Posted by
Marshal
on
11/06/2022 - 08:41 AM