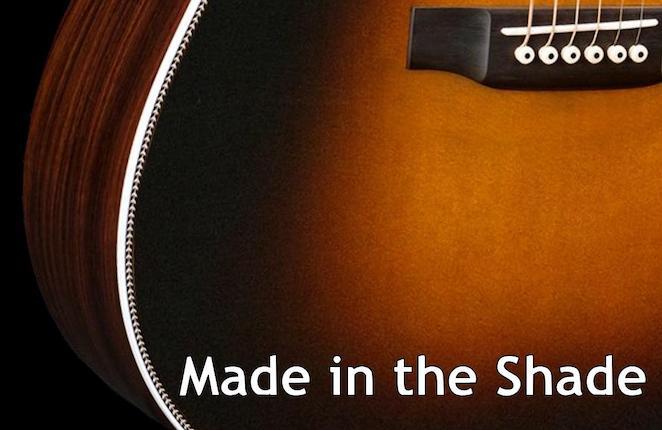 Made in the Shade
Martin has a long tradition of adding special toner to the spruce soundboard of a guitar to darken the lacquer finish in a pleasing, aesthetic way. The official company language has always described such guitars as having a "shaded top," with the common terms like "sunburst" and "burst" being used for specific types of top shading. And while there have been multiple bursts over the years, the two most popular examples remain available today, the Sunburst 1935 and the Amberburst 1933.

Sunburst 1935
Current scholarship suggests that the first multi-tone top shading on a Martin appeared on the 1931 prototype of their new C-1 archtop guitar, marketed toward players in the Hot Jazz dance orchestras popular at that time. And it soon became a standard feature of all archtop Martins.

But top shading also appeared on other Martins around the same time, like the 0-17 and the OM-18 of the early 1930s, and at least two 12-fret Dreadnoughts prior to the introduction of the 14-fret Dreadnoughts in 1934. And there are at least two 14-fret Dreadnoughts with shaded tops that are from that first year of production. But it was 1935 before Martin settled on the exact look they wanted to achieve throughout the remainder of the pre-war era. And it lives on in today's Sunburst 1935, which was based on a specific 1935 D-28.

Here are examples of gorgeous Martin guitars with the Sunburst 1935, currently in stock and available for shipping (at the time this blog post was created).

D-28 Sunburst



D-35 Sunburst



Ambertone 1933
The original Martin top shading was used on certain models more than others. For instance, a greater percentage of OM-18s and D-18s were made with shaded tops than other models. And there was one particular 1933 OM-18 that had a shaded top that would have started out looking like a typical vintage Martin sunburst, but which faded as the years rolled by and the chemical composition of its lacquer finish interacted with sunlight and other environmental influences. Until one day, its once blackened edges mellowed into a softer brownish hue, while the overall soundboard developed a lovely amber glow, with soft and subtle evenness of pigment that it looked as if it had been made that way on purpose. And the look of that old Orchestra Model inspired a new modern finish that Martin calls Ambertone.
No two Ambertone tops look exactly alike, because of the specific piece of spruce used to make the soundboard. Some may have darker edges, or lighter centers, which makes each guitar even more unique from others of similar materials and styling.

Here are some Ambertone Martins in various sizes and stylings, each unique, and each absolutely gorgeous.

D-41 Ambertone



GPC-28E Ambertone with Fishman Aura VT Enhance




GPC-28E Ambertone with L.R. Baggs Anthem




OOOE Black Walnut Ambertone




In recent years Martin has come up with a variety new burst finishes. Some are unique to a specific model, while others have been used on a variety of different Martins. Here are examples of currently available options.

Mahogany Burst
Designed for instruments with tops made from dark hardwood, like members of the Mahogany family, the Mahogany Burst adds aesthetic texture and warmth to the complex grain of beautiful wood.

OMC-16E Burst Ovangkol



In recent years Martin has come up with a variety of new burst finishes!

Autumn Sunset Burst
When C. F. Martin IV designed the CEO-7 as the first 14-fret sloped shoulder 00, he wanted something special for the top. And the result is the amazing Autumn Sunset Burst unique to this model, but available as a custom order on any Martin model of your choice!

Currently On Order and Expected Soon!
Martin CEO7

Currently Available in the Left-handed Version and Ready for Shipping!

Martin CEO7 Lefty

Whiskey Sunset Burst
While many fans of vintage Martins remember guitars built in Style 17 having mahogany tops, the started out with spruce tops, just like the 17 Series guitars made today. And they were among the first Martins to get top shading in large numbers. And today Martin offers their 17 Models with a shaded top option called the Whiskey Sunset Burst, including a classic short-scale 000 and a Slope Shoulder Dreadnought.



000-17 Whiskey Sunset DSS-17 Whiskey Sunset

Remember, every Martin shaded top is available as an option from the Custom Shop. If you don't see what you like here, give us a call and we will be happy to help you design and realize the Martin guitar of your dreams! And that includes ANY of the various sunburst finishes and other shaded top options not currently available on regular production models!!!