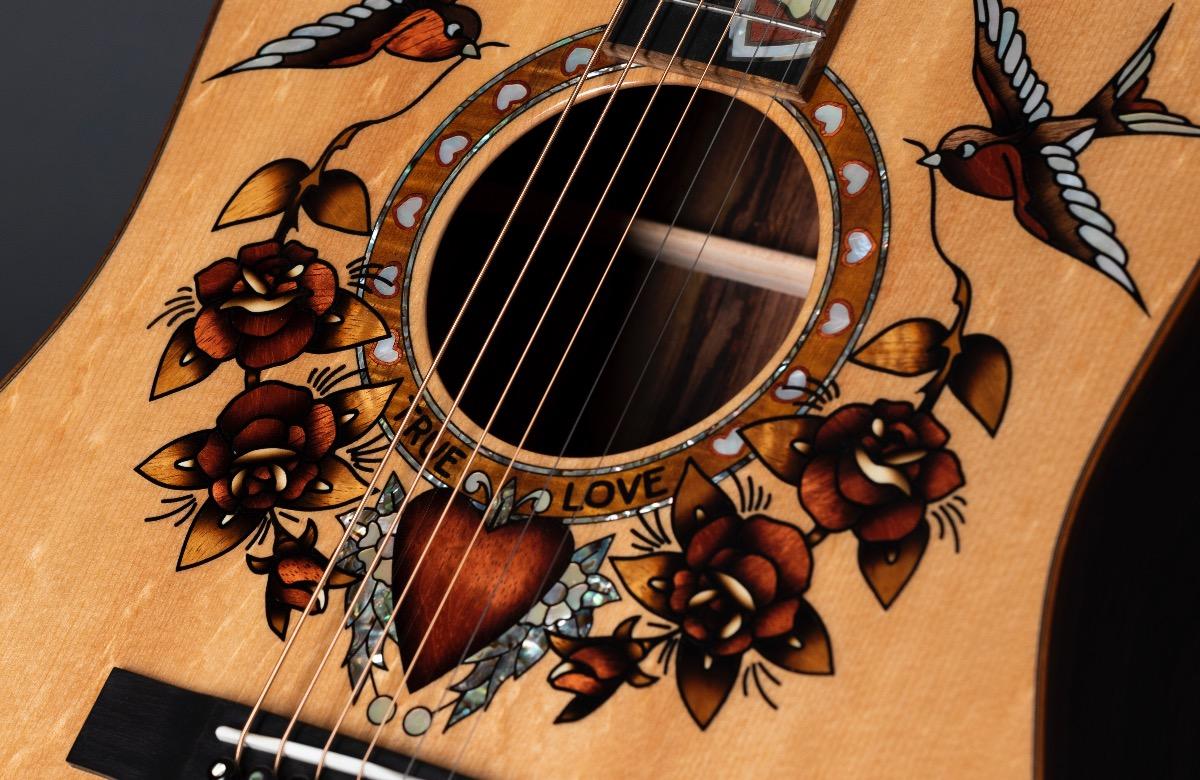 True Love at First Sight and Sound
June is the time for weddings, and anniversaries. It is the month of True Love. And with a tone as pure, powerful, and compelling as Love itself, the Martin D True Love is a magnificent guitar of aesthetic beauty and musical loveliness most befitting this time of year.


The visually stunning artwork that graces this Limited Edition Martin guitar is based on the designs of Norman Collings, one of most famous tattoo artists of all time, known professionally as Sailor Jerry. His many motifs and designs have been copied and counterfeited around the world, because of their ingenuity and their timeless themes, like True Love. And like your true love one can have for another special human being, or their true love of music, or of finely crafted acoustic guitars, you can celebrate it with this amazing Martin Dreadnought.


The D True Love is not just a musical instrument for creating tone-full art; it is itself a wonderful work of art. The luscious voice of powerfully musical notes with rich rosewood overtones emanates from a body that is just as stunningly beautiful to gaze upon, thanks to the exquisite marquetry made from exotic woods and polished seashells like abalone, paua, and mother of pearl.

When it comes to finely handcrafted musical instruments, there is something extra-special about gorgeous tonewoods artistically embellished with inlay made of even more beautiful wood. And just as the rare, top-self tonewoods seasoned in the world-famous acclimation room at C. F. Martin & Co., the craftsmen and crafts women employed by the Martin Custom Shop are among the finest inlay artists around.


And it was the Custom Shop artisans who created the Limited Edition D True Love guitar, including Maury's dear friend, the late Emily Meixell, whose talented hands completed a great deal of the inlay on the Limited Edition True Love, and its sister guitar, the D Homeward.

Made of all solid wood, the soundboard, back, and sides offer the classic Martin combination of East Indian rosewood topped by Sitka spruce. But no ordinary Martin, the back on this specific D True Love has beautifully bookmatched figuring, with high color contrast in the grain lines that flow from the sides like drapery, meeting in the center behind a most magnificent array of three large roses created from lovely woods that have been partially charred to create the illusion of shadows, set off with highlights of shell. And throughout the roses runs a ribbon of highly-figured koa wood offering the declaration "TRUE LOVE FOREVER."

The Sitka spruce soundboard has marvelous bearclaw – a naturally occurring phenomenon that produces decorative rays in the grain, which expand across the entire top like flecks of sunlight surrounding a most glorious tableau showing two love birds in flight, four more roses, a large red heart, and a sound hole rosette of figured wood inlaid with one dozen hearts made from argent white mother of pearl, which gives off translucent hues of blue and magenta when reflecting light.

The solid ebony fret board is covered with hearts of many sizes, made from intricate combinations of more beautiful wood and marvelous natural shell that glint and glow with every color of the rainbow and then some. And all this glorious inlay paying homage to True Love is tied together by the binding on the sides, fretboard, and headstock, made from highly figured koa wood that grows only in the Hawaiian Islands, where Sailor Jerry became a living legend, commemorating the true loves of countless customers in tattoos they could cherish the rest of their lives, just as you will cherish this most amazing Martin guitar.

And that headstock just might be the most beautiful feature of the all. One rarely sees Indian rosewood with the kind of complex grain detail as used for his unique faceplate. Sailor Jerry's signature is inlaid in small fine script below the classic Martin logo, and above a large dagger and rose motif inlaid with even more gorgeous wood and glorious shell. Koa tuner buttons complete the look. Just stunning from top to bottom, back to sides.

The D True Love and the nautical-themed Homeward represent the very best inlay artistry found on acoustic guitars available in the world today. Sure to be collector items ever after, don't miss this chance to own these heirloom-quality guitars while they can still be had for such a reasonable price.