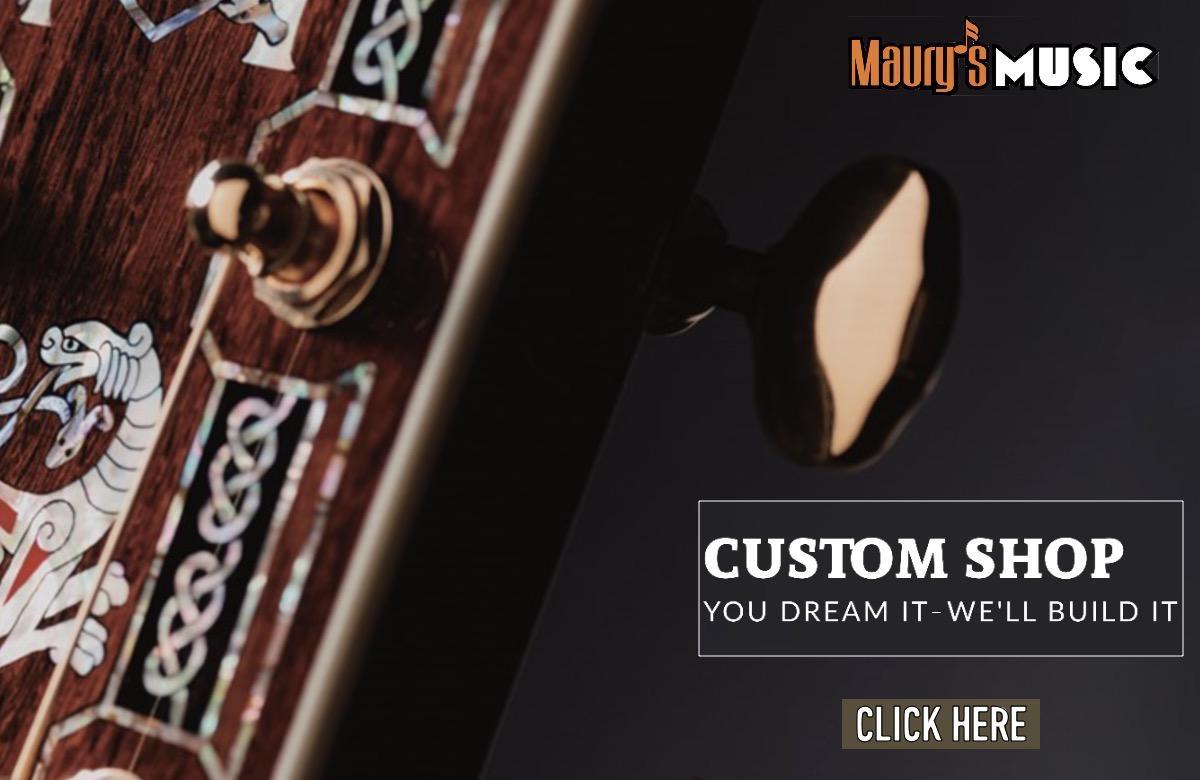 In this third installment, we go the extra mile and delve into the deeper recesses of Martin's amazing options for Custom Shop instruments, for those who want something extra special.

Exotic Tonewoods
On our Martins by Tonewood page, we go into detail about the most popular tonewoods used on most Martin guitars. But the fact is, there are a great many other woods to choose from.

While subject to availability, Martin has told us that just about any wood that you could use to make a guitar, from A for African Blackwood to Z for Zyrcote with its spectacular grain patterns, is likely seasoning in their world-famous acclimation room at this very minute.
Since we have talked about the tonewood used for soundboards in a previous post, here we are going to offer up some examples of the sort of gorgeous woods that could be used to create the back and sides of your personal, custom-made Martin guitar. If you are thinking of going for something out of the ordinary when it comes to tonewoods, we encourage you to search the internet for examples of exotic woods and let us know what you might be interested in. Here is just short list of some of the countless woods, as mentioned in a brief conversation we had with one of Martin's expert wood buyers:

Black Limba aka Korina
Black walnut, as well as English walnut, and the more common Claro walnut. Bubinga is an African hardwood famous for its amazing "waterfall" grain, but depending on how it is cut, it can have all sorts of amazing patterns.

Pau Ferro aka Morado aka Bolivian rosewood has rich tone and rich color.

And speaking of rosewoods, there is East Indian, Cambodian, Honduran, Guatemalan, Cocobolo, Madagascar, even Brazilian can be ordered if you can afford the exclusive price.


Even denser and marvelously tone-full is Macassar ebony from Indonesia, and Blackwood from West Africa. Katalox is often called Royal Ebony, but is actually from Mexico and Central America and is used to make classical guitars, as well as fretboard and bridges for steel string guitars, because of its strength and density.

The beautiful Blackwoods from Tasmania and Australia are actually related to the Hawaiian koa, while shimmering blonde Goncalo Alves from the American tropics isn't, but looks like it should be. And Mango wood has its own amazingly beautiful figuring that is gorgeous on any size guitar, including the top!

Bay Laurel, aka Oregon myrtle, has a similarly complex and lovely look to Tasmanian blackwood, while being a domestic hardwood from the USA.

Siris from India and Lyptus from South America are environmentally friendly woods, the former having rosewood-type tone while the latter is more like mahogany. And for that matter, if you want a guitar made entirely out of sustainable woods certified by the Forest Stewardship Council, Martin makes them for eco-friendly guitarists on a regular basis, often featuring high quality European spruce tops with a back and sides made from various members of mahogany family.
And tonewood as traditional as maple actually is available in multiple species with all sorts of grain patterns, from the traditional straight grain American maple, to bird's eye patterns, to three different levels of curly figuring on both American and European maple.

In the mahogany family there is Genuine Mahogany, aka as Big Leaf mahogany or Honduras mahogany, which can be ordered with quilted figuring, or as "Sinker mahogany," which is tremendously old-growth mahogany that was culled from logging rivers in Central America, where it had laid hidden for decades.

And then there is traditional Cuban mahogany aka Caribbean mahogany; as well as sapele and sipo from Africa, and Khaya, the wood most commonly called "African mahogany" in the timber industry. Contact us if you want hear about even more exotic woods from around the globe.

We can get you a quote on how much the price would change on your Custom Shop order if you switch from the default back and side wood of your starter model to one of these many special tonewoods. And we will work with Martin and you to make sure you make an informed choice you will be happy with forever.

Get in Touch with Great Wood
In addition to the back and sides, you also have choices for the wood used to make your bridge and fingerboard. Martin has used various species of rosewood and ebony to adorn their iconic models. Be it Cocobolo or Madagascar rosewood, all of the rosewoods have beautiful figuring unique to the particular species. But other options include Katalox, Zircote, with their wild grain, and maple or walnut with subtler hues. And where African ebony tends to be uniformly black, Macassar ebony from Indonesia has stunning grain of multiple colors. And in each and every case, you are talking about world-class woods of the highest grade.|

One option most people are unaware of is the radius of the fingerboard itself. While fretboard may appear to be flat, it actually has a slight curve to it, so that it arcs from the bass to the treble side.

Martin has used a 16" radius for the past 60 years or more. This means if the arc of the fingerboard continued around to make a complete 360 degree tube, the circumference could be 16 inches. No one seems to know when Martin changed from the 12" radius used on their pre-war guitars, and still used by guitar companies like Gibson. But we do know that Martin will make a 12" radius at your request. While some guitarists may not notice the difference between these two options, others say the 12" radius makes barre chords and partial barres more comfortable and easier achieve.

Frets
Most guitarists do not fret over frets. But even here, there are options available to you as you spec-out your dream Martin. There are two sizes of frets available, their Standard size frets and Jumbo frets.

Jumbo frets are taller and wider than the standard variety. They are most commonly found on electric guitars used by musicians who play with a very light touch to perform ultra-fast scales and solo runs.

They also allow the guitarist to change the pitch of the played string more easily. String bends tend to require less effort, but since the strings are higher from the fretboard, one can alter the pitch by pressing down on the string to create a steeper angle to the string break. It is a similar effect to playing with a scalloped fretboard.
Jumbo frets are recommended for guitarists who have expert command of the fingerboard and micromanaging pitch and intonation. They are ideal for players who already have them on their favorite electric guitar and want the same kind of feel and playability.

Both fret sizes are available in stainless steel, rather than the German Silver alloy that has been the industry standard since before C. F. Martin opened his business in 1833. German Silver contains nickel, which allows easier shaping of the metal during creation and during fret maintenance during the lifetime of the instrument. But, some people have an allergy to nickel, so Martins both fret sizes in stainless steel. Also, stainless steel frets are harder and will last longer than normal frets, even if they can lead to some sore fingertips until a player gets used to the extra hardness.


For those looking for a true upgrade in frets, Martin offers EVO Gold frets, made from a proprietary copper-based alloy. They are currently only available on the Modern Deluxe Series, or through the Custom Shop. EVO frets have a beautiful golden color and they are also harder than German Silver frets. Therefore, they do not wear down and pit as quickly and will not need dressed or replaced for many years to come.

Bridge Shape
Most modern Martins come with their standard Belly bridge with a short drop-in saddle ideal for installing undersaddle pickups. They also allow for easy replacement, if you are someone who likes to have a summer saddle and winter saddle to account for the change in string height that can occur when the relative humidity changes seasonally, from swampy to arid. But there are other options to consider when ordering a guitar from the Custom Shop.

The modern Belly bridge is also available with a decorative long saddle, which looks like the old glued-in long saddles found on pre-war Martins. But it is still a drop-in saddle good for pickups and can be easily switched out for other saddles. On the other hand, you can order your Custom Shop Martin with a true vintage-style bridge that has a glued in long-saddle, allowing for string vibration to penetrate into the bridge and bridge plate along a wider area. It is the choice for those who want as vintage-like a Martin as possible.

Speaking of vintage Martins, there are vintage-style straight bridges available, similar to those seen on Martins made in the nineteenth and early twentieth centuries. Narrower than the Belly bridge, these bridges allow for a smaller, lighter bridge plate, and are said to allow the soundboard to vibrate more freely where the sound-producing energy is transferred from the strings to the top.

There are two varieties of straight bridges available. The Pyramid bridge has the classic pyramids carved on either side of the saddle, as can seen on the very first OM models made in 1929 and 1930. And there is also a version that does not have the decorative pyramids, called the Straight Line bridge, which was common on Martins made before 1920, and allows for the thinnest, lightest bridge currently available from the Custom Shop.

And then there are the deluxe bridge shapes that have appeared on various limited editions, as the one pictured below. Finally, if you have a bridge design you would like Martin to consider making for you, we would be happy to pass on your request to the Custom Shop and see if they will be willing to make you a one-of-a-kind bridge shape just for you!

Saddle Up
Martin makes their saddles from natural bone and from Tusq, a synthetic material preferred by Martin for guitars with undersaddle pickups. Tusq is inert and is truly solid, with the same density throughout, making it very good for transferring vibration evenly from all six strings.

Natural animal bone, on the other hand, is full of microscopic air pockets. Experiments have shown that saddles made from bone and other natural materials can sometimes cause uneven volume levels in electrified acoustic guitars. But Martin will be happy to use the material of your choice. Many guitarists prefer the acoustic sound of bone and do not have issues with using a pickup under such a saddle.

Maury's Music also offers a variety of saddles in various natural materials, so check out our supply if you are thinking of switching out the saddle that comes with your Custom Shop Martin for a saddle made from a different material.

Bridge Pins
Most Martins come with plastic bridge pins. But you can order your Martin to come with natural bone pins, or pins made from wood like black African ebony. There are also pins available made from Liquid Metal, a space age metallic glass that looks awesome and has been proven to increase volume and sustain.

And Maury's Music also offers an even wider variety of bridge pins for sale right here in the shop. So if you are looking for a truly unique appearance, or who want to micromanage their tone, as bridge pin material truly does have an effect upon tone, if a subtle one, consider buying your new pins from Maury's Music.

Headstock and Tuners
Tuning machines are a practical necessity that can also add a great deal to the mystique of a wonderful guitar. If the tuners on your Martin starter model are made from silver chrome, and you want them to look like gold to go along with your upscale EVO frets, you can do that.

If they have the vintage-style open back gears used on most Martins, and you want the self-lubricating gears enclosed under the decorative housing, used on Style 35 guitars and others, you can do that. And if you want to upgrade to genuine Waverly brand tuners used on the Authentic Series instruments, you just have to ask, and Martin will oblige you.

As for the headstock itself, you can have the patented Martin headstock copied the world over, or the classic slotted headstock most often seen on 12-fret Martins. And if you want the shape of your headstock to match a particular Martin guitar from a bygone era, from Gene Autry's 1933 D-45 to Lennon and McCartney's 1967 D-28s, just ask, and Martin will do what they can give you the exact headstock look and tuning machines you desire.

Cosmetic Inlay
You may choose from any of the many cosmetic styles that Martin uses for their regular models, like the herringbone trim of an HD-28 or the herringbone rosette of an Eric Clapton model, or go upscale and select one of the various levels of colorful abalone inlay of Styles 41, 42, and 45. And that includes the fret position markers on fingerboard. But you can also request truly custom inlays.

If you want to emblazon the fingerboard or the pickguard with a unique design, or with your own name, in mother-of-pearl, or high-color abalone shell, or rare blue or green Paua shell from New Zealand, Martin's world-class craftsmen and craftswomen are happy to oblige you.
If you want have a special design inlaid at the 12th fret, or on the headstock, or anywhere on your guitar, simply provide as much detail as possible as to exactly what you want, and the Custom Shop will deliver!

And if you are a lover of exquisite wood marquetry, Martin has the artisans to create breathtaking wooden tableau that must be seen to fully appreciate. Take a look at these amazing Martin guitars created in the Custom Shop. Some of inlay is made from shell and reconstituted ground stone. Others are made from exotic woods, often heat-treated to add shading and highlights.


If you have a design in mind for the back, sides, top, fingerboard, or headstock for your future dream Martin, we'd love to hear about it and make your dream come true. And if all you seek is an HD-28 with mahogany back and sides, or a 1-7/8" neck width, we'd love to hear that too. Whatever you want from the Custom Shop, Maury's Music is the best way to get it, at the best price possible.

To recap our advice for how to go about ordering the Martin Custom Shop guitar of your dreams:
1 – Choose the pre-existing Martin model that is closest to what you want, which will be known as your "starter model."
2 – Dream BIG!!! Start with a list of every customization your heart desires. And then, when you get Maury's Music's quote from the Custom Shop, we can help you adjust the specs so you get what is most important to you, at the best possible price.