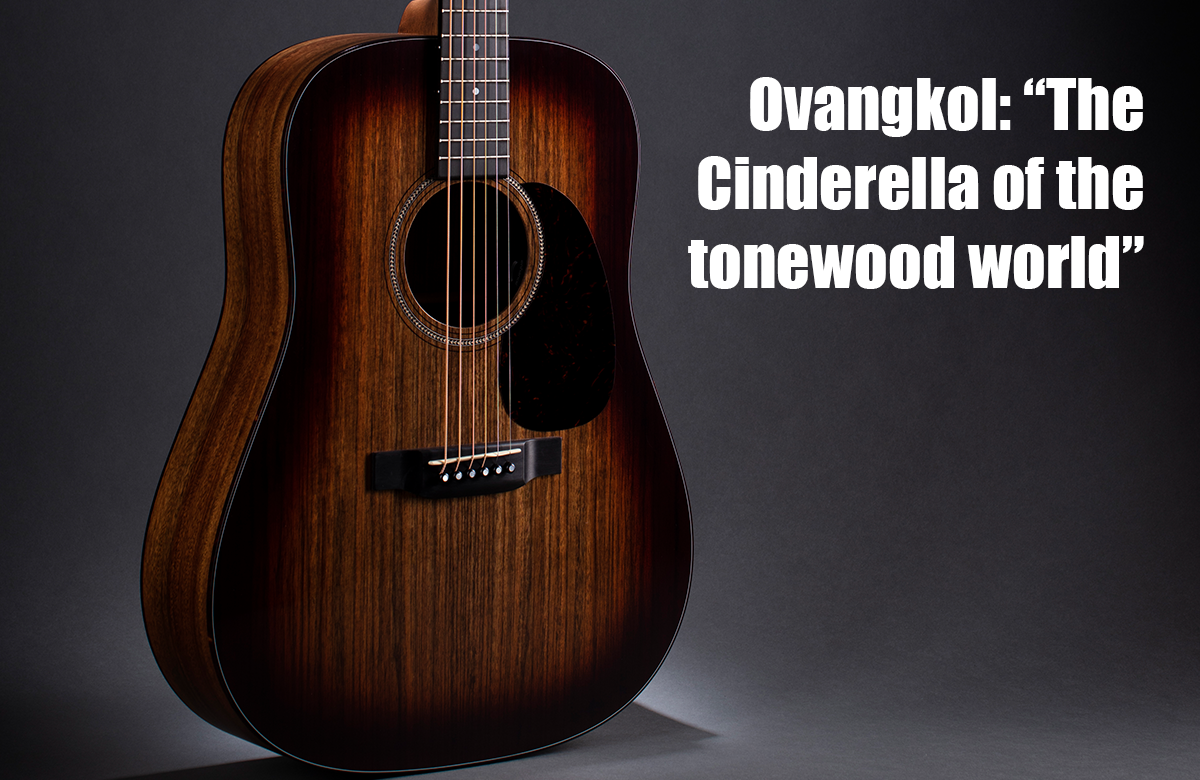 As with most exotic species of wood, Guibourtia ehie has several common names. But in the world of musical instruments it is known as ovangkol. C. F. Martin & Co. has made guitars with ovangkol going back to the 1990s, much longer than its sister species Bubinga (G. demeusei) and Muteney (G. arnoldiana,) but not nearly as long as their cousins the rosewoods. But the family resemblance is certainly there. The latest Martin guitars to feature ovangkol are the D-16E Burst and OMC-16E Burst, the all-solid wood wonders that use it for the back and sides, and for their gorgeous tops under a high gloss mahogany burst finish! And aren't they pretty?


Looks Great, Sounds Even Better
Often compared to Honduran rosewood in terms of color and grain patterns, ovangkol hales from Equatorial West Africa. And the specific wood that Martin uses comes from FSC-certified forests in Cameroon and the Republic of Congo, which means the forests and its inhabitants are treated in a respectful and sustainable fashion. When it comes to guitar tonewoods that are not rosewood or mahogany, people will often claim they have a sound that is "somewhere between rosewood and mahogany." But in the case of ovangkol it is actually true.
Our friend Michael Dickinson, a senior wood buyer for Martin, put it this way. "Ovangkol is the Cinderella of the tonewood world that is often overlooked by its East Indian rosewood and Bubinga relatives. But once it is adorned in a glass like finish, it offers much more bang for the buck. While it has the typical bass punch of a 'rosewood,' it also wears a very nice mid-range like that of mahogany. That slippery scope of sound is why it works for tops, unlike its step-cousins." Michael's friend Spoon Phillips goes a bit farther in this respect, when he says, "It also has shimmering trebles that is usually heard in the Acacia species like Australian blackwood and Hawaiian koa. But, I would never say it sounds like rosewood, or mahogany, or koa. It is truly original. You get the bottom end richness of something like Indian rosewood or African blackwood; the clear yet woody mid-range of something like walnut or koa, that is a bit more colorful and yet a bit less dry than mahogany; and then you also get those angelic highs and shimmery harmonics.

And Spoon seems to take it quite personally. "I dislike it when people say ovangkol is a more-affordable stand-in for rosewood. It is a beautiful tonewood in its own right, with a unique and very attractive tonal color palette. It is an excellent choice for guitarists who want something a little out of the ordinary while being every bit as satisfying as the more well-known tonewoods." And he reiterated this opinion during a recent episode of Aaron Short Music, where Aaron and Maury discussed the many virtues of the D-16E Burst, with its awesome good looks, comfortable playability, and very special tone.
So, be sure and check out the episode below, so you can add your own opinion after hearing the multiple sound tests that Maury performs with a high quality microphone and also through the Fishman VT Enhance pickup system, which combines an undersaddle pickup and a bridge plate sensor to capture the actual body resonance of the guitar.


Ovangkol is often used for cosmetic veneers in the furniture trade, and to make attractive paneling in showcase homes and office buildings. Depending on how the wood is cut and stained, it can resemble walnut, rosewood, or other decorative timbers. But in the case of the two 16 Series instruments, it is solid wood, with its own unique tone – made even more special by using ovangkol for the top as well as the back and sides. Hardwood tops have been around forever. In modern times they are usually limited to mahogany or koa. But ovangkol works as well or better as a soundboard. It is almost identical in weight to East Indian rosewood, but it is not nearly as hard, and that lets it create soundwaves more easily, while still imparting that extra richness in the bottom-end frequencies that sets it apart from either mahogany or
koa.

And as for the OMC-16E Burst, here we have a special treat for you in a short clip of Spoon Phillips being introduced to the prototype of that new Martin model in 2019, in Martin's R&D Sound Testing Room. Unlike Maury's simple one-microphone setup, Spoon uses a three-mic stereo set up when creating the video reviews for his website, One Man's Guitar, onemanz.com/guitar. And he has kindly provided us with an excerpt of him taking this all-Ovangkol Martin for its very first test drive. Enjoy!
And then give us call to purchase the D-16E Burst we currently have in stock, or to place your first-come-first-serve order for the next OMC-16E Burst heading our way.