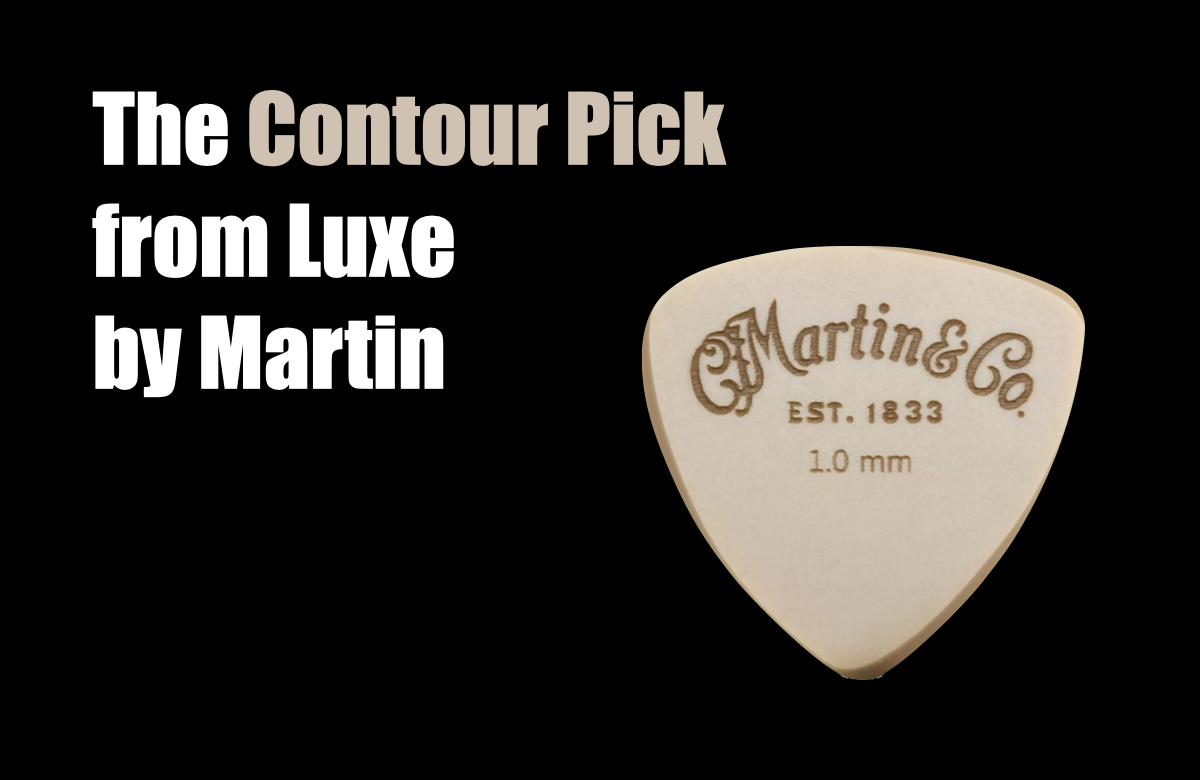 The Contour Pick from Luxe by Martin
Maury appeared on Aaron Short Music to discuss the exciting new Contour Pick from Luxe by Martin. It is one impressive piece of swanky space-age gear!

The entire show was devoted to discussing and demoing this ingenious, high-flying guitar pick that has now landed at Maury's Music. It is ready and waiting to take off in your hand and launch your music to new heights of toneful clarity and increased depths of definition.


Maury & Aaron demonstrate & discuss the Luxe Pick on YouTube

Choices, Choices
The asymmetrical triangular shape offers three different corners to use for picking and strumming, each with a unique bevel that is precisely engineered so all three provide a different tone all their own. Turn the pick over and the reverse bevels offer three more options, which continue to multiply depending on where and how you hold the pick and how much attack that you bring to your playing. So, you can choose the exact bevel and technique to produce tone that's perfect for your particular style. From warm and round to defined with crystal clarity, they are subtly different from each other while being noticeably better than your run-of-the-mill guitar pick of plastic or nylon when it comes to 3D definition.

Tough Stuff
Made from a wear-resistant material that is both strong and light, this may be the last guitar pick you will ever need to buy. The polymer used is polyetheretherketone, known commonly as PEEK. It was developed for the aerospace industry, so it is amazingly strong and can be finely machined and shaped while being nearly impervious to wear and tear. This makes it potentially much more affordable in terms of longevity than other materials being used for upscale guitar and mandolin picks, like Vespel.
It seems quite thin, but it is actually 1.0mm. Depending on how far back on the corner you hold the Contour Pick you can go from rigid and biting during lead licks to glassy clarity with nice flexibility for relaxed strumming. It measures 1-1/8" inch from the tip to the center of the back edge, and about 1/32" shorter from corner to corner, or 22.225mm. This means it is a little larger than a medium size pick, but not as large as many others on the market.

Fun and Versatility
Maury and Aaron have enjoyed trying out the Contour Pick for themselves and for each other, and the audience tuning into the live show had great fun and a lot of interesting things to say in the chat. So, check it out when you can.

Prior to the show, Maury made a quick video comparing the Contour Pick to his go-to Dunlop Tortex pick. And Aaron and Maury featured other pick comparisons during the show, as well as testing out just how different the sounds are from the three corners of the Contour Pick. It really showed off some of the potential of this new pick, and how individual experimentation should reap a lot of good results.


The Luxe pick comes in a handsome bag, making this a great gift!

However, in all of these video demos, the differences were much more noticeable in the room where the truly acoustic tone was being heard, than what anyone can make out through the chain of electronics from the microphone diaphragm to whatever listening device through which they receive internet audio. So bear that in mind when you watch the replay of these video.

One thing that cannot be experienced by a listener is how it feels to play with this pick. And that is very, very nice indeed. It is made with a slip-resistant satin finish, which is enhanced by the etched logo on one side. And it comes with a special disc that can be peeled and stuck on the back of the pick to maximize its grip-ability. There is also a black felt pouch to carry the Contour Pick and any other picks or small peripherals that a guitarist may want to bring to a session or gig.

The included self-stick adhesive disc can help you get a grip

A Choice Pick for Picky People
These sorts of picks are not for everyone. Many will remark how they cannot imagine spending this kind of money for one pick, even if the Luxe Contour Pick is considerably less than other similar picks. But then, such people usually have never actually had a high-end pick in their hand.

What is driving this modern market of exclusive, high-tech guitar picks is the way they provide an increased clarity and definition. And the better the guitar, the more there is to define and bring out of the tone. Also, the guitarist who likes to experiment with different ways to get the most tone out their instrument and their playing should find this every bit as enjoyable an experience and as entertaining as have Aaron Short and others who have already taken ownership of the new Martin pick.
There are those of us who cannot keep picks for long, as we seem to lose them like we do cheap sunglasses, umbrellas, or ball point pens. But while that might make one hesitate before investing in such a pick, the fact it is, such a fine piece of modern musical engineering could make many of us better about not letting it get away from us, so that we keep it for years. It appears to be so strong it should last that long, unlike most picks.


As Aaron pointed out, this would make a great gift for a guitar player. It comes handsomely presented in a round, black tin with a clear window in the top. Inside is the Contour Pick with its asymmetrical contours just so inviting to look at. And once it is held between the thumb and finger, it feels even better.

It is a very nice presentation, and a very good looking pick. Best of all, it has true tone-enhancing abilities, under the hardest Bluegrass picking or the lightest strumming. The Contour Pick from Luxe by Martin is an excellent first step for a guitarist wanting to experience the difference an exclusive space-age pick can make in their musical life. And it could very well be the only step they will ever need to take.