Thursday, December 09 2021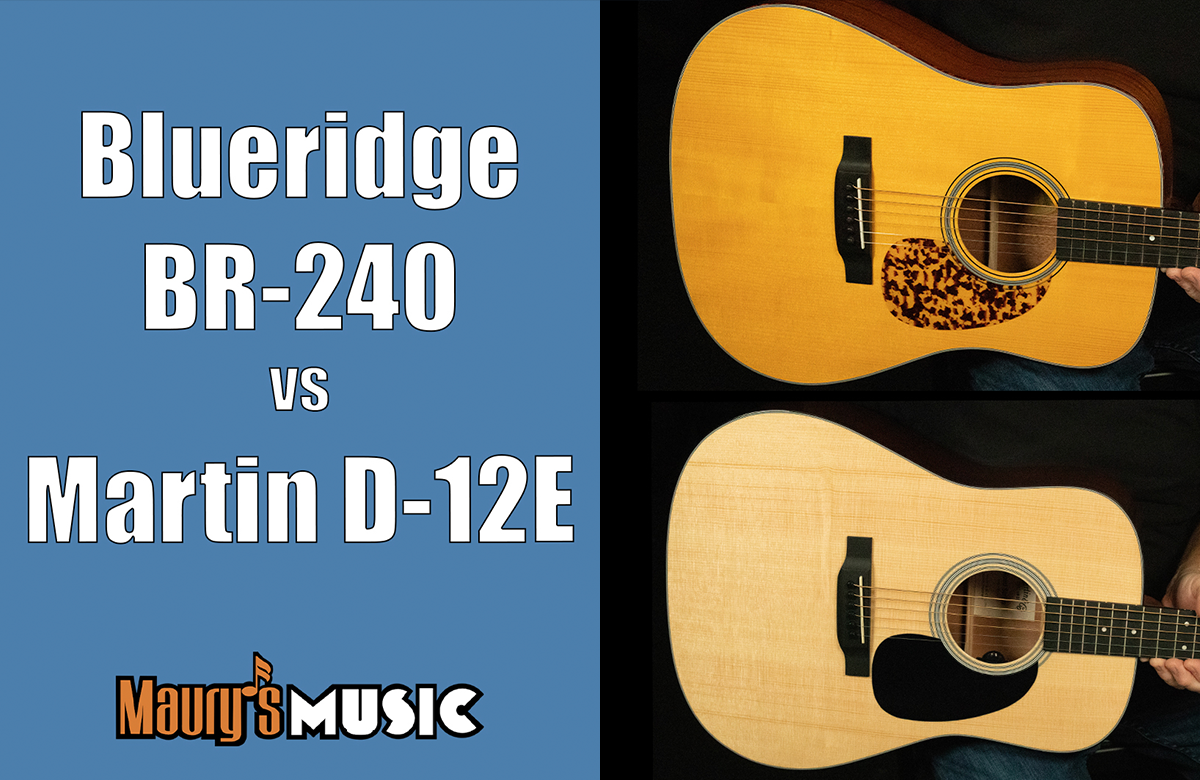 Blueridge BR-240 vs. Martin D-12E
This holiday season is a prime time for bargain hunters seeking end-of-the-year cheer for their ear, and for that pocketbook they hold so dear. The Maury's Music yule blog is lit and shall remain ablaze all month, with fine acoustic guitars that offer exceptional value. They will make great gifts for your favorite musician, including if that happens to be YOU!
Let's face it; after the year you've had, you deserve to treat yourself to a fine acoustic guitar at a best bang for the buck price. Let's take a look right now at two examples that fit the bill, the Blueridge BR-240 and the Martin D-12E.

Martin D-12-E
The D-12E is a modern marvel, made in Martin's traditional Dreadnought body size, with Style 12 appointments designed by C. F. Martin IV to harken back to traditional Martin models from the 1960s. But it is made for today's player, with a sleek fast neck, and the on-board Fishman MX-T electronics that include a tuner inside the sound hole, which mutes the output signal so you can adjust your tuning without annoying the audience.


The Martin D-12E has a solid sitka spruce top
Part of Martin's affordable Road Series of acoustic-electric guitars made for the performing musician, the D-12E's solid Sitka spruce sound board has the sound hole rosette of a D-28, and a D-18 back strip adorns the solid African sapele used to make the back and sides. Sapele is a species of mahogany that is prized for its beautiful wood grain with stripes of alternating hues, sparkling with coppery cross grain. It has been used to make high-end musical instruments since the early 1800s.
The entire body of this style 12 body has a gloss finish to protect the tonewoods and bring out their natural luster. On the neck you'll find a special, hand-rubbed satin finish that makes its comfortable Performing Artist profile a dream to play.


The Blueridge BR-240's top is made from solid Adirondack Spruce
Under that classic Sitka spruce top is Martin's A-Frame X-1 bracing that combine a tapered, 5/16" X brace with scalloped 1/4" tone bars that stand up to hard strumming but still responds effortlessly to nuanced fingerpicking.
The D-12E can also be ordered with a back and sides made from solid African mahogany under a gorgeous veneer of fine Hawiian koa.
Blueridge BR-240
With a price nearly identical to the Martin D-12E, the Blueridge BR-240 from their Prewar Series, is designed for the traditionalist that's looking for specs more in line with classic acoustic guitars from the twentieth century.


Solid Sapele is used for the back & sides of the Martin D-12E
Genuine Adirondack spruce is used for the top of this acoustic guitar, providing a powerful punch from this dreadnought-size cannon, reinforced with traditional forward-shifted, scalloped bracing. The species of mahogany used for the solid back and sides isn't specificized. But from the gorgeous, straight copper banding, it may also be sapele. And that Adi-mahogany combo puts out a dry, open, chiming voice as clear as the high gloss finish that allows all that awesome wood grain to show through.
The styling of this mid-level Bluegridge dreadnought gives it the looks of a vintage D-18, with the addition of the elegant inlay embellishing the headstock, depicting graceful white and green leaves, and a dalmatian pattern pickguard inspired by the 1935 D-28 that belonged to the late, great Tony Rice.


The Blueridge BR-240 has solid Mahogany back & sides
Head to Head
Each of these impressive musical instruments has classic looks that resemble a vintage Martin more than other instruments these venerable guitar makers offer in this price range. And each has a comfortable modern neck shape, the BR-240 having more of a low C shape. The D-12E's neck is even lower and the shaping was inspired by electric guitar necks.
Both guitars have a 1-3/4" width at the nut, but up the neck the fingerboards are not as wide as vintage Martins with that nut width. The BR-240 is 1/32" wider at the 12th fret, but strings on the Martin D-12E are a smidge closer to the edges of the frets, so the overall feel is similar.


Martin D-12E
The Blueridge BR-240 has a fingerboard and bridge made of solid African Ebony. The Martin D-12E has a fingerboard and bridge made of Richlite, an ecofriendly material created from pulp from sustainable growth trees and natural resins that polishes up to look exactly like top quality ebony, with a similar density, but Richlite is impervious to the sudden changes in temperature and humidity that can dry out and even crack actual ebony.
Otherwise, the BR-240 does not come with the built-in pickup system for electronic amplification. But Maury will be more than happy to install a pick up for you! See the list of available pickups when ordering your new Blueridge BR-240.


Blueridge BR-240
This December, shopping at Maury's Music will keep you on Santa's good list, even when your buying a present for yourself!
I was going to buy a D12e and then I saw this comparison with the BR-240. Is there a head to head comparison video to compare sounds?
Posted by
ROBERT J BUCKLEY
on
03/30/2022 - 11:00 AM
Yes Robert - the a/b video is shown IN this blog post.
Posted by
Maury
on
03/30/2022 - 11:04 AM