Tuesday, February 01 2022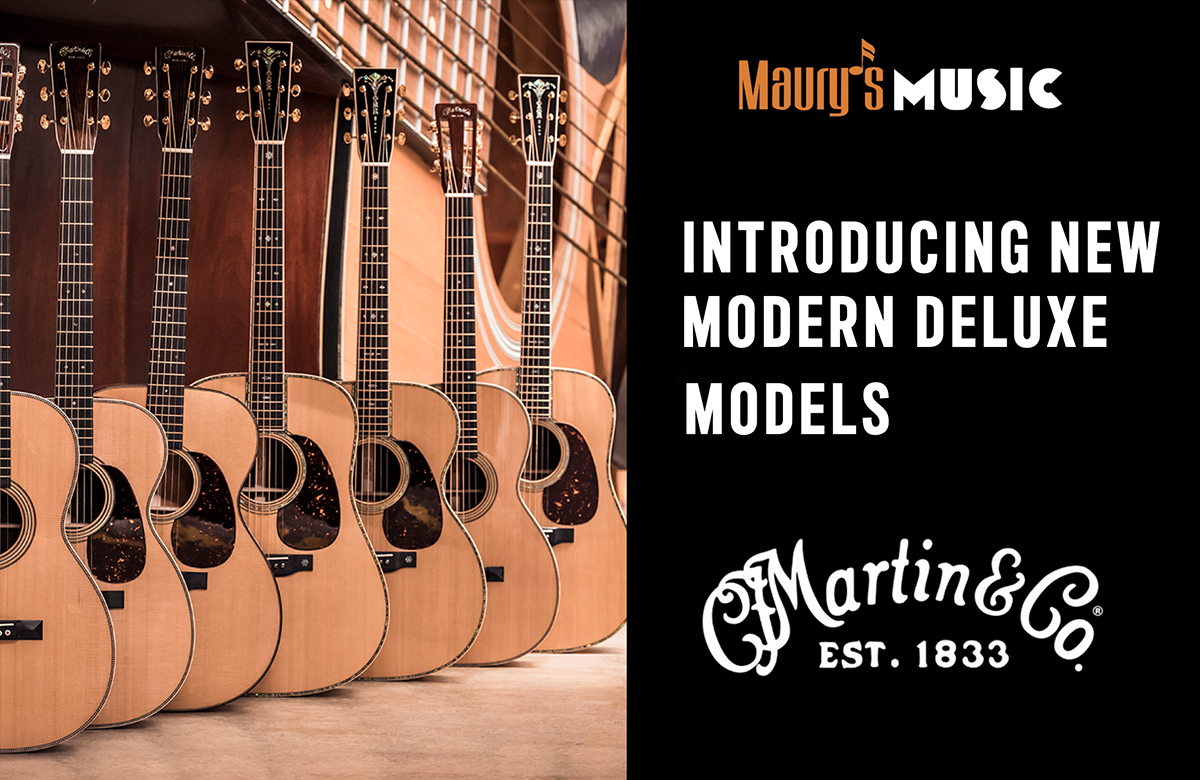 Extra! Extra!! Seven New Martin Models Added to the Modern Deluxe Series!!!

We interrupt this blog for an awesome news bulletin. Our friends at C.F. Martin & Co. have released a bevy of Modern Deluxe beauties, currently available for pre-order at Maury's Music!
"The D-28 Modern Deluxe hit it out of the park. I had always wanted a D-28; glad I waited for the MD. It sounded 50 years old right out of the box." – Roger Kern, veteran player of many Martins
Thank you for your business, Roger! We agree entirely. The MDs are in another league from the already awesome Standard Series.

The models are the D-45 Modern Deluxe, D-42 Modern Deluxe, 000-42 Modern Deluxe, 00-28 Modern Deluxe, 0012-28 Modern Deluxe, 012-28 Modern Deluxe, and the 000-18 Modern Deluxe. The 0012-28 and 012-28 signify Martin's new way of designating TWELVE-FRET guitars.

That's right! There is now a 12-fret 00 slothead and 12-fret 0 slothead available for sale in the Modern Deluxe Series!

Fantastic Features

The D-45MD, D-42MD, and 000-42MD have a gorgeous 1920s torch inlaid on the headstock and the Golden Era style 45 snowflake fret marker pattern of a pre-1938 D-45. And all of the inlays are bound in mother-of-pearl. Photos just can't do them justice!

All of these news guitars share a combination of deluxe features that set the Modern Deluxe models apart all other Martins. Each has EVO Gold frets for superior resistance to fret wear, and matching gold tuning machines, and 1930s-style headstock inlays of high-color abalone and mother-of-pearl.

Each has a high-quality Vintage Tone System Sitka spruce top with VTS Adirondack spruce scalloped bracing to create a voice that sounds "50 years old right out of the box." The braces are attached with natural protein glue for enhanced energy transference and carved with Golden Era style scalloping.

Each model has a composite bridgeplate made of VTS Adirondack spruce between two plates of impervious carbon fiber for reduced dampening of the tone-producing energy coming from the strings. And each model has Liquidmetal bridge pins, made from high-tech metallic glass that has virtually no dampening effect at all, increasing the volume and sustain of what is already a vibrate and colorful tone.


Martin D-45 Modern Deluxe

Each model has a Genuine Mahogany neck with the exclusive Vintage Deluxe profile. The subtly asymmetrical shaping adjusts to the angle of the palm and the grip of the thumb as the fretting hand moves up and down the neck. It was inspired by a 1930 OM-45 Deluxe. But that shape is applied to a modern neck thickness, with a modern, non-tubby neck heel, so it stays fast and easy to play from the nut all the way up to the traditional, full-size dovetail neck joint.

The solid ebony fretboards have the High Performance taper. The 14-fret models measure 1-3/4" wide at the nut and 2-1/8" at the 12th fret, with 2-5/32" string spacing at the solid ebony bridge. The two 12-fret models are 1-13/16" at the nut and 2-1/4" at the 12th fret, with 2-1/4" string spacing, a configuration that has never appeared on a Martin before now.

The fretboards have a reduced thickness, just like the Authentic Series guitars, to help get even more kinetic energy vibrating from the strings all the way down the neck to the VTS spruce top. In other words, each of these new Modern Deluxe models was engineered to be a magnificent tone machine in the extreme!


Martin 00-28 Modern Deluxe
The Magnificent Seven

000-18 Modern Deluxe

The first non-Dreadnought addition to the Modern Deluxe Series made with Genuine Mahogany back and sides is the 000-18 Modern Deluxe. Like its big sibling, the D-18 Modern Deluxe, the 000 version has deluxe vintage Martin features like rosewood bindings, a 1930s script headstock logo inlaid with pearl, and a Vintage Tone System Sitka spruce top that gives this short-scale Auditorium-size Martin a voice that is unbelievably open and singing, while being so comfortable to play, as it puts out woody tone that is classic mahogany to the bone.


012-28 Modern Deluxe and 0012-28 Modern Deluxe

These two new 12-fret Martins are short-scale guitars with slightly wider necks, ideal for fingerstyle playing from Bach to the Blues. They offer the legendary tonal balance of a vintage Martin 12-fret guitar with period correct pyramid bridge and a slotted headstock that provides extra tension from the increased break angle at the nut, for a little extra power. The slope shoulder design increases the size of the interior sound chamber for more bass than you might think possible from relatively small guitars. Bold herring bone top trim, Diamond and Squares abalone fret markers, red dot Liquidmetal bridge pins, and European flamed maple body binding complete the early 20th century motive on these 21st century 12-fretters of the future.


Martin 0012-28 Modern Deluxe
00-28 Modern Deluxe
Martin's 14-fret 00 design has become extremely popular in recent years, as more musicians look toward smaller, more portable guitars with balanced tone. The 00-28 Modern Deluxe is by far the most modern, most deluxe Grand Concert size Martin available today. With the same specs as the 000-28 Modern Deluxe, in a slightly more petite body, that rosewood and VTS Sitka tone with all the high-tech enhancements can be had in an amazingly comfortable size that is ideal for guitarists of smaller stature, or for those looking for a great guitar to take on the road or use at home as a favorite sofa songwriter.

D-42 Modern Deluxe Snowflake Bridge
000-42 Modern Deluxe

The new Style 42 Modern Deluxe looks absolutely stunning on this short-scale rosewood 000. The European flamed maple bindings frame the high-color abalone inlaid around the top and all the way up the jet-black ebony fretboard with its sparkling abalone snowflake markers. Even the headstock is bound and astounds with the magnificent vintage torch inlay, bursting with the colors of a treasure chest. And the abalone sound hole rosette is set off by two large, abalone snowflakes on each side of the bridge, making the whole aesthetic look extra DE-luxe.

Modern Deluxe Torch Inlay

D-42 Modern Deluxe

That same Style 42 array appears in Dreadnought form as the D-42 Modern Deluxe. This cannon of a cantor sounds like an entire choir, with its full bass echoing from the deep Dreadnought sound chamber, supercharged by its forward-shifted Golden Era scalloped bracing, treated with Martins Vintage Tone System, just like the top. The long-scale Vintage Deluxe neck is a dream to play, just as the enriched overtones from the East Indian rosewood back and sides are a dream to hear, as they glitter in the air right along with all that marvelous pearl.

D-45 Modern Deluxe

There is spectacularly luxurious Martin guitar excellence, like found in the 000-42 Modern Deluxe and D-42 Modern Deluxe, and then there is the D-45 Modern Deluxe. With its unmatched opulence of abalone inlays glorifying the very best of the highest-grade tonewoods, top, back, sides, end pin box, neck joint, bridge pins, fretboard, and headstock, it is a beautiful thing to behold. And it sounds even better than it looks!

Martin D-42 Modern Deluxe

The VTS top and forward-shifted braces, Liquidmetal bridge pins, and carbon fiber bridge plate work together to get the most tone possible out of this rarified Martin guitar. But so too does all that abalone shell, inlaid along the edge of the sides and back. It required a trench carved into the already thin rosewood to make room for the pearl, just like the purfling trench cut out of the spruce top, right where they all connect. This makes every surface of the entire body quiver as if alive with tone, as it vibrates more freely, increasing the natural resonance of this, one of the most exquisite musical instruments ever conceived, and constructed in Nazareth, PA, from the very best exotic East Indian rosewood and American Sitka spruce, which had seasoned in Martin's famous acclimation room for this very, very special, singular destiny: creating the first D-45 Modern Deluxe guitars for the exceptionally lucky musicians who will get to claim one for their very own.

Martin 000-18 Modern Deluxe

Do not delay in your decision to pre-order one of these seven new Modern Deluxe Martins! Each one is built with the utmost craftsmanship, and that takes time. But boy is it worth it. These new MDs are just what the doctored ordered, and how!