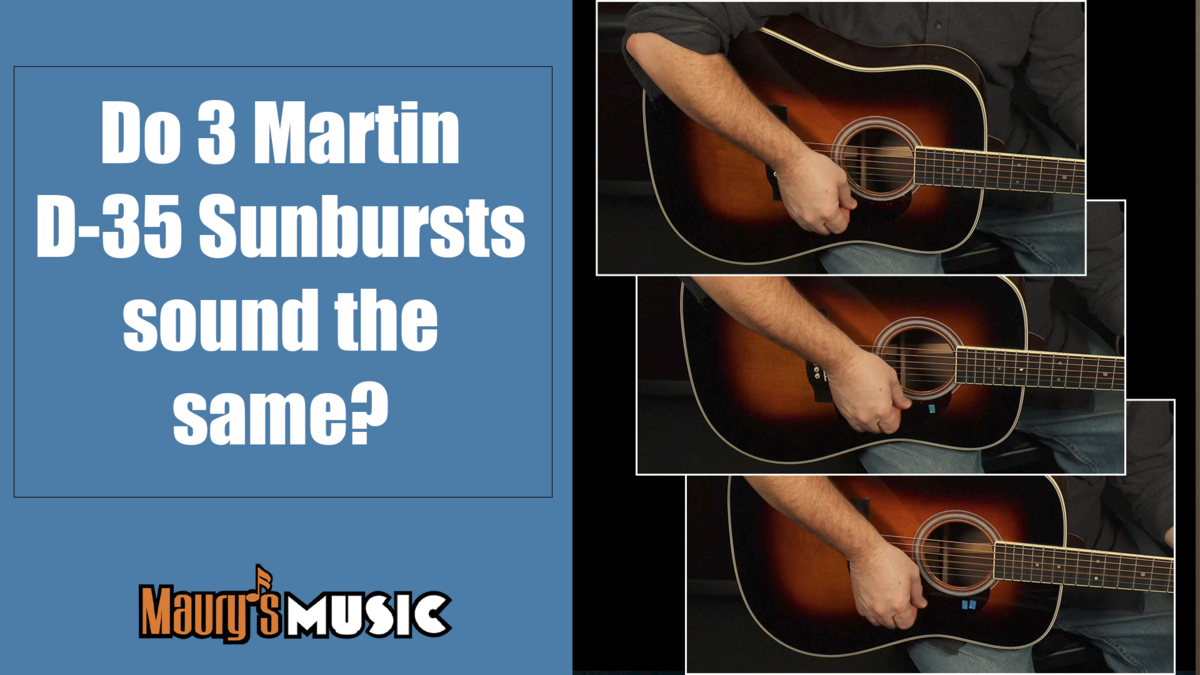 Consistent Excellence

Martin's Standard Series got its name because it contains the iconic models that set the world-wide standard for what a professional-level acoustic guitar should be. That well-deserved status is achieved through a combination of traditional construction techniques and modern technology that insures consistent quality meeting the highest standards for excellence.

The Standard Series instruments are the benchmark to which all other guitars must be compared. But how do Standard Series Martins compare to one another when it comes to consistency? And for that matter, how consistent are different examples of the exact same model? That is what we investigate in today's blog post.

From the adorable little 0-18 with its classic yet modest appointments to the top-of-the-line D-45 with its cavernous Dreadnought body glittering with abalone inlays, every Standard Series Martin features all-solid wood construction. With the exception of the 18s, with their Genuine Mahogany back and sides, all Standard Series Martins are handmade with solid Indian rosewood back and sides and a Sitka spruce top from the Pacific Northwest. They all have a High Performance neck that was developed at Martin in recent years to offer the most versatile and most comfortable neck for the most players, which is connected to the body by a traditional hand fitted dovetail neck joint, glued into a neck block made of solid Genuine mahogany, just like the Martin guitars made over 100 years ago.

Otherwise, Standard Series models differ in various ways, including the cosmetic appointments of a particular style (e.g. Styles 21, 28, 35, 36, 40, 41, 42, and 45,) as well as the size and shape of the bodies, the specific bracing patterns, and the length of the neck, with smaller bodies getting a short-scale neck, larger bodies getting a long-scale neck, and then in between is the Auditorium body size which is available with both the short-scale (Size 000) and the long scale (Size OM.) But when we focus on just one specific model, how consistent are individual guitars from of others made just like them? The answer to that question is very consistent indeed!

Triple Feature
At Maury's Music, we happened to have three identical D-35 Sunburst models on the premises. This allowed us to take a close look at just how much alike they truly are, and where their individuality might be noticeable.

The D-35 is perhaps best known as the first Martin model made with a three-piece back. Two outer wedges from the same piece of East Indian rosewood are separated by a third wedge from a different piece of rosewood, chosen to provide contrasting grain and coloring, creating a beautiful tableau of luscious rosewood awesomeness.

We shall not influence this discussion by describing the backs of these three Martin D-35s or mentioning what we think of them. We will let you enjoy these tantalizing photos and decide for yourself just how much they are alike and which ones you might find to be the most attractive, interesting, or inspiring.


SN 2377918 SN 2526044 SN 2531523
The sides are made of exotic East Indian rosewood just like the back, with the same consistent quality the world has come to expect from the exotic tonewoods sourced by C. F. Martin & Company and seasoned in their legendary acclimation rooms. Each set of side panels was chosen to compliment the specific back and vice versa. Is there a particular combination of back and sides that appeals to you? Or, like us, do you find it a very difficult choice since they all look terrific?


SN 2377918 SN 2526044 SN 2531523
Turning a D-35 around further, passed the Antique White binding, we find the Sitka spruce soundboard with its glorious Sunburst finish. The D-35 also has a bound neck, an upgrade that sets it apart from the D-28. The Antique White trim running up each side of the solid ebony fretboard makes a D-35 instantly recognizable when seen on stage, be it in the hands of Townes Van Zandt, Dave Mathews, Bruce Springsteen, or that enviable neighbor at the open mic.

One feature most D-35s do not sport is the deep, rich Sunburst top. Speaking of consistency, Martin has perfected their top shading techniques to the point that all three of these guitars have a soundboard that looks exactly like the first Martin dreadnoughts made with a burst top in 1935. For lovers of sunbursts, it doesn't get any better than this!

SN 2377918 SN 2526044 SN 2531523
Tone, Tone, Tone
Many players are drawn to the D-35 by its classy and classic looks, with the three-piece back, bound neck and the retro Style 35 tuning machines and Art Deco mother-of-pearl dot fret markers, and especially the aesthetic beauty of the figured East Indian rosewood. But everyone who loves the complex and robust sound of rosewood is drawn to the D-35 for its tone. Some people believe that the unique tone of a D-35 is somehow related to the three-piece back. But the real reason is found inside the body, where the D-35 braces make all the difference.

The D-35 is made with non-scalloped 1/4" bracing, which set it apart from all other Martin Dreadnoughts when the model debuted in 1965. Compared to the D-28's 5/16" bracing, the D-35's soundboard is under less constriction, allowing it to vibrate differently when receiving the same amount of kinetic energy from the guitar strings. This means it responds better to a lighter touch, making it an ideal dreadnought for fingerpicking and gentle strumming. But is also means the top energizes greatly when put under the stress of vigorous strumming or hard flatpicking, for a lively, powerful voice. That special D-35 sound was further enhanced when the model was converted to forward-shifted bracing in 2018.

The technique of using non-scalloped bracing leads directly to an articulate voice, with precise treble notes and clarity in the high harmonic shimmer, and considerable definition in the unwound strings, despite the additional bass response that a D-35 gets from those 1/4" braces. This makes the D-35 an excellent choice for the recording studio, when it comes to the warmth and complexity of East Indian rosewood guitars, and makes it a favorite of guitarists of all styles of music.

Professional level acoustic guitars made from solid tonewoods are truly unique creations made from organic materials. No two are exactly alike and yet the prowess of Martin guitar craftsmanship guarantees an impressive consistency of excellence found nowhere else.

We are fortunate to have three such wonderful examples that allow us and you to hear them, one after the other, under the exact same conditions. As with the visual details of the tonewood, we are not going to give our opinion of just how consistently similar they are, when compared to other models, or where the subtle differences lie when compared to each other, and which one we might like the most. But we can say that we like them all and would be happy to own any one of them.

To help you match the video to the photos above, we here list the serial numbers of the individual guitars. "No Tape" - D-35 Sunburst SN 2531523, "1 Tape" - D-35 Sunburst SN 2526044, and "2 Tape" - D-35 Sunburst SN 2377918.

When it comes down to it, the most important element involved in how a guitar is going to sound over the long haul is the guitarist who buys the guitar, owns the guitar, and plays the guitar. These three examples of a Martin D-35 are in their infancy. The soundboards and the bracing, the joinery and the rosewood, have yet to start that journey of opening up and breaking in. The individual players who are privileged to own these specific guitars will have a tremendous amount of input in how they will develop and how their voices will evolve, literally.

It is the player's strumming and picking that will be injected into the soundboard and throughout the bracing, and that will vibrate the neck and enter the body through the full-size, hand-set dovetail neck joint. How hard or soft they play will train the guitar in a unique partnership. How the round, distinct bass response increases and how that D-35 harmonic shimmer grows in complexity and phenomenal loveliness will be the result of the collaboration between the guitar and the guitarist. The results will be truly unique from what that guitar would have sounded like ten years from now with a different owner, even if all D-35s start out with the same consistent quality and a similar personality that equally represent such an iconic Martin model.

We envy the original owners of each of these three new D-35s, made in the same year, by the same hands, with the same consistency of excellence and D-35 tone, which start out so similar but will go on to blaze their own musical history in the hands of their lucky owners.

If you wish to acquire one of these D-35s, send Maury an email or give us call. We will be happy to complete the matchmaking process.
Beautiful guitar's, my ears are hearing no tape guitar has best sounding palette of colours, then 2 tape guitar and last 1 tape guitar. But I like wood colors of 2 tape guitar. It's amazing where the trees are growing in different areas, the minerals and natural fertilized dirt in the forest can change the tonal & character of grain and color and sounding timbre palette. Thank you for sharing.
Posted by
John Offutt
on
09/01/2022 - 01:48 PM
I think all three guitars sound a bit different from one another. They all sound amazing though!
Posted by
Rich Allen
on
09/01/2022 - 02:04 PM
Glad you like it, John!
Posted by
Maury
on
09/01/2022 - 02:07 PM