Friday, September 23 2022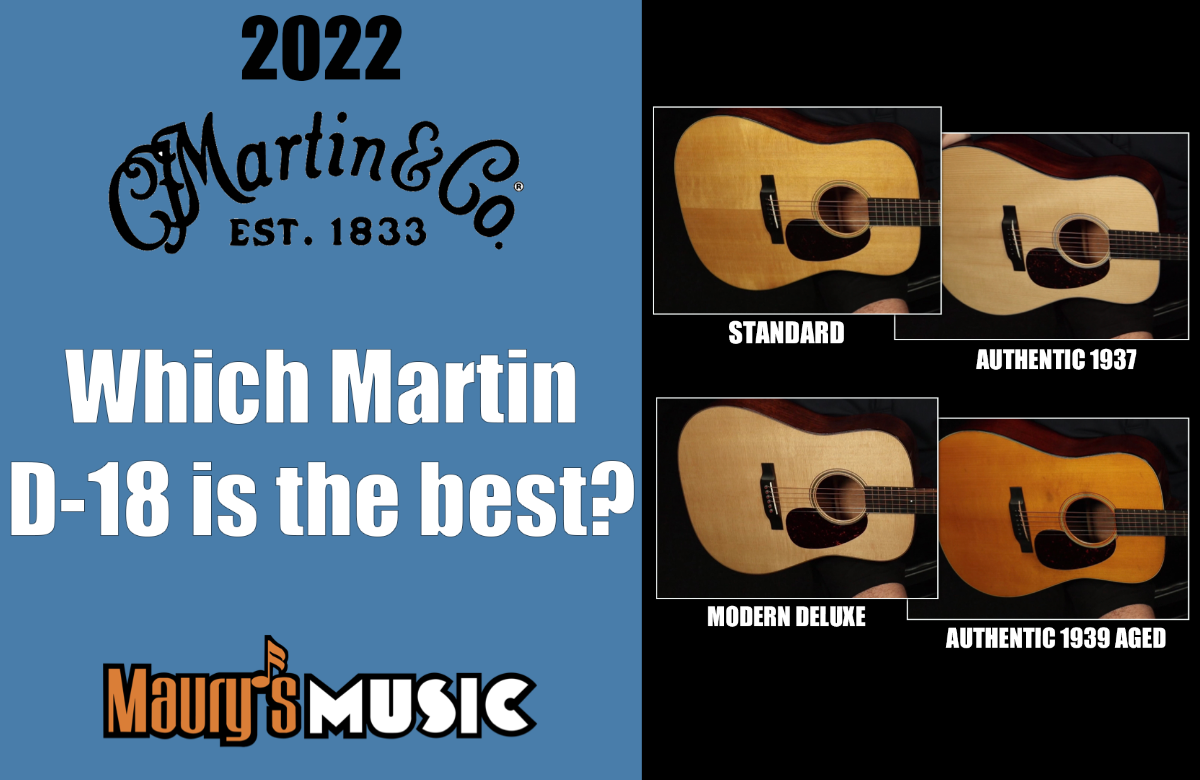 Which Martin D-18 is best? D-18 standard? D-18 Modern Deluxe, D-18 Authentic 1937 or D-18 Authentic 1939 Aged? Here at Maury's Music, we're dedicated to getting you the right guitar the first time, and we've put together some comparison videos on this very subject. Contact us today for more information on these or any great Martin Guitars! We're proud to be a certfied online dealer for Martin Guitar & we appreciate the chance to earn your business.

Which Martin D-18 is the best?
---
LIVE shootout!

The Standard D-18 has been a standard series staple for ... well, forever! It's the sitka/mahogany dreadnought by which all others are measured, and for good reason. In 2012, it got a scalloped-bracing / 1 3/4" nut facelift (years before the rest of the standards were 'reimagined') and it just sounds better than ever. If you want a great-sounding mahogany dread, it's hard to go wrong with the D-18. Check out our Martins & More with Spoon Phillips podcast episode on the Martin Guitar Standard Series here.
When Martin introduced the Modern Deluxe line a few years back, it was their intention on offering a guitar that "meets the player halfway" in terms of comparing the Standard D-18 to the top-of-the-line Authentics (more on those in a bit). The Standard is your garden-variety bare bones model. The Authentic is the "old recipe" the way mom used to make 'em. However, the Authentics are much more expensive than the standards, and they're not as adjustable - for lack of a better term. Their glued-in saddles and lack of a 2-way truss rod takes them out of the equation for some players- especially those who want to plug-in onstage. The Modern Deluxe bridges this gap, and gives you the flexibility of the standard series with some upgrades of the Authentics - all at a cost that slots neatly in-between. Check out our Martins & More with Spoon Phillips podcast episode on the Modern Deluxe series here.

D-18 Authentic 1937 vs D-18 Authentic 1939 Aged
The Martin Authentic series has been evolving for over 10 years. When the first authentics were released, there wasn't even an Authentic series per se. Over time, models came and went, both with and without VTS (vintage tone system, or Martin's name for torrefaction) - with and without the Aging treatment. 10 years ago -ish, the D-18 1937 became one of the best-sellers in the Authentic line. New for 2022, it (along with the D-28 '37) was revamped to have a new neck carve, a more accurate body shape, and tapered back. This new 2022 1937 (ugh) promises to live up to the hype. Fun fact: it's modeled after a D-18 previously owned by James Taylor! Check out our Martins & More with Spoon Phillips podcast episode on the Martin Authentic Series here.
The Martin D-18 Authentic 1939 is a bully - plain & simple. :) I've featured this guitar on our Wednesday Virtual Tours several times - and honestly, I have to show this guitar last, as there isn't a guitar in our store that could follow it. It has a loud & clear voice that lights up the room. Huge dynamic range & great note separation. These Aged authentics have a slightly thinner finish, as well as some very realistic 'wear & tear'. They look and feel like a guitar that's been with you in battle -and even though I'm a rosewood guy at heart, I have to admit I fall for this guitar every time I play it. If high-headroom & classic 'hog tone is something you've been chasing, your search might be over. Contact us for more information on this or any great Martin Guitar - and thanks for your support!
Nice article and excellent videos. I have a Martin D-18 MD and I really like it. Well done Martin.
Posted by
Thomas E Shea
on
10/21/2022 - 07:27 PM
Thanks very much, Thomas!
Posted by
Maury
on
10/21/2022 - 07:29 PM
Hi Maury, When did Martin stop using titanium rods in the D-18 and also the faux tortoise binding? And in your opion what year D-18 would you look to buy in a standard D-18? And lastly what rosewood would you recommend in a Martin guitar if you could only buy one guitar. Thank you Maury
Posted by
Doug Hill
on
03/26/2023 - 01:37 PM