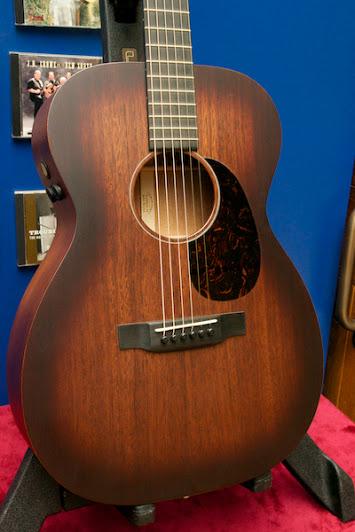 Martin was kind enough to put the new Summer NAMM models on display last week in the CFM factory lobby, and as usual, I was one of the first people there. The most exciting new offering from this group, in my opinion, is the new 00-15E Retro. I've been a fan of the 15 series ever since its inception, and through the years, Martin went from "all-mahogany construction", to the use of sapele in some models, and recently back to "all mahogany" (at that time, the 15's were renamed 15M's). We sell many 15Ms here at Maury's Music, and more than a third of our customers choose to have a pickup system installed before we ship. The all-mahogany construction is a great choice for a stage guitar, and whether these 15s were having a K&K installed, or a Trance Audio Amulet M (our two best-sellers), they all sound great!
Now Martin is bringing the 00-15M design into the Retro Series, where it will receive the 00-appropriate shorter 24.9" scale length, and be upgraed with a Performing Artist neck, and Fishman Aura electronics. Its the first-ever mahogany-topped Martin to include the Fishman Aura. Martin recently received a very old 00 donor guitar for the Martin museum, and they use that instrument to record the 00-15E sound DNA for the Aura. In my lap, the 00-15E Retro felt light and had a nice projection. Perfect balance across all strings, and very warm without sounding subdued. Anyone looking for a smaller guitar - whether on stage, in the studio or just on the couch - the 00-15E is a great choice, and I predict Martin will do very well with this litte 15.
Have you played the 00-15E Retro or just have a question? Please post your comment below.
How do you find the playability of the 00-15E Retro to that of the 000-15M? I enjoy my 000-15M and am interested in possibly acquiring the 00-15E Retro. Arthritis is a concern, thus my question about how you find the playability. Thank you and kind regards.
Posted by
Suzanne Barger
on
05/04/2018 - 02:23 AM