Wednesday, October 07 2015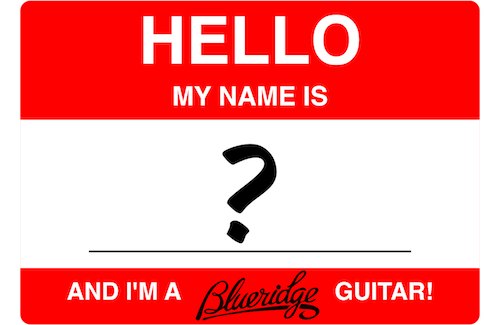 Similar to Martin guitars, the Blueridge naming scheme can be baffling. On the surface it's a confusing mix of letters and numbers that don't give a whole lot of information. However, with a little bit of understanding it's actually a very understandable system that allows you to quickly scan multiple instruments to find what you're looking for. It won't tell you every detail about a guitar but it will help you narrow down some important specs quickly.
A Blueridge model name is made up at least 2 and sometimes 3 different parts; the letters before the hypen, the numbers and the letters after the hypen. Let's take a look at each and see how they work together.
Prefix: The letters before the hypen
BR and BG
The letters before the hyphen in a Blueridge model name are the simplest to explain. The more common "BR" prefix, found on the majority of their guitars, just stands for "Blueridge". Found on a smaller number of models, "BG" designates that the guitar is either a Jumbo body size or a Slope-Shoulder Dreadnought.
Numbers
The numbering system on a Blueridge guitar is the most telling portion of a guitar's model name. Each guitar number gives a lot of information so it's best to look at each aspect individually.
How many digits - Laminate or Solid
The first thing to look at when looking at a Blueridge guitar is how many digits does it have in its model number? A two digit number (XX) will mean that the guitar has a solid Spruce top with laminate back and sides. A three digit number (XXX) means that the guitar has a solid Spruce top, and solid back/sides.
The last digit - Body size
The last digit of a Blueridge model number will designate what body size a guitar has.
0 - A guitar with a number ending in 0 will be a 14-Fret Dreadnought sized instrument (BR-40, BR-260, etc.)
1 - A 12-Fret 0 sized body or a Tenor sized guitar. If a guitar has a 1 as its last digit you need to look to see if it has a T suffix to tell whether it's an 0 size or a Tenor.
2 - A 12-Fret 000 sized guitar
3 - A 14-Fret 000 sized guitar.
The first one or two numbers - Body wood
Now this part is a little more involved. Depending on how many digits are in the guitar's number, you either look at the first one or two to tell what body wood it has and slightly different rules apply for each. Let's take a look at these separately.
A 2 Digit (Or laminate, as explained above) Blueridge can begin with either a 4X a 6X or a 7X.
4X - Back and sides are made of laminated Mahogany.
6X - Back and sides are made of laminated East Indian Rosewood.
7X - Back and sides are made of laminated Santos Rosewood.
With a 3 Digit (Or all solid wood) Blueridge you have to look at the first 2 numbers to get an idea of what body wood is used on the instrument. *The Worship series guitars are the only 3-digit models that are not solid body.
14X , 24X and 34X - Back and sides are made of solid Mahogany.
16X , 18X , 36X and 37X - The guitar is made of solid East Indian Rosewood.
26X , 28X - The guitar is made of solid Santos Rosewood.
Suffix Designations: The letters that follow the numbers.
On some Blueridge models you'll find letters following the numbers in the model name. Each different letter designation tells us something about the construction of the guitar.
A - An A at the end of a Blueridge model name means that the guitar has an Adirondack top. This can be found on either the Contemporary Craftsman or the Historic Craftsman series of instruments. This designation is only found on 000 and Dreadnought sized instruments. One other point to keep in mind is that all current Blueridge guitars with an A suffix also have 1-¾" nuts instead of the more common 1-11/16"
Example : BR-140A
CE - Means that the guitar has both a Cutaway (C) on the body and is has Electronics installed from the factory (E). All Blueridge CE guitars will come with Fishman electronics, although exact pickup will vary between different models. Currently there are no guitars in Blueridge's lineup that have only a C or an E without being paired with the other letter.
Example : BR-70CE
T - The instrument is a 4 string Tenor guitar.
K - Currently only the BR-60K uses the K designation. This means that this guitar is made with laminate Koa back and sides.
Example : BR-40T
Putting it all together
The easiest way to make all of this stick is to simply look at a few models and try to figure out what they are. We'll take a look at two different guitar names and break them down to see exactly what's going on. The explanation will be found under each model name. Before reading it, see if you can work it out yourself using the info above.
The BR designation at the beginning of the model name tells us that it's not a Jumbo or Slope Shouldered body. 2 Digits after the first hyphen tell us that it's a Laminate guitar. Since it's a 2 digit number we know that we look at the first digit to tell what the body wood is. In this case it's a 7 so we know it's laminated Santos Rosewood back/sides. The number ends in a 3 so it's a 000 sized body. It has a CE designation at the end of the model so we know it has both a Cutaway and a pickup installed.
This guitar starts with a BR which again means that we can be pretty sure that it's not a Jumbo or a Slope Shouldered instrument. It has 3 Digits in it's number, so we know it's an all Solid Wood guitar. Because it has 3 digits total we know that we need to look at the first two to learn the body wood. In this case the first two digits are 14 so we know it has solid Mahogany back/sides. The 0 at the end of the number tells us it's a Dreadnought and the A tells us the top of the guitar is Adirondack Spruce.
Exceptions
Nothing's perfect and the Blueridge naming scheme is no different. There are a few Blueridge guitars where the actual specs don't quite match up with what their model name implies.
The most glaring inconsistency are the BR-340, BR-343 and BR-343CE. All three guitars have a 3 digit number in their model name, implying that they are solid wood guitars. However the BR-340, 343 and 343CE are all LAMINATE instruments.
The BG-2500 has 4 digits in it's name. It is a solid wood, 6-String Jumbo guitar.
The 12 string guitars also throw a kink in things relating to the size of the guitars. All Blueridge 12-Strings are Jumbo sized instruments. However, they will end with a 0, which normally means Dreadnought. They also all start with a BR designation before the hyphen, instead of the BG which normally implies Jumbo. Luckily, Blueridge made these guitars easy to spot. All 12-String Blueridge instruments will have TWO hyphens in their name. For example the BR-40-12. If you see any Blueridge guitar with 2 hyphens that ends in a 12 you can bet your bottom dollar that it's a Jumbo sized 12-String.
Note: In a Blueridge 12-String guitar, the middle number (After the first hyphen) is still useful in telling what the body is made of. A BR-40-12 has 2 digits after the first hyphen, so we know it's a Laminate. A BR-160-12 has 3 digits, making it a solid wood guitar. These same rules also apply to whether it's Mahogany and Rosewood.
For those of you in the market for a new Blueridge guitar I hope you found this article informative. While their naming system can't tell you everything about a model, it's certainly a great tool to narrow down your choices from the dozens available to the few that you may be interested in. Be sure to comment if you have anything to add or if you have any specific questions you feel this didn't cover.


​
Great article but i think you missed just one thing! Some blueridge guitars (like the BR-160CE) have a 10 at the end of their names (for exemple: BR-160CE10) and it is a export designation for the model, even tho they have identical specs. Good work anyway! All the best.
Posted by
Lucas Albuquerque
on
04/15/2016 - 05:45 PM
Hi Maury. Thank you very much for the information. But you only talk about serial numbers with two or three digit numbers after the hypen. And serials with only one digit number? I've got a BR-3S, from 1999-2000. How can I find out its woods and knowing if it has solid spruce top or laminate top? Thanks!
Posted by
pakitow
on
05/05/2016 - 11:12 AM
All current Blueridge guitars have a solid spruce top. I apologize, I'm not familiar with the BR-3S but I'll ask my rep about it for you. You can also visit www.SagaMusic.com and reach out to them via the "Contact Us" link. Thanks!
Posted by
Maury
on
05/05/2016 - 12:56 PM
Hi again, Maury! I wrote to saga music ten days ago but there is no answer yet. Thanks anyway, and I hope you get some extra info about my model ;-)
Posted by
pakitow
on
05/06/2016 - 04:03 AM
Good info to help me decipher the model "name", but I'm also interested in when the guitar was manufactured (insurance company wants that). Is there any way to determine that from the Serial Number?
Posted by
JohnB
on
01/14/2017 - 01:12 PM
Thanks JohnB. The first 2 digits of the Blueridge serial number designates the year it was made. For example, if it starts with a 16, it was made in 2016.
Posted by
Maury
on
01/15/2017 - 11:17 AM
I made some upgrades to my BR-160, and it now actually sound better than a Martin D-28. I have played for many years, have an extremely good ear. (I am a retired professional bass player and was a piano tuner for many years.) I changed the saddle, nut and bridge pins to Tusq. Then I put a "Platemate" (I think that's what you call it. It's brass and protects the underside of the bridge. I use Martin Flexible Core S.P. MFX775 Custom Light #11 Try this on any acoustic guitar and enjoy the improvement. Happy Picking arniebrown.com
Posted by
Arnie Brown
on
07/20/2017 - 02:37 PM
i have older blueridge with serial nu 08481191 i beleve it is a dreadnought it looks similar to the sierra model sequoia i was not able to find a model num
Posted by
bob
on
08/10/2017 - 10:00 AM
Also you forget the BR-260 Brazilian model.my Br260 Brazilian ser# 03020077 Those early guitars use a different numbering system.
Posted by
Chris
on
06/30/2019 - 09:12 AM
what about a blueridge br1m i have one and can't find anything on them?
Posted by
Matt
on
05/19/2020 - 01:00 AM
Hi to all, I've just bought a BR163 serial number 05010627. Has anyone got any information on this Guitar? Woods etc. Best regards Cusack
Posted by
David Cusack
on
05/27/2020 - 10:53 AM
Hi I recently purchased a BR JR guitar by Blueridge I cannot find out a thing about them. Do you have any information about the model or quality or year of the BR JR?
Posted by
Jan
on
06/17/2020 - 03:03 PM