Wednesday, November 25 2015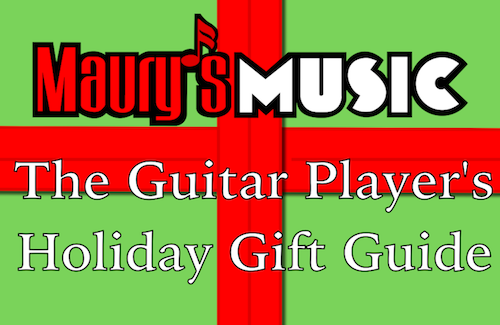 Santa is coming, Santa is coming!
As the holiday's near it's time to start thinking about those last minute gifts we need for friends and loved ones. Maury's Music is here to help. Here are a few affordable gift ideas for the guitar player in your life* that they're sure to love finding underneath the tree.
*If you're reading there is also a good chance that are you are the guitar player in someone else's life. Well fear not! You've still got about 4 weeks to start dropping some hints.
One of the coolest things I think you can pick up for the guitar player in your life are some Tone picks. By tone picks I mean a guitar pick that is made out of a more exotic material than plastic that's made to affect the timbre of a guitar. Tone picks come in a wide variety of materials, from Fossilized Mammoth Ivory to Coconut Shell and each will have a unique impact on the sound of a player's guitar. Most guitarists don't have tone picks around making this a great gift for the player who has got everything.
If there's one thing that a guitar player is always happy to have around it's a few extra packs of strings. Maury's Music carries a wide variety of strings from today's top manufacturers. We also offer several strings in Bulk packs so you can help your player stock up for the winter.
A guitar is no good if it's not in tune so a guitar tuner makes for a nice affordable gift idea. While we do carry a few different styles I recommend Clip-On style headstock tuners as they'll be the easiest to use on both acoustic and electric instruments. Personally, I've been using the Planet Waves Clip-On Headstock Tuner for a few years now and highly recommend it for it's accuracy and durability.
If you're not a player yourself then it can be hard to wrap your head around some of the more technical accessories available. This makes a Guitar Strap a way to go for a gift since, unlike most other guitar accessories, this one is really a choice that you can base on looks alone. Personally, I'm a big fan of the Martin "Ball Glove" leather straps, particularly the distressed ones.
A clean guitar is a happy guitar. Guitar Polish is one really handy item that, for whatever reason, I find a lot of people don't buy for themselves. Martin makes a nice kit with a 2 in 1 Polish/Cleaner as well as a Martin polishing cloth. This kit will work for 99% of the acoustic guitars out there. However, if your player happens to be playing a vintage acoustic guitar, I can't recommend the Virtuoso products enough. Their Polish and their Cleaner are both formulated to work with very delicate nitrocellulose finishes so that no harm comes to these vintage instruments.
Maybe something for under the tree?

Martin Dreadnought Junior Starter Pack
The small items above are all well and good for the current guitar players but what about the aspiring ones. For this holiday season Maury's Music has put together the Martin Dreadnought Junior Starter Pack. Designed to be an all-in-one package for the student players, the Starter Pack is a collection of our most used and relied upon guitar accessories to give the guitar student everything they'll need, not just from day one but for the months and years to come. The Starter Pack includes a Martin Dreadnought Junior guitar as well as many of all of the basic accessories that a beginner will need. Maury's Music's Martin Dreadnought Junior Starter Pack has everything a beginning musician needs to hit the ground running.
I certainly hope this helps you cross a few people off of your list. If you have any questions or would like a more personalized recommendation, please give us a call here at the store (610) 871-1673.
From all of us here at Maury's Music we wish you a safe and happy Holiday Season. Let's hope you've been good this year.
P.S.
For those of you who may be wondering "But what do I get for that Maury's Music employee in my life?". Now I'm not saying that you should get me a present, but if you decided to I've really had my eye on that OM-45 De Lux Authentic 1930 we have around the shop ;)
No problem with that OM 45 Maury. I've got $80,000 in my pocket that I don't know what to do with so I'll hook you up. Happy Thanksgiving and keep that hot line to Santa open!
Posted by
Gary Hancock
on
11/25/2015 - 05:22 PM