Thursday, January 05 2017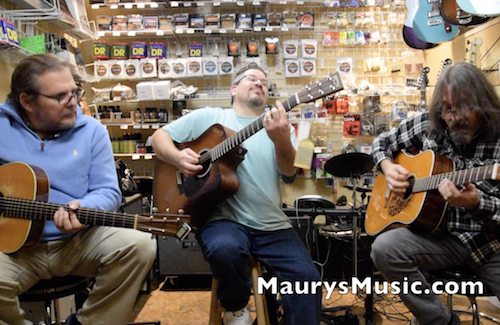 J-Mac, Maury and Tim have been friends for years. Maury & Tim work both as a duo and 4-piece band, The Shellshocked Churchhills. Their performance schedule can be found at MauryandTim.com. Among these incarnations, Maury & Tim have opened for many national acts such as CCR, Southside Johnny & the Asbury Jukes, Alice Cooper, Fabulous Thunderbirds, and many more legendary acts passing through NEPA. Tim's also a founding member of Becky & the Beasts, a 6-piece pop/R&B band with a great local following and numerous opening act credits as well.
J-Mac & Maury used to work together in The J-Mac Trio, with Beasts' drummer Larry Choley. Ironically, they were planning a reunion for new year's eve but at the last minute, Mariah Carey got the call ... and the rest is history.
In this clip, J-Mac is playing Maury's Martin OM-28V, Maury is playing a Martin DCPA4 Shaded, and Tim has a Blueridge BR-160. Thanks for stopping by, guys!
​
You guys are having serious fun.keep this program going. Next up live at Maurys radio feed.wish I had a old barn with a studio.
Posted by
Payne shelton
on
02/12/2018 - 03:19 PM