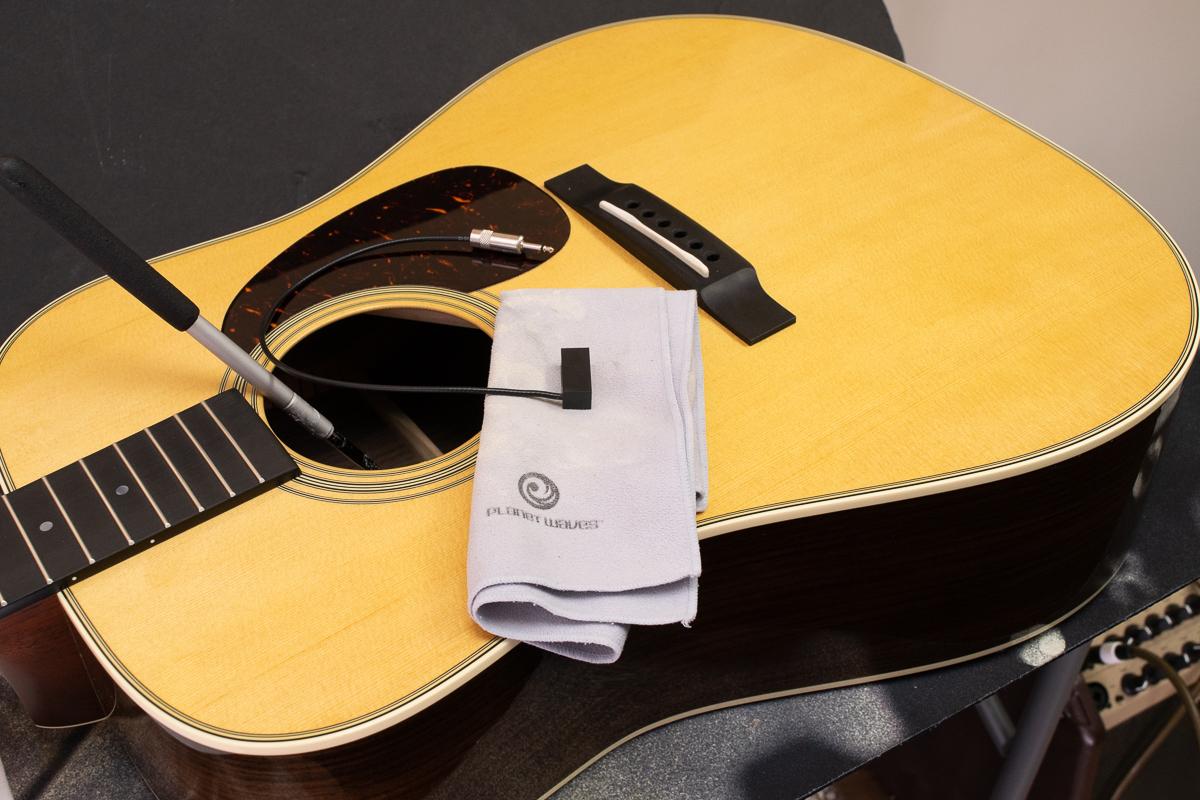 Here at Maury's Music, we don't just sell guitars - we install pickups in them, too! Many customers inquire about purchasing a guitar that can be played acoustically AND plugged-in onstage. In addition to the large number of "purely acoustic" guitars offered by Blueridge & Martin, these manufacturers also offer some models with pickup systems already built in. If those specific guitars have the specs you want, and you like the pickups they've chosen - there's a very good chance you'd be best served going that route. A Martin HD-28E Retro is one example. A similar guitar from Blueridge would be a BR-160CE.

The Trance Audio Amulet lenses are clamped for 12 hours under pressure
to properly bond to the guitar's bridgeplate.

But what if you really had your heart set on a certain guitar, and it doesn't come with a pickup? NO problem! We help customers navigate this issue all the time, and for the most part, you can add a high-quality aftermarket pickup to almost ANY Martin or Blueridge. If you really like the specs & appointments of a specific instrument, don't pass on it just because there's no pickup in it. There's no pickup in it yet.
NOTE: When Martin & Blueridge install their pickups, that part of the process happens at the last stage of the build process. Both Maury's and the guitar manufacturers install the electronics after the guitar is completely built. There's nothing dangerous or "out of order" about an aftermarket pickup system.

Which pickup systems do we install?

Maury's been chasing acoustic/electric tone since 1987. Much has changed since the days of Ovation guitars & Undersaddle pickups. Those tones may still work for some players, but over the past decade, there's been a growing trend towards bridgeplate transducers. Pickups that attach to the bridgeplate "hear" the strings, saddle, top and bridgeplate - for a warm, robust, woody tone. We carry two heavy hitters in this field: Trance Audio & K&K Sound.


The endjack needs to be reamed to 1/4" to accept the industry standard endjack preamp.
We use the Stew-Mac tapered reamer.

K&K Sound's claim to fame is the very popular K&K Pure Mini. It used to be called the Mini Pure Western and depending on who you ask, it might also be identified as "The Pure Pickup". Its a passive system that attaches via superglue & it doesn't need a preamp to sound great (but a good preamp can make it sound even better).
The original Trance Audio Amulet Stereo system can be found in almost all of Jackson Browne's guitars, and players like Paul Simon, Neil Young, Beck & Sheryl Crow also play this system. It's a professional grade active bridgeplate pickup with a high price tag, and requires a special cable & outboard preamp. Many pros agree it's the best single-source pickup out there. A few years ago, Trance released a Dual Mono version of the Amulet: The Amulet M ... and the game was changed! Maury immediately purchased one for his OM-28V and became an authorized Trance Audio dealer the same day. Now you can enjoy the same tone in a mono signal, using a standard guitar cable and no outboard preamp necessary. This system also comes in a Phantom Powered version, with no battery necessary (your mixing board, amp or phantom power supply feeds the system from an XLR cable).
If you're looking to have that warm, full resonant bridgeplate tone installed in a Martin Guitar or Blueridge Guitar, please contact us! We can usually turn it around in 1 week or less, and if you're not located nearby, you can ship your guitar to us. We'll work on a Martin, Blueridge, Gibson, Taylor, Collings & any guitar with a standard bracing & bridgeplate. Also, it doesn't matter if you didn't purchase the guitar here ... we'll take good care of you regardless of where you bought your guitar.
I'm concerned adding a pickup, even your highest end pickups may change the tone of the guitar. What are your thoughts on that. Thank you, Bob
Posted by
ROBERT
on
03/22/2021 - 09:14 PM